Laura Delaney catches up with Tv- turned-Westend star Natalie Casey to find out what's in store for Dolly Parton's 9 to 5: The Musical, which hits the Bord Gáis Energy Theatre on Monday 21st to Saturday 26th of January 2013.
You may know her face from playing the part of Carol Groves in Hollyoaks in the nineties or her long-running stint as Donna Henshaw in Two Pints of Lager and a Packet of Crisps, but Natalie Casey has also been busy forging a name for herself in the Westend. She recently took over from Denise Van Outen to play the part of ditzy beautician Paulette Buonofonté in the production of Legally Blonde. Now, she's back once again to take the stage by storm as Judy Bernley in Dolly Parton's 9 to 5: The Musical.
RTÉ Ten: Tell us a bit about your character?
Natalie Casey: I play Judy Bernly who's a very meek and mousey person who has been dumped by her husband for a significantly younger model. She's forced to go and work and she's never had a job before. She ends up getting a job in an office called Consolidated Companies. It's there she meets Violet and Doralee played by the other two ladies in the show. My character is working for Franklin Hart, who is the boss of the office, and is pure pure evil. So, the three girls decide to overthrow him and take on the office!
What can the theatre-goers expect? I think people will respond to it very well. I mean not a lot of stuff gets made that's about women. We are incredibly underrepresented in every single area of work, but especially in theatre, Tv and the whole entertainment industry. It's only really made up of 37% women, which is weird considering we make up 52% of the population. The musical doesn't patronise people. It tells the truth about how women are treated. I think people will really like it.
Did you feel a lot of pressure knowing that the legendary Jane Fonda played the part of Judy in the original movie? Yeah, kind of. I sort of felt like if she comes at any part, she may beat me with her Oscars, which would not be great. Whenever I take on a part that's semi-iconic or has been played by someone else, I just have to do my own thing. There's no point on even trying to compete with Jane Fonda. I just have to hope for the best and pray that I do the character justice.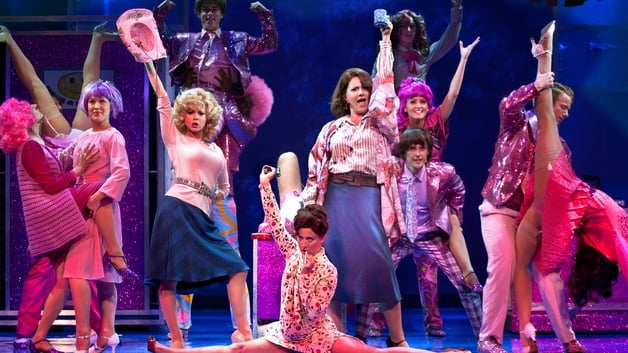 What research did you do to prepare for the role? I'd seen the film about 45 million times. I'm a massive fan of those late seventies and early eighties films. It was a really special time in cinema when films were made about women for women and they didn't apologise for it like they do now. I didn't really do any research. I think it's best to just start at rehearsals independently and see where it goes. Otherwise, you have nowhere to go when you start rehearsals. You have already tried to figure out what you need to do and that's always wrong because you haven't met the director and you don't know the script in-and-out. I tend to be quite laidback in that way.
Is it hard to switch from Tv sets and studio settings to live stage performances? They are quite different, but from being a kid I always did a lot of the both of those things. I think it's just about what parts you want to play and if you find something interesting that you want to do, regardless of whether its TV or theatre, you kind of go for it and hope it works out. It was never really a conscious decision for me to pick between the two. It just sort of happened.
Have you always been a musical fan? My mum and dad are market traders, it's not like they are performers. But there was always a lot of music in my house growing up. We're quite a boisterous family. I remember watching Westside Story when I was about seven and then not being able to sleep for about three weeks after. I couldn't get my head around the injustice of it all. I just kept on thinking 'that's not fair.'
Is there anything else on your career wishlist that you would like to tick off? I would like my own radio show. It would have to be a late night show.
What has been your career highlight to date? I'm not being funny but 9-5 is quite high up there. Every job has its highlights. As long as you enjoy doing, it and it has interesting directors and you are interested in it the part, well than that's all that matters.
Could you ever see yourself taking part in a reality Tv show? No, it's not really my thing. I would probably end up stabbing someone in the eye with a pitchfork. I'm a lone wolf. I wouldn't like to eat monkey testicles surrounded by a bunch of people. It's just not my type of thing.
Any exciting plans for when you come over to Ireland? I used to go out with a man who lived in Dublin. I know the city very well, so I'm very excited about coming back. It's a fantastic place and the people are incredibly friendly.
How will you be celebrating Christmas? I'm heading to Leeds to see my husband as he is doing a play there. I can't wait to get the tree up and have some nice food.

Tickets from €20 on sale now