An all-star cast including Brendan Gleeson, Saoirse Ronan, Stephen Rea, Angeline Ball, Laurence Kinlan, Brian Gleeson and Susan Fitzgerald has assembled for the final part of director John Boorman's RTÉ trilogy of satires on modern Ireland.
Speaking to RTÉ TEN about the play, Ronan said: "It's called After Life, it's written by John Boorman. I play an angel who appears to Angeline Ball's character who is in heaven and trying to stay in touch with her husband.
"It's an amazing cast; Brendan Gleeson is in it, Stephen Rea, my dad [Paul] is in it as well so it's been lovely. It's been fun and it's been nice seeing everyone today."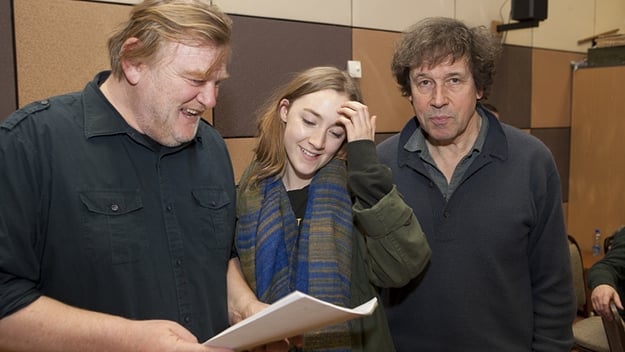 Brendan Gleeson, Saoirse Ronan and Stephen Rea during rehearsals for the RTÉ Radio One play
Gleeson added that it was 'great' to be reunited with the cast for the final part of the trilogy: "It's great. John is so special and for the last three Christmases, this is what we had as an early Christmas present so it's fantastic to come back in, it's always lovely."
Director Boorman, who worked with Gleeson on The General and The Tiger's Tale also enjoyed the experience: "I was just saying to Brendan here that it was very touching at the end and the actors have injected an emotion into this thing that I didn't even realise it had.
"So I was very pleased with this marvellous cast that Kevin Reynolds [RTÉ Drama on One Producer] assembled for me and it's just wonderful to play with actors of that calibre because they can bring so much out of the cold lines of dialogue. It's been a great experience."
After Life is available to listen to by clicking here and will be on RTÉ Radio One this Sunday, December 23 at 8pm.
To listen back to the first two plays in John Boorman's trilogy, The Hit List and Twenty Twenty, click here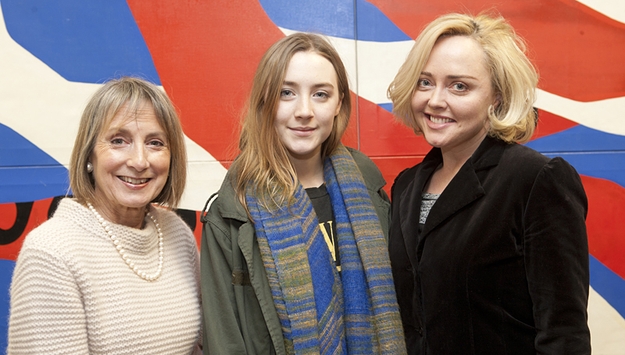 Susan Fitzgerald, Saoirse Ronan and Angeline Ball take time out of recording After Life