One Direction hosted a global fan event in New York last night, meeting competition winners from over 40 different countries.

Fresh from selling out New York's prestigious Madison Square Garden on Monday night, the boy band met hordes of teenyboppers who had taken part in the Bring Me To 1D campaign which started in the summer and saw fans from around the world competing for a chance to win a "Go1Den" ticket by completing various challenges.

The prize with each Go1Den ticket was a trip to New York to see One Direction's Madison Square Garden concert. The show featured a cameo performance from Ed Sheeran and was followed by the special fan event where Liam, Niall, Louis, Harry and Zayn met the winners and thanked them for their support.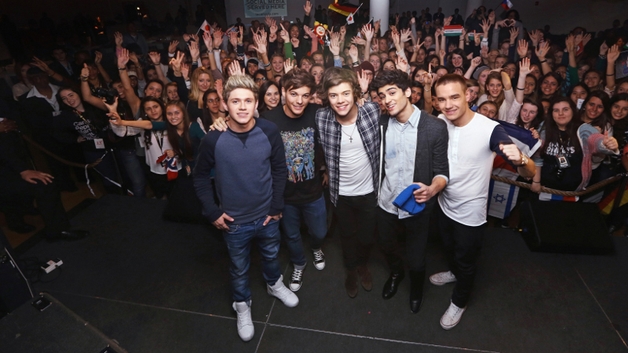 1D are set to go 3D with new movie in August
One Direction's new album Take Me Home debuted at No.1 in over 35 countries and boy band became the first UK/Irish act to debut at No. 1 on the US Billboard chart with each of their first two albums.

2013 plans include a world tour and the release of their first 3D concert film on August 30. Somewhat surprisingly, the movie was directed by filmmaker Morgan Spurlock who has previously made Super Size Me, a documentary about the fast food industry and What Would Jesus Buy? Which was a film about the commercialisation of Christmas in America.

1D make their first visit to CBS' The Late Show with David Letterman this Friday where they will perform on the show and be interviewed by Letterman.