Here's an enjoyable and thought-provoking rites-of-passage movie from Irish director Ian Fitzgibbon that throws a very big and very nasty spanner in the works – what if our smart and eccentric young hero has a terminal illness and his life is about to be cut short before he even has a chance to live it?
Death of a Superhero is based on a book by Kiwi novelist Anthony McCarten but Fitzgibbon relocates the drama to Dublin where we meet Donald Clarke, a 15-year-old school kid and prodigiously-talented artist who is dealing with cancer. He is played with understatement and calm by a very good Thomas Brodie-Sangster, who you remember as Liam Neeson's son in the otherwise egregious Love Actually.
Skull-capped and wearing a series of t-shirts with blackly humorous slogans about his condition, "Chemo Kid" is zapped by radiation during the day but by night, he escapes into his own imaginary world of comic book art. Donald draws his own ultra-violent strip starring a cool, strong and silent superhero pitted against an arch enemy called The Glove, voiced by Fitzgibbon himself.
The movie switches from real life to these animated dark inner fantasies and it's an effective device - Donald is clearly unreachable and for him his cancer is made far more tangible in his imaginary fight against The Glove. But he's acting out in real life too and pushing precious life to the very limits with daredevil insouciance. He plays chicken on the DART line and he's taken to walking on the railings of motorway bridges, daring the fall to take him before his disease does. Does his illness excuse his death-defying behaviour?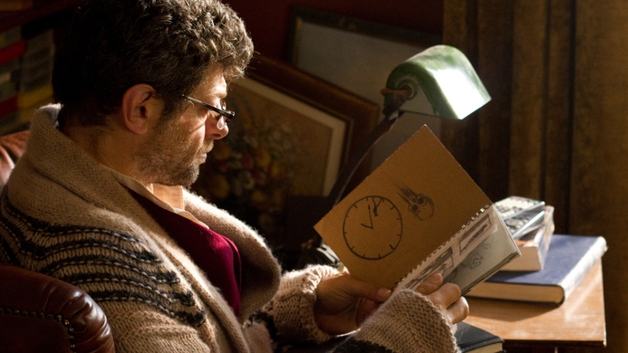 Andy Sirkis as Dr King in Death of a Superhero
At home, Donald's traumatised parents, played with great subtly by Michael McElhatton and with palpable sorrow by Sharon Horgan, are living lives of quiet desperation. His dad feels powerless and his mum spends long nights online searching, searching for a possible cure. However, when Donald is sent to see psychologist Dr Adrian King ("shrink No 6"), he's forced to reappraise his coping mechanism and confront the cold reality of his possible future. Dr King, played with restraint and charisma by Andy Serkis, potters around his tumbledown house, blasting out Mozart, and coaxing, cajoling and finally using reverse psychology on his new patient. In a nice touch, Serkis wears a bear-like cardigan of the kind worn by Judd Hirsch's shrink in Ordinary People.
Fitzgibbon's intelligent and humorous way with serious subjects has already been seen in A Film with Me in It (he's also just finished directing the second series of Moone Boy) and it's present throughout Death of a Superhero. But he also knows when darkness is called for in a smart, well-judged film that refuses to patronise its target audience and rarely sinks into the mawkish. Donald lives his life to the very fullest. There's a lesson in there for all of us.
Alan Corr