Tributes have been flooding in for Dallas star Larry Hagman who passed away on Friday following complications from his battle with cancer.

His co-stars past and present have paid tribute to the much-loved actor who electrified a generation of television audiences as TV bad guy JR Ewing.

Linda Gray who played JR's long-suffering wife Sue Ellen Ewing in Dallas said: "So sad to lose such a wonderful dear bigger than life friend. Larry Hagman was one of a kind and will be with us all forever. Thank you all for the love you have been sending about Larry's passing. He was a true icon loved by so many."

A clearly emotional Patrick Duffy who played JR's saintly brother Bobby Ewing was brief in his tribute: "My friend is taking a break. Pardon my silence. Love Patrick."

Ken Kercheval who was JR's sworn enemy Cliff Barnes said: "A friend and long time partner . . . the other half. RIP Larry Hagman . . . your spirit will live long."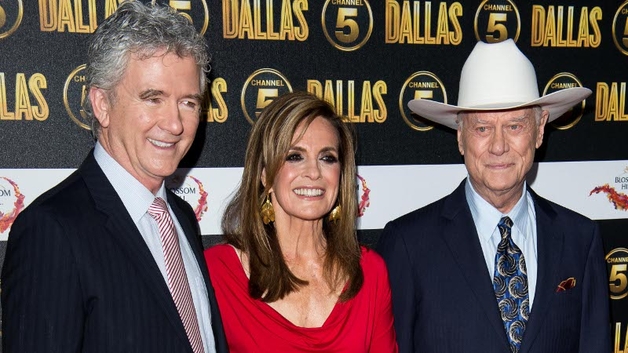 Larry Hagman with Dallas co-stars Patrick Duffy and Linda Grey
Victoria Principal who played Bobby's equally-saintly wife Pam has said: "Larry was bigger than life, on screen and off. He is unforgettable, and irreplaceable, to millions of fans around the world, and in the hearts of each of us who was lucky enough to know and love him. Look out God, Larry's leading the parade."
Barbara Eden who rose to fame in the sixties opposite in Hagman in I Dream of Jeannie has also paid tribute. "Larry was the centre of so many fun, wild, shocking and in retrospect, memorable moments that will remain in my heart forever. Throughout various productions I had the pleasure of watching the Texas Tornado that was Larry Hagman.

"Amidst a whirlwind of big laughs, big smiles and unrestrained personality Larry was always, simply Larry. I can honestly say that we've lost not just a great actor, not just a television icon, but an element of pure Americana."
Read last September's RTÉ Guide interview with Larry Hagman here: