Former Rolling Stones bassist Bill Wyman has rejoined the band for the first time in 20 years - - but he won't be hitting the road on the new tour.

Wyman, at 75, the oldest Rolling Stone, accompanied Charlie Watts, Keith Richards, Ronnie Wood and Mick Jagger to the premiere screening of forthcoming Stones documentary Crossfire Hurricane: The Rise of The Stones.

The Stones, who are currently celebrating their 50th anniversary as a group this year, all attended in the film which combines unseen footage from over the last five decades with interviews and commentary from band members.
The film, made by director Brett Morgen, will be screened in cinemas and then broadcast by BBC Two later in the year.
Wyman says he's pleased that founder member and guitarist Brian Jones, who died in 1969, also featured in the new documentary.

"I'm glad he's remembered," he told The Daily Telegraph. "That's the most important thing."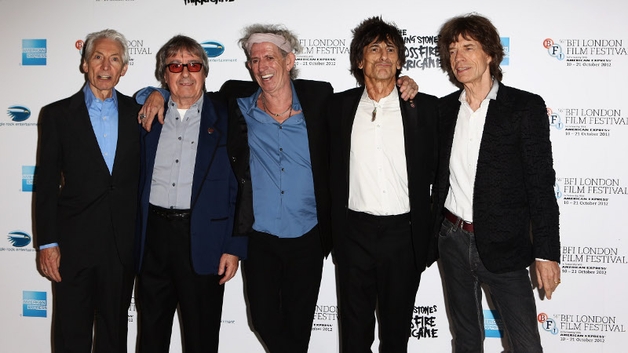 Their geriatric majesties attend the premiere of new Stones doco Crossfire Hurricane
However, Wyman will not be joining the remaining members of the band on their upcoming tour, which kicks off next month with a series of dates at London's O2 Arena and concludes in New Jersey in December.

"I'm really looking forward to it," said Mick Jagger. "We've been working hard rehearsing over the last few weeks and we're looking forward to doing the shows for the anniversary."

Keith Richards responded to rumours that the group plan to retire after the series of concerts: "People have been saying that for 20 years, who knows? We don't know so how can anyone say so?"
He added that the band "don't know yet" if they will be headlining Glastonbury 2013, but "would love to".

"Once this wheel is turning I don't think it will be able to stop," said "new boy" Ronnie Wood. "We won't be able to stop.

"You would think it would be boring doing the same thing over and over again but it's not. It's totally fresh and totally new every time we get together. There's a chemistry between us. I don't know what the hell it is but it's magic."

There has also been speculation that the band will play Slane next year.
Earlier this week, The Rolling Stones hinted at the potential set list for their 50th anniversary tour. The band tweeted a picture of a handwritten list of songs, but later deleted the post following fan speculation.

The group are scheduled to release greatest hits collection GRRR! on November 12. They recently unveiled the lead single from the album, Doom and Gloom.