Green Fire Islands is a new music and dance spectacular which weaves together the anicent traditions of Irish and Maori culture. It performs for one night only this Friday at Dublin's Helix. Alan Corr talks to Irish musician Iarla O'Lionaird and Maori singer Whirimako Black
Up in the Tyrone Guthrie Centre in Annaghmakerrig, Monaghan, a 35-strong troupe of Irish and Maori musicians, singers and dancers are working hard on a project that might cause most onlookers to take a second look. And a second thought.

Green Fire Islands is an ambitious song and dance spectacular which brings together two cultures from different sides of the globe with very different histories but manages to find common ground to tell the dual story of their music, rituals and traditions. It mixes kapa haka, poetry, sean nos dancers and exoteric Maori instruments with traditional Irish ballads.

The branchild of producer and creative director Bronwen Christianos, the show is nearly 20 years in the planning and began playing to critical acclaim in New Zealand several years ago. This week it makes its debut performance in Dublin with a one-off show in The Helix before heading to London as part of the massive Cultural Olympiad which is taking place alongside the London games.

RTÉ Ten spoke to Iarla O'Lionaird and Maori singer Whirimako Black ahead of Friday's show.

RTÉ Ten: When did you first get involved in Green Fire Islands?

Iarla O'Lionaird: "We did this project in New Zealand in 2008 and we went around to the tribal lands to meet the Maori leaders and that was the most interesting part in some ways. I'd been there before but I hadn't really encountered the people. I met the elders and the artists from the Maori tradition to opt the show together and we had a very successful tour in New Zealand."

Did you note notice any immediate similarities between Maori and Irish culture or are there any?

"I think musically all cultures are related to some extent. Music connects people in an emotional and a tribal and ritualistic way and it does open them up. It makes things far more relaxed. The Maori have a very different tradition than us in music and we found that extremely exciting. They have some very unusual instruments which had been brought back into their tradition by Richard Nunns and they make a very beautiful sound so the soundscape is something we've been working on."

What was the Maori reaction to your music? Were they taken aback by it?

"Some were! Music anthropologist Richard Nunns knew my work but Sean Nós is not well known but then again a lot of musicians today have heard various forms of ethnic music in their travels so in some ways there is a lot of mixing of cultures going on. There was surprise on all sides when we first got together but that's the nicest part of the process."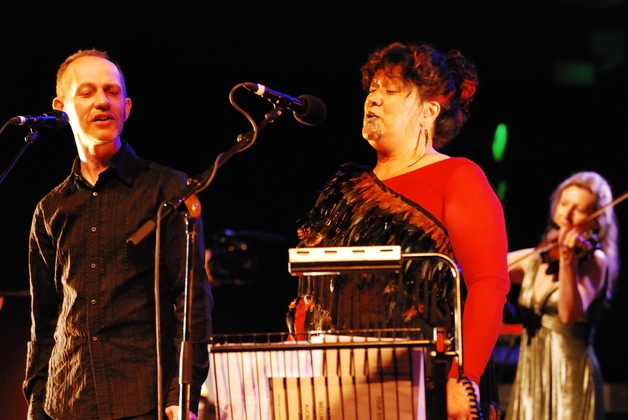 Iarla O'Lionaird and Whirimako Black perform Green Fire Islands
You're avoiding the word "fusion" to describe what is going on with the music on Green Fire Islands . . .

"Well, wouldn't you!? I think that's a word that can mislead because what we're doing here really is creating an experience for people that has musical and ritualistic and metaphorical dimensions so really it's quite different from other ways of mixing music, a lot of which is very intensely driven by studio and technology. This is not like that. This is more people in a room making the most of each other and trying to communicate over a chasm of time and geography but it can be done. All music comes out of the same pot.

"Funnily enough although our tribal of life is long since forgotten, I've always found, particularly since I got to know some aspects of the Maori culture, that there is a lot we could learn from the Maori, there is a lot we could do to understand our own culture better. They have a very beautiful way of conducting themselves in terms of their ritual practices. They have a very beautiful way of reflecting on the past and bringing it into the now in the ritualised sense. These days we could learn from that because we seem to have lost our way a bit."

The show is about two dispossessed cultures which had their music suppressed by their rulers i.e. the British Empire. Is that a large part of the show?

"There's nothing as overt in what we're doing that would suggest that but there is nonetheless plenty of symbolism and metaphor that shines a light on that and the fact that both Maori and Irish had similar mythologies in our identity. That's quite an important part of what we're doing. We turn to the Cúchulainn saga and the Maori had their own heroes. One of their artists iterates the Cúchulainn part and we were switching roles and in a way it's quite fitting because they have that warrior sensibility as any rugby player who takes them on will know!"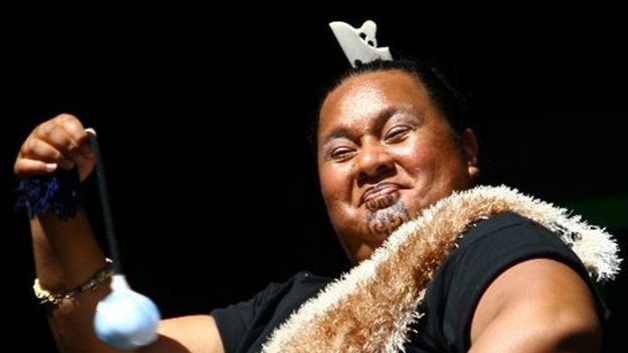 Go Mao-rish at Green Fire Islands this Friday at the Helix, Dublin
RTÉ Ten: What was your reaction when you first heard the Irish music that is featured in Green Fire Islands?

Whirimako Black: "It took a little while for me to get used to the jig. I wanted to get the jig down before I met everybody and it wasn't something I enjoyed, it took me a little while to feel it in my bones! The ballad side of the tradition was something I could relate to more. Some of the material was as highly energised as the Haka and some of our chants."
Are there similarities between Irish and Maori culture or was that something you've discovered over the course of the tour?

"Over time I discovered things. I didn't know a lot at all about Ireland but I love the music and dance and the instrumentation and what instruments are more favoured in the Irish music. My experience of it is a lot more than most Maoris have experienced."

A lot of Irish ballads are rebel songs. Is there a similar tradition in Maori music?

"We have a lot of songs like that which record our history, acknowledging war and who was involved and what happened. Some of the songs are there to purposefully dig at the enemy. Sometimes when I sing some of my traditional songs, some Maori from my tribe get quite uncomfortable because I've taken our history and put it on a world stage. They like to keep Maori business to stay with Maori, not for it to go out and for the rest of the world to know what happened but I look at Iarla and he's holding up a book of ancient prayer and he's singing from it and it reminds me of myself singing my own chants from my own tribe."

Green Fire Islands is at The Helix, Dublin for night only on Friday July 20th