The release of re-mastered My Bloody Valentine albums and rarities is a cause for celebration but also a reminder of how conservative rock music has become says Alan Corr

"Loveless fires a silver-coated bullet into the future, daring all-comers to try and recreate its mixture of moods, feelings, emotion, styles and, yes, innovations."
"Loveless oozes a sonic balm that first embraces and then softly pulverizes the frantic stress of life."
"Loveless is a pulsing spectrum of infallible splendour."

Those were the kind of hosannas that greeted the release of My Bloody Valentine's second full-length album Loveless in late 1991. It was the kind of purple prose that made Elvis Costello's churlish but spot on assertion that "writing about music was like dancing about architecture" all the more sensible.
The Dublin/London band had clearly moved reviewers to extremes. They still do.

The curious thing is that for most of Loveless' 48-minute duration, you couldn't hear a word the band's vocalists, pixie dream girl Belinda Butcher and sorrowful, imperious prince Kevin Shields, were actually singing. This, of course, only made My Bloody Valentine all the most mysterious, intriguing, beautiful and unclassifiable. The music, meanwhile, was an overpowering, sensual onslaught of ethereal sighs, drum loops, sampled feedback, and very LOUD guitar.

At the time, many Irish people were agog that anything so bloody different and new could have come from Dublin. Dublin was then putrid with the stench of Raggle Taggle and echoing to the death rattle of jangle pop. But lead singer Shields and drummer Colm O'Coisgig were indeed Dubliners (in Shields' case, via New York) who had formed MBV as teenagers and released a series of unremarkable buzzsaw guitar/C86 style mini albums, before pioneering the sound that would go on to be described as shoegaze.

This week Sony Music releases the long-awaited re-masters of Loveless, as well as MBV's atonal and hypnotic 1988 album Isn't Anything, and a compilation of EPs and rarities from 1988 to 1991. All bear the legend "Re-mastered from the original master tapes by Kevin Shields." The idea of re-mastering My Bloody Valentine albums has more than a ring of delicious irony about it because Shields was a perfectionist who spent two years making Loveless, using 19 different studios, and eventually bankrupting Creation Records with a rumoured recording cost of £250,000.

It was worth the time and money. Over twenty years after their release this music sounds as mesmerising as ever. For fans who've waited a long time for these re-masters (and MBV fans are a patient lot) the real treasures in these re-releases may well be on those relatively hard to get ep's dated 1988-1991.
With apologies to Elvis Costello, here in their full glory is the white noise bleed out and frenetic drumming of You Made Me Realise; the inchoate Slow with its lethargic guitar grind and shifting background de-tunings pointing the way forward to the full, lurid beauty of Loveless; the almost conventional Drive it All Over Me which even had chord progressions and an immediate melody; the blissed-out exotica of Swallow; and an alternative recording of Soon, a song which that high priest of sonic adventurism Brian Eno described as "the vaguest music ever to have been a hit."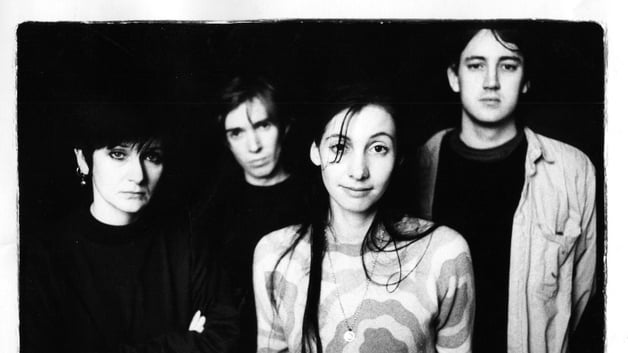 MBV: Debbie Googe, Colm O'Coisgig, Belinda Butcher, Kevin Shiels
Interestingly, there are few live recordings of MBV available and anybody who saw their return at Electric Picnic may agree that in concert My Bloody Valentine were a singularly physical experience. The last time they had played Ireland before the Picnic was in May 1992 at Dublin's hallowed SFX. When I wandered down to see the band that had left the British music press swooning I recall being taken aback at a small stall selling earplugs at the entrance.

An hour later I saw at least one distressed fan hurrying from the front of the gig clutching his ears. This must have been during what Shields gleefully called "The Holocaust", the section mid set when the band, in menacing silhouette, played a 24-minute version of You Made Me Realise. "It was more like torture than entertainment," wrote one reviewer at the time. "I had a half pint of lager; they hit their first note and it was so loud that it sent the glass hurtling".

My Bloody Valentine really were the sound of beautiful chaos. In the aftermath of Isn't Anything and Loveless came the wan and fragile Slowdive, Chapterhouse and Pale Saints, and a whole slew of one word bands including Lush, Ride and Blur. Smashing Pumpkins and Radiohead also owe them a debt and today, MBV's legacy can be heard in music of the excellent The Horrors and any number of nu-gaze bands emerging from America.

After the triumph of Loveless, Shields is said to have succumbed to Syd Barrett/Brian Wilson like reclusiveness in his effort to get the music in his head down on record. He penned the beautiful soundtrack to Lost in Translation and played with Primal Scream but more recently he has said, perhaps mischievously, that a regrouped My Bloody Valentine has nearly finished an album they'd began in 1996.

It will be worth waiting for. With pop seemingly making all the interesting moves, the re-released, re-mastered Loveless and Isn't Anything are reminders that rock music was once a thing of innovation and risk that waved two fingers at the mainstream.

John Cale famously said that nobody bought The Velvet Underground's debut album but everybody who did went on to form a band. The opposite may have been true of My Bloody Valentine - most bands who tried to folllow in their majestic vapour trail simply simply gave up.
Alan Corr