Norah Jones is nursing another heartache after the break up of a romance. She's poured her feelings into her new album but watch out, there's a mouse in the house! Alan Corr meets her and hears why she's stepping out of her comfort zone again

"Are you trying to shock me and get a reaction?" asks Norah Jones with a half grin and a raised eyebrow. We are sitting in her well-appointed, oak-panelled hotel room in London and I have just read out a newspaper headline that sums up her reputation with one arresting question: "Can Danger Mouse make Norah Jones cool?"

It's the kind of sentiment that has bedevilled the hugely successful singer since she emerged as the world's biggest-selling jazz artist a decade ago. It seems a fair comment given the perception of her as the drowsy voice behind soufflé-light ballads and tasteful country songs. On the other hand, Danger Mouse, aka Brian Burton, is the in-demand producer who has worked with Gnarls Barkley, The Black Keys, and who's just finished producing U2's new album.

So what happens when you put him in the studio with Norah Jones? Does she scream, jump on the control desk and gather her hippy skirts around her? Hell no. The album they've made together is called Little Broken Hearts and that cutesy title belies the darkness within as Burton's production techniques rub up against Jones' silken tones on tales of heartache and disappointment.

"I never saw that headline," says Jones with a shrug. "Who decides what cool is? Sorry, I didn't get that memo. Hahaha. So they're telling people how to be cool? I don't care. That's pop culture today, isn't it? I don't read stuff about myself. Anyway, s***, I know I'm cool!"

Jones is well aware that some people call her Snorah but in many ways the media has been unfair to her. Initially dogged by constant but understandable questions about her famous father, sitar master and pal of The Beatles, Ravi Shankar, she then had to contend with the notion that selling 40 million albums made her the doyenne of soft jazz for the masses.

But working with Danger Mouse is not the first time Jones has stepped out of the corner the media have written her into. She's previously sung with Foo Fighters, Ryan Adams, Keith Richards, Tony Bennett and Outkast, and has always placed herself far away from the room temperature controlled dinner party ambience of reputation.

Today the extraordinarily pretty Jones is poised in black jeans and top and she looks much younger than her 33 years. She's been spending time with her half sister and fellow musician Anoushka who has just given birth to a daughter, Zubin, with her husband, British film director Joe Wright. "I spent the night at her place. She just had a baby so it was really great." Does that make you a half aunt? "Well, I don't think we call it that . . . "
Jones is chilled and cool but her record label, the legendary jazz imprint Blue Note, are less so. Before our interview I have a sneaky glance at her press schedule for the day and I spy these telling lines: "Please make sure the interviewers ask the right questions."

Yes ma'am! Let's hope Jones gives the right answers especially considering that Little Broken Hearts is another heartache album. It comes very soon after 2009's The Fall which picked over the aftermath of the amicable break-up of her seven-year romance with bass player and former band member, Lee Alexander.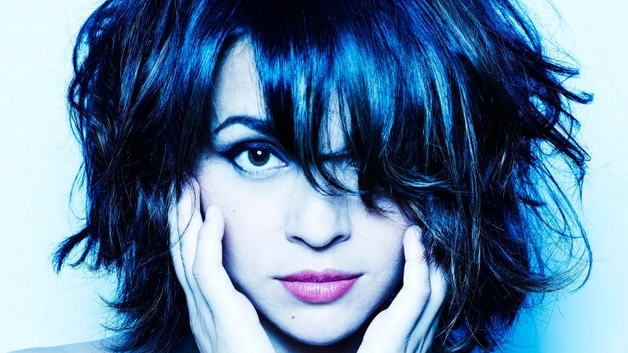 Now she's looking back on the end of her relationship with her last boyfriend, who was a writer by trade. The album is littered with little broken clues about her state of mind and heart when she was writing and recording. "It ain't easy to stay in love when you can't tell lies," she coos on Say Goodbye: later she asks "don't you miss the good old days when I let you misbehave?", and on 4 Broken Hearts she sings, "I tried to repay you but I only got scarred and we tried to be faithful but didn't get far / I tried to erase you but didn't get far because you can still break my heart."

Ouch! Surprisingly given her fiercely-guarded private life Jones says she had no problem sharing that personal lyrical content with Burton in the studio. "Oh, we wrote everything together," she says. "We're writing songs, we're not writing a history of us, we're not necessarily writing a diary together. We shared a lot of things, we got to know each other really well and it was fun. I generally was inspired by a lot of personal stuff, but maybe it's a bit too personal."

So this is essentially your second breakup album in a row? "Yeah. It's ok. Hopefully the third time will be a charm!"

As Adele has discovered, heartache pays off. Even Madonna has claimed that her new album is about her break up with Guy Ritchie, although it does seem to have taken her a long time to feel the effects. "Yeah, but it takes a while for things to come out . . . for me it's always good to strike when the iron's hot! Hahahaha." Jones laughs. "People can relate to songs like this when they break up. That's why Adele's been so wonderfully successful and heartfelt.
"It's easier to be honest and to pour your heart out when you're going through something. When you're happy you just want to skip down the street. You don't want to write happy songs. I don't even know if I wanna write songs full stop. I'm so happy I'm preoccupied with being happy."

So it's easier to write from the pit of misery? "Even if you're not feeling sad overall," she says. "Making this record I was not depressed or unhappy. I was thrilled to be in LA hanging out with Brian. There's not really any anger going on. When we were writing we were trying to tap into certain feelings, so it's nice that you don't have to be wallowing in sadness the whole time."

She first met Burton four years ago when he turned up at her apartment in New York and asked her to appear on Rome, an album of music to imagined Spaghetti western movies he was making with Jack White. They make for interesting partners on Little Broken Hearts and Jones' voice floats hauntingly over a languorous soundtrack of strings and muted percussion.
"I was into exploring on this album. Brian is really versatile and he has a lot of areas he's interested in musically," Jones says. "He really loves dark, quiet music as well and we were both drawn to that."

He's almost finished producing U2's new album but Norah is simply not going to talk about that. "You'd need to ask him. He told me loads about it, not that I'm going to tell a journalist from Dublin! There's no gossip, nothing juicy to tell you anyway."

Jones grew up without any contact with her famous father and she and her mother, concert producer Sue Jones, spent a good deal of her childhood travelling before finally settling in Forth Worth, Texas. By the time Norah followed her musical muse to New York as teenager she had already attracted attention for her voice. A demo found its way to Blue Note and success was immediate.

In fact, ten years ago Jones went through what Adele is going through now. Her debut album Come Away With Me proved to be an irresistible invitation for 20 million people and she was catapulted from being the rising chanteuse of a select jazz label into a global star. What was she like back then? "I was very young, I was a baby but I was also way older in some ways. I was a little conservative in the way I dressed. I wasn't comfortable but I think most 22-year-olds aren't comfortable and if they are, maybe they're over compensating. It doesn't come from a place of pure confidence. It happens later."

Her attitude to fame is equally measured. "I just don't put myself in situations that bring that kind of attention. I don't think I'm being conscious any more; it's just the way I do things. I probably pulled away from it in the beginning when it was more present and more intense. When I go out, even after all the madness, I'd still be left alone. I love being home, I love cooking, I love being out with my friends . . . "

She has said in the past that she is spiritual but that too may have been an affectation of youth. "I'm not incredibly spiritual, a little bit here and there yeah and I do go to church sometimes because I enjoy the act of going," she says. "I don't meditate because I can't turn my brain off! It's hard to read a book these days! But being in a church is a nice way of getting outside of yourself but I'm not necessarily a deeply religious person."

Jones hasn't played Little Broken Dreams to Anoushka yet and she's not sure if she'll get to play it to her father. He's just turned the grand old age of 92. "I'm not sure when I'm seeing him again. I haven't seen him in months. I played it to my mom when I was in Texas. I think she liked it!"

Before I leave I notice that over in one corner of Jones' hotel room is a door marked The Honesty Bar. "Oh that?" she says. "It is what it says – an honesty bar! You go in and drink what you want but you have to pay for it. I love being up here at night sneaking drinks."

Now there's another surprise from Norah Jones.

Little Broken Hearts is out now