Last night Jedward became the first act to represent Ireland in consecutive Eurovision Song Contests.
The 20-year-old twins from Lucan won the Late Late Show Eurosong Special with Waterline which was written by Nick Jarl and Sharon Vaughan. The dynamic duo will now go forward to represent Ireland in the first semi-final of the 57th Song Contest which will be staged in Baku, Azerbaijan on May 22. The final is on May 26.
"We are thrilled to have been chosen to represent Ireland in the Eurovision Song Contest for the second year in a row," said the twins after their historic win. "We love making Irish Eurovision history. We'd like to say a massive thank you to everyone who voted for the song tonight – we have the best fans in the world. We'd also like to thank our mentor Linda Martin for all her support and the song writers for writing such a Jepic song. We can't wait to perform in Baku in May."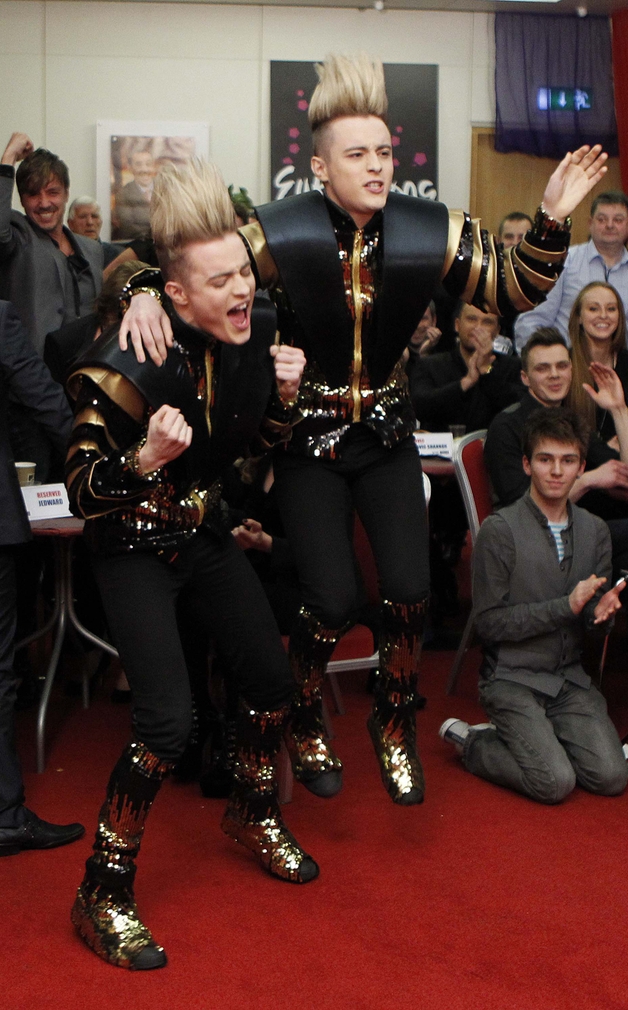 Jedward celebrate their win last night
Jedward battled it out against four other finalists in the Late Late Show - Eurosong 2012, topping the vote which was a combination of 50% public tele-vote and 50% regional jury vote.
This year RTÉ nominated five mentors with proven experience in the Irish music industry and asked them each to select an act and song which they believed had the potential to be a Eurovision winner. Jedward's mentor was 1992 Eurovision Song Contest winner, Linda Martin.
"It has a very modern sound and I'm confident that it's the perfect song for Eurovision," Martin said of waterline which she also described as "a fantastic European love song."
Last year's Song Contest entry, Lipstick performed by Jedward, made it to the final and placed 8th in the contest - the highest ranking result for Ireland in 11 years.