Ryan Tubridy has admitted that he was a late-comer to the joys of the Eurovision but added he is looking forward to tomorrow night's selection on The Late Late Show of Ireland's entry for the 2012 contest.
Speaking to RTÉ TEN about whether he has always been a Eurovision groupie Tubridy confessed: "No, I haven't. I have come to the Eurovision quite late in life, obviously I grew up with it.
"When you present this show, part of the joy is that you get to present the Eurosong once a year. It's kind of like a bizarre version of the Toy Show."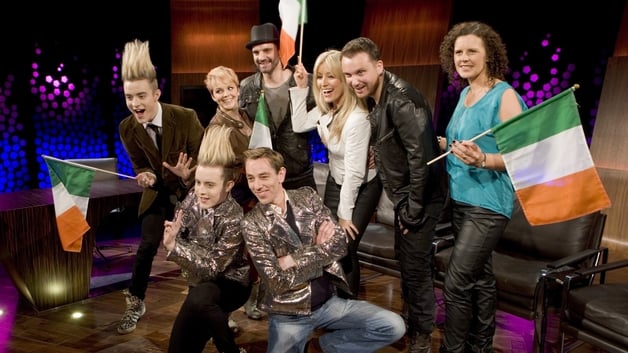 Tubridy was photographed this afternoon with the Eurovision hopefuls to launch tomorrow night's vote for Ireland's entry
The five acts, and their mentors, in order of their performance on tomorrow night's Late Late Show, are: Celtic Aura with Maria McCool and mentor (former Bewitched singer) Edele Lynch, Donna McCaul with mentor Bill Hughes, Andrew Mann with mentor Greg French, duo Úna Gibney and David Shannon whose mentor is Julian Benson and Jedward, who have Linda Martin as their mentor.
Following last year's experience, which saw Jedward placed in eighth place, the lads believe it's a case of "second time lucky" and that they can win it this year: "Definitely. Last year we came eighth and we were totally unknown and this year 100% yes."
They are performing Waterline last on tomorrow's night Late Late Show which they think "is really cool because last year I think we performed second or third and this year it's really great that we're performing last because usually the best song is the finale in everyone's concert."
Former Eurovision winner, Linda Martin is returning to the competition, this time as Jedward's mentor and is clear about what she's bringing to their table: "A little bit of experience but most of all a calming influence!"
This year the voting will once again be split evenly between a public phone vote and a regional jury, however the boys are not worried: "I think overall our song is the coolest, it has guitar, it has piano and it appeals to loads of people.

"Even if you don't understand what the song means, everyone knows what water is and everyone drinks water to hydrate themselves and everyone wants Jedward to do good!"
Mentor Martin added: "And it's a love song, this is the first time the boys have sung a love song. Waterline is actually a metaphor for falling in love."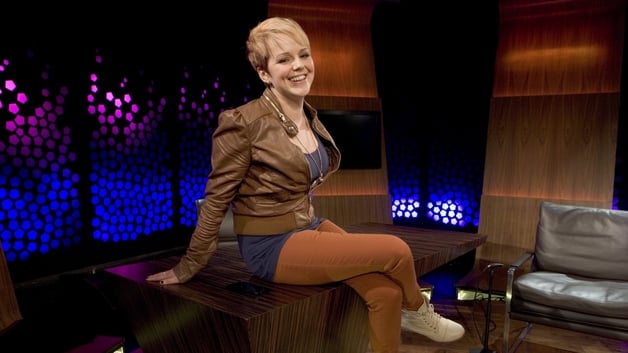 Donna McCaul, all grown up and singing solo tomorrow night, supported by mentor Bill Hughes

To those who think that Jedward has it in the bag, Tubridy adds: "Truthfully I haven't heard the songs yet. Jedward have been there before so they have the advantage in that sense but so has Donna McCaul. I think there's a fight in it."
McCaul's mentor, Bill Hughes agrees: "We think it's a very strong pop song. When I was first asked to mentor I thought Ireland needs a pop song somewhere in between Lady Gaga and Steps and I think we've found it... I also thought it needed a really big voice and I have worked with Donna a lot over the years… and she's always managed to blow the room away and I thought I have to work with this voice and get her in."

Hughes said of Jedward: "They're great and they just do what they do.

"We're going for the song - we feel we have the strongest song and we feel we have the strongest singer."
It is seven years since Donna sang for Ireland with her brother Joseph: "I was young, we were very, very young. To go back now after 2005, saying that wasn't me then, this is me now, this is my voice. This is a song that I'm going to represent Ireland with and knock their socks off - I'm a completely different person, I was only going on 20 and I'm 27 now."

Niall Horan from One Direction has also come out in favour of McCaul: "He was questioned by one of the newspapers about 'Who were you backing for Eurosong?' and he was like 'My very own Donna McCaul from Westmeath' so it was nice. I haven't met him but he's my new best friend!"
Speaking about the mentors, Tubridy said: "I think it adds a little credibility to the affair because they're people with a proven track record."
If Ireland were to win the Eurovision, would he present? "Of course, I'd set up an exploratory committee into the sparkle factor required for the presenter of the Eurovision. No, of course I would, I'd be honoured to do such a thing.

"I think we'll win it, I think we're due it, I've got a really good vibe about this year, 2012, in Ireland…Things are good, the sun is coming out again and hopefully it'll be reflected with a good time out in Azerbaijan and hopefully Ireland can come home with a bit of silverware."

Incidentally Tubridy has taken part in a Late Late Show skit which will air on Republic of Telly on Monday night on RTÉ Two, which he promises is well worth watching.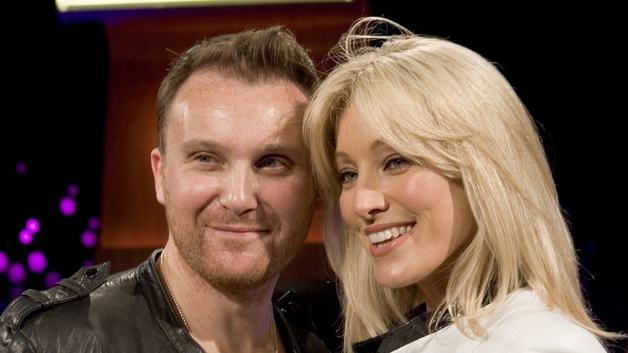 Duo Úna Gibney and David Shannon

Singers and their songs:

Celtic Aura with Maria McCool's song is entitled Mistaken, written by Edele Lynch.

Donna McCaul's song is entitled Mercy, written by Marten Ericsson, Peter Mansson, Lina Ericsson and Bill Hughes.

Andrew Mann's song is Here I Am, written by Greg French
Úna Gibney and David Shannon's song is Language of Love, written by Eanan Patterson and Julian Benson.

Jedward's song is Waterline, written by Nick Jarl.
Watch the Eurovision hopefuls perform on The Late Late Show tomorrow night, Friday February 24, on RTÉ One at 9.35pm.