The last few months have been a rollercoaster for Alan Hughes: his wedding to Karl Broderick, a packed panto season, trips to the hospital and filming Alan Hughes Family Fortunes in just two weeks, as he tells Taragh Loughrey-Grant
Is it any wonder the presenter is taking a few days off and relaxing by the pool in Gran Canaria when I speak to him about his new TV show? This isn't just any old Family Fortunes, not only is it Irish but it is officially Alan Hughes' Family Fortunes. "That was a big honour", he says, "because when Ben [Frow, TV3's Director of Television] approached me a couple of months ago saying 'We're doing Family Fortunes, I want you to do it', He was worried that it was coming immediately after panto and that I'd be a bit wrecked but I said 'Absolutely, I'll be there'.

"He wanted to put an Irish stamp on it and he said: 'We want to make it Alan Hughes Family Fortunes'. I think it was his way of saying it's not just an Irish version.

"I was really chuffed about that because I was having a rough time of it over Christmas; Karl's parents were sick, my sister was sick too and then to get news like that, it was a real boost.

"Karl's mum was taken into hospital the day before Christmas Eve, Karl's dad was taken in for a liver transplant on Christmas Eve, and so our first Christmas together (as a married couple) was standing in Vincent's hospital just before midnight waiting for the liver transplant. Then my sister was taken into hospital on Christmas Day, so that was our Christmas, as well as doing two shows a day of panto and trying to prepare for Family Fortunes.

"They're all sort of OK now but it was total stress and nightmare at the time. Karl's dad got the transplant, his mam is out and my sister is not great but that's another thing we have to cope with."
The pace didn't slow down once the panto finished either: "We did 25 Family Fortune episodes – half a year's television in just two weeks. It's crazy but it just had to be done, it was put to us that the Helix was there for two weeks and we need to get in and make the episodes."

Fans of the original game show may rest assured that the much-loved format remains, for the most part, unchanged: "It's the exact same format because the flying producer, who goes to every country that wants to set it up, makes sure the show is set up correctly. Even though they want you to add in your own little bits, the game that people know and love for years is there – that's the star of the show.

"He was talking about all the hosts going back as far as Max Bygraves and it was really funny because Max never wanted to know how the game was played, all he was interested in was where he could get his jokes in. The whole thing revolved around that, and Bob Monkhouse was the same. It was fascinating listening to him because this producer has been doing it for 30 years.

"He said to me 'You seem to have a style of your own that's working, you know the game and that's the important thing'. You'd be amazed going around the world where they hire a big star to front it and they haven't a clue what's happening.

"You can see me having fun and chats or when someone says something funny, I'll go 'Ya' big thick ya' rather than go, 'Oh no, that's wrong!', as you would if you were playing with your family. I was trying to bring that feel to it."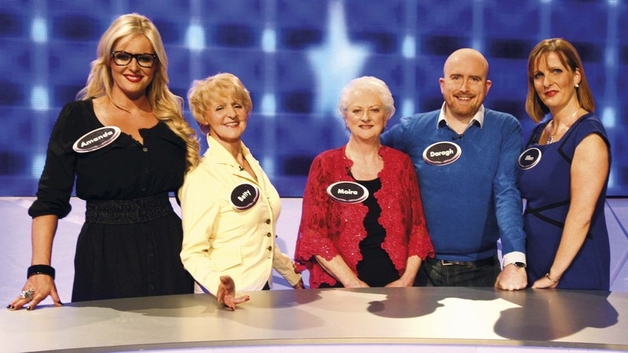 Amanda Brunker and her family took on The Priests in the first show

The show really was a family affair, as Alan's partner of 18 years worked alongside him: "Karl worked on the show as the scriptwriter because the producers came to see the panto over Christmas and said we'd love to get that bit of fun into Family Fortunes.

"That was useful but also sort of not useful because when you're with each other 24 hours and killing each other and then with his dad only coming out of hospital and he's writing the script and I'm phoning him going 'Where's the script?!'

"So I don't know whether it worked or not but we got through it! Some of the stuff was very funny – when we had rugby star Shane Byrne on with stylist Lisa Fitzpatrick, we had The Looker versus The Hooker, which one is which?!"

One thing that has changed is the surveys: "The surveys are Irish and they had to be because if you had a survey in England and said 'Name something that's black and white', they'd never say nun or cow and they're the type of things that people say here. A hundred people are surveyed for every question and they have it all listed so it's all above board."

Alan has his own Family Fortunes favourites: "Watching it at home on Saturday nights with Les Dennis and the stupidness of some of the things that people say. Some people came out with these answers or the survey said and you're screaming at your television, going 'How stupid are you?!'
"Now, after doing 25 shows, I'm gobsmacked at how stupid some of the answers are that people come out with but it's when they're under pressure. Like 'Name a part of your body beginning with N' and part of our survey said 'Knee'! Three people in our survey said that. There's nothing as queer as folk and nothing as queer as Irish folk!"

Thankfully, just as his predecessors didn't have to hide their amusement, neither does Alan: "You have to laugh, I was in hysterics and the audience was in hysterics."
The first ten shows feature well-known Irish personalities, along with their family and friends and they weren't exempt from amusing answers: "It happens even in the celebrity ones. Lisa Fitzpatrick was asked to 'Name something in a restaurant' and all the answers were on the board, including table. She's looking at it and she goes 'Table' and I went 'It's on the board' and she repeated it again! The actually pressure of playing the game gets to you and the competitiveness comes out in people and it's such a wonderful format for that.

"There are 15 family shows after the celebrity shows. Karen Koster and her family were rehearsing all over Christmas. Aslan came on as a family and they were so excited – Christy Dignam was like a child. I was taken aback; people were saying that they watched it for years, playing along at home."

The fun is in the taking part rather than big prize money jackpots, although many celebrities did well for their chosen charities: "They're not coming on to win massive amounts and everyone knew that, €5,000 is the jackpot for the celebrity charities. A lot of them were smaller charities who never get a look in, or a bit of national exposure. The families' jackpot is €2,000 and we had a few who won that."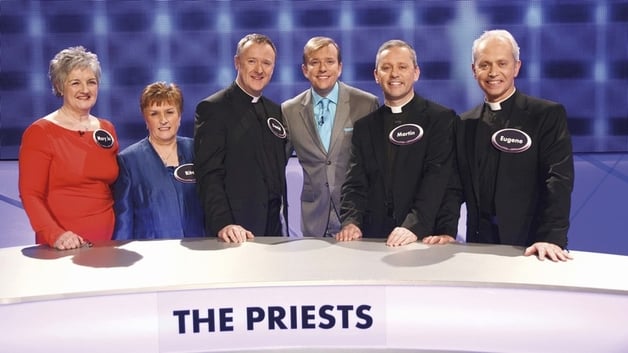 The Priests stepped up for the first show

Looking at Alan's slick new image for the show, is it likely that his signature deckchair jackets from his RTÉ Talkabout days will resurface? "I'd nearly go to someone in publicity in RTÉ and bribe them to burn every picture!

"We were looking at open-neck shirts and Converse but between everyone, we said it's Saturday night, it's 9 o'clock, it has to be slick, it has to look game-showy.

"So we went for a nice clean-cut look, lovely suit, matching shirt and tie – the stylist Sonja Mohlich was great at that and we're happy with it and it works on the set. It's the biggest set they've ever built for a TV3 show, there was nine cameras used on it. It's big Saturday night stuff and you have to dress appropriately."
Former Family Fortunes presenter Les Dennis is well-known for his Extras appearance, when he intimates that he had the top show on TV before being reduced to panto. However, Alan has done it already: "This was my 15th year doing panto, so I can never turn around and say 'I'm reduced to doing panto'. I started right back there and now I've come up!

"It has been a great year: Celebrity Salon was great fun and I think that came across. Winning that and then getting married, which came from that because the day I won, Karl proposed. Then the panto this year was a huge success and now Family Fortunes.

"It's been six, seven months of an absolute rollercoaster and I hope it continues and I hope people watch Family Fortunes. It is great fun, it's our version of it.

"The first one that's going out is Amanda Brunker versus The Priests. It's her family and three priests and two nuns. Amanda is all there and blowing kisses with her big red lips – only on Irish television and only on Family Fortunes could you get that.

"If we did a survey and asked people why they'd watch Alan Hughes' Family Fortunes, what would be the top answer? 'Because it's the best show on TV!' Alan laughs, making the famous Family Fortune buzzer sound."
Judge for yourself on Saturday night.
Family Fortunes so-wrong-they're-right answers (some may be apocryphal of course!):
Something made of wool: 'Cotton wool'
A word beginning with Z: 'Xylophone'
A slang word for a girl: 'Slag'
Something a bridegroom might wear: 'A dress'
Someone who works early hours: 'A burglar'
Something that's nice to wear next to your skin: 'Pants'
A popular TV soap: 'Dove'
An animal associated with a nursery rhyme: 'Andy Pandy'
A bird with a long neck: 'Naomi Campbell'
Sadly there's no truth to the rumour that this one was a Family Fortune boo-boo: University Challenge had the honour of asking: What was Gandhi's first name? Answer: Goosey, goosey