Mrs Brown is back for a Christmas special. Alan Corr talks to the hit show's star and creator Brendan O'Carroll

It only takes ten minutes for the small, bald man with the moustache from Finglas to become a 70-year-old, foul-mouthed Dublin widow by the name of Agnes Brown. But good feck what a difference those ten minutes have made to Brendan O'Carroll.
From small beginnings on 2fm back in the early 90s, Mrs Brown's Boys has truly gone international. The books have been translated into numerous languages, the theatres have sold out, and when the show became a sitcom earlier this year, it captured 800,000 viewers an episode on RTÉ and nearly five million on the BBC.

he family show that's not for the family is big, very big. At year's end Agnes Brown's Dr Frankenstein Brendan O'Carroll is kicking back in Orlando in the house that Agnes built. It's 69 degrees at the pool and life is good. "When I wrote Mrs Brown for radio I assumed it was a Dublin character written by a Dublin man that would have a Dublin audience," he says down the phone. "But there seems to be a universal Mrs Brown, a universal auld one, whether she's Chinese or African or Eastern European, that hand that rocks the cradle, rules the world and she refuses to allow her children to grow up and be anything beyond six years of age."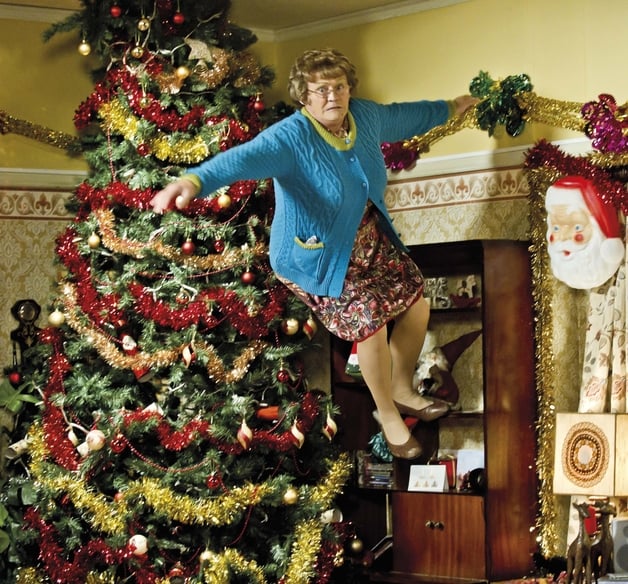 Mrs Brown takes flight
O'Carroll's own mother Maureen figures largely in his life. She raised 11 children (he was the last to arrive) and was the former nun, then teacher, who entered politics and became the first woman to be elected the Dail for the Labour Party. But O'Carroll has the traders of Moore Street where he worked as messenger after leaving school at 12 to thank for the inspiration for Agnes Brown.
"I always left really at home there and Mrs Brown came out of that and not out of my mother," he says. "My mother started life as a nun, she then became a teacher and was fired because she got married because a married woman couldn't teach at that time, then she became politically aligned and then became the first woman to be elected to the Dáil for Labour. She had a completely different life to Agnes Brown. Agnes is probably my mother without the education."

Mrs Brown's Boys is It unashamedly old school. O'Carroll mentions Billy Connolly, Norman Wisdom, and Ronnies Barker and Corbett as his comedy heroes but Benny Hill and Les Dawson might be closer.
However, it is a show with poignancy as well as profanity. "I write from an Irish perspective and comedy is our greatest tool," O'Carroll says. "You won't have more fun than you'll have at an Irish funeral. Humour is how we cope with disaster and mourning. The viewing figures for Mrs Brown didn't shock to me. I don't mean because we're a wonderful show it's because we're at a stage in Ireland where we just need a laugh. Look at what we're like – we only take the piss out of people we actually love, we wouldn't take the piss out of somebody we don't like."

That hasn't stopped the critics from lining up to take pot shots at the motherly flank of the unsinkable Agnes Brown. "I don't get annoyed by them anymore," O'Carroll says. "Newspapers call Mrs Brown's Boys old fashioned and you know what? They're right. That's what I was going for. I wanted it to look theatrical, that you weren't sitting at home watching a manufactured sitcom. We managed to capture that and you can only write about what you know and comedy for me was the seventies and the eighties. That's the comedy I know and the comedy I like."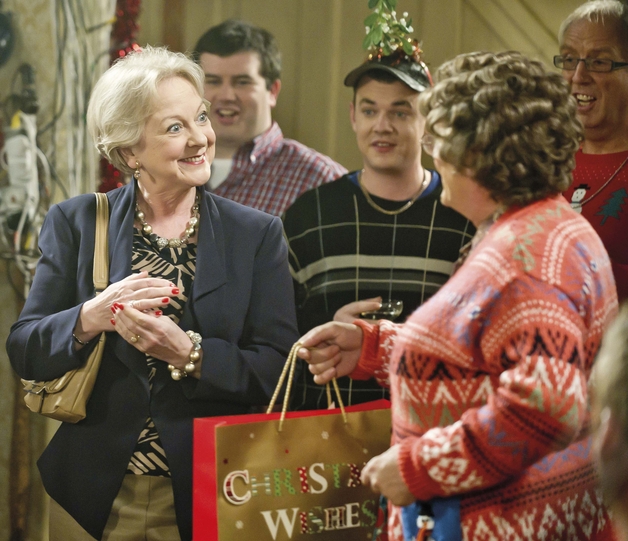 A time of goodwill to all men (especially ones in drag)
Mrs Brown's Boys is very much a family affair with members of O'Carroll's family in the cast and, of course, his second wife Jenny (he separated from childhood sweetheart Doreen in the late 90s) plays Mrs B's daughter, Cathy.
"It's odd working with her because I don't ever feel like it's work," he says. "We get to the stage door and we give each other a kiss and then we go off to our dressing rooms and the next time we see each other it's on stage and she's Cathy and I'm Agnes. There have been times we've left the house after having a screaming row and then we have to go on stage and pretend we love each other and we never carry the row on stage. Jenny takes the job so seriously and I don't. It's not serious. We dress up for a living, it's not real work at all. It's not delivering coal."

O'Carroll will spend Christmas in Dublin with his family (he always does) and with a third series of Mrs Brown already commissioned, talk of a movie, and the possibility of shows in Dublin's O2 in 2013, that Florida sun should feel even better.
Expect the usual madness in the Brown household this Christmas but we'd like to know one more thing – how does O'Carroll deal with Mrs B's eh, sartorial undercarriage? "Hahaha. Well that's not really a problem," he says. "For me the whole thing about Mrs Brown is her walk, it's all about her walk and the very first body suit we got made we got a bra and foam stuff and pinned it onto a small body suit and the more she walked and the more I wore it, it took shape. It just became Mrs Brown and now literally it's just sponge and hope."
Mrs Brown's Boys Christmas Special, RTÉ One, Christmas Day. BBC One, St Stephen's Day