They scored their second No 1 album in Ireland and the UK as well as hitting No 3 in America. Now Dublin trio The Script end 2011 on a high with a concert DVD of their triumphant sold out show at Dublin's Aviva Stadium. Alan Corr meets Danny, Mark and Glen and talks about their homecoming

Somewhere in the upper reaches of Dublin's Aviva Stadium The Script are enjoying a rare moment of down time. Small bowls of M&Ms and Malteesers are at their feet and posh biscuits and steaming mugs of coffee sit on the table. Dressed in regulation skinny jeans, pointy boots and black shirts, boyband good-looking singer Danny O'Donoghue, quiet and watchful drummer Glen power and Mark Sheehan, the consummate salesman of the group, look very chilled indeed.

Behind them is the panoramic sweep of The Aviva. It's completely empty on a rainy night in early December and the floodlit pitch is a blur of smudged green through the windows but last July 54,000 fans thronged the venue to sing along to The Script's tales of heroic pain and heartache in what was the band's biggest ever headlining show. In fact, Danny, Mark and Glen were the first band to play the new venue, baptising it in their emotionally charged pop rock or as Danny shouted as he bounded on stage that night - "We're gonna blow the roof off this place. If it had one."

And now they've captured the whole thing on film. Directed by Dick Carruthers, who'd previously caught Led Zeppelin and Oasis in action, Homecoming Live at The Aviva Stadium, Dublin snares the atmosphere of that night, a night that marked another milestone on The Script's frankly extraordinary rise.

"It was very poignant that the Aviva had just been finished when we played that night," says talkative guitarist Mark. "We wanted to have an Irish band make a stamp on the Aviva. No pressure so! I thought we really did the job and the people who came that night really did the job too. It was a really momentous thing. We were the first band to play the new O2 but I recently found out that The Edge ran out when they were building the place and had a little jam!"

Before you walked out on stage last July when did you say to each other?

Danny: "I think the words you say at that moment were pretty choice. Mark said don't f*** it up and while it was said in jest, we have said it so many times at those momentous occasions. This is not the time to mess it up. The rituals we have are a glass of Grey Goose vodka and we had a particularly stiff one that night. We do the rituals of warm up - everyone goes very quiet, we kick everybody out of the room, it's just the band in the room, and as we walk out everyone is just really getting in the zone. I go really quiet and there is a moment just as the lights go down and the crowd roars and we look each other in the eye and we shake each other's hand. It's a very strange ritual we have. We started off by saying "have a good show" but now we do this and say to each other, I've got your back."

Mark: "Even if there has been a fight that day or if anyone's carrying a beef that's the beef over. We can pick up the beef later on but we're going on stage together right how and we're good, we have each other's back. The chain has to be united and strong. If it's not, you're going to mess up the whole thing. You can't take that on stage with you. One man down, all men down."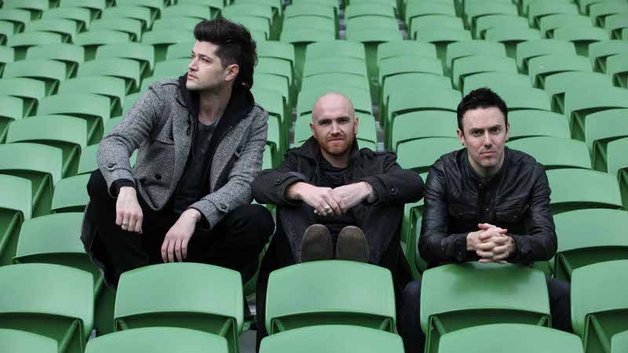 Danny, Mark and Glen: chairmen of the board
That's the faith part of it all. The science is in the backline. But playing a big gig in your hometown must be a very spiritual experience?

Glen: "When you talk about spirituality it really is something that will be in your soul forever. It's something you can't explain. To be able to stay calm in the chaotic environment we're in when we walked out onto the stage at the Aviva and the whole pressure of 50,000 people you have to stay calm and it's almost like meditation in that way. You have to centre yourself and find peace."

Mark: "People ask us how do we handle the pressure. Well we didn't get this straight off the bat - we had to work our way up to this and I'm really glad we did because if you had put this on us two or three years ago I don't know what would have happened."

So how did you get from playing the Sugar Club in Dublin in front of 28 people in 2008 to selling out The Aviva Stadium three years later?

Danny: "Hard work. I know you hear that all the time. But I know other bands and I know they're lazy bastards. There are a lot of them who really don't know what it takes to make it and even in the face of adversity and when you're not making it you've got to work even harder. Don't sit on your laurels. Individually, I can't say any one of us are better than the other but Mark and Glen work hard at the marketing and are on Twitter and the internet all the time, creatively with the singing and emotion side, that would be my forte. It takes you being omnipresent, all day, all the time and going out doing gigs and working because you know other bands are at red carpet gigs, getting drunk, whatever. Where are we? In the studio making our records."

Mark: "You also have to understand that when you've been denied it for so many years you really want it. You've been chasing this blind dangling carrot so when you do finally have it you have to say that the difference between winners and losers is that the winner wanted it that little bit more. We did an American tour and every night we went out and signed every autograph. In New York it was lashing rain and we still went out there and did it. I'm not being a nice bloke; I'm just being normal and we want to thank people who've come to our gig."

You have a another DVD with the Homecoming concert film called The Road to Aviva which charts the build up to the show. We're not talking Metallica's Some Kind of Monster here but how well do we get to know The Script in the film?

Danny: "You get to see how bollixed tired we are all the time. I mean that in the nicest way possible. You get to see us looking really bad. We have a counter at the corner of the screen in which you get see a real time countdown in the build up to the Aviva show. You see us going on tour from Africa to Australia to Asia and we tried to leave out the self gloating stuff about us talking about ourselves. It's a fly on the wall postcard record of that world tour. All the highlights are on that film and watching the countdown go down is a really build up. It's not a black and white Martin Scorsese Dylan kind of thing."

The audience at the Aviva seemed to be very young and very female. Were there many blokes there?

Danny: "The thing about us is that we're a good night out for a couple. We do hit a diverse audience particularly now when you're trying to fill places like this. I don't think you can with just girls. What we noticed was there were a lot of couples, a lot of middle-aged couples, a lot of fathers bringing their kids."

Mark: "The mania behind a day like the Aviva show is that a lot of the younger audience would be near the front and they'd get a lot more camera time. You don't see the guys and girls chilling at the back. I was more surprised about how many guys there were. There was a guy with a bottle of wine up on his mate's shoulders. We had that at Oxegen as well and I think it's more so with the second album than the first album."

So what did you learn from playing support to U2 on their 360 tour?

Danny: "Utter showmanship and the importance of having hit songs! That wasn't a gig; that was a religious experience. It was a masterclass in everything. In singing, in playing. It was the same when we supported Paul McCartney. You have to try and do the same thing as he did and bring the audience onto the stage with you."

Mark: "McCartney was so nice and so giving. It's really hard now that I know this person to separate him from who he actually is. The impact he made on us was huge. He arrived in without any security and came into our room and had a chat. Talking to him was weird because I had this constant narrator in my head saying this is Paul McCartney!!!"

Highs and lows of 2011?

Danny: "Low light was the travelling, the constant hours. The first year it's exciting, the second year equally exciting, the third year it starts to wane a little bit and now in the fourth year I found it hard to be away. The seven-week American tour was tough. It like was like going out in the frontline during a war minus the danger although put screaming girls in front of us and you never know what's going to happen! The highlight was the second album going to No 1."

Looking out over the Aviva now how do you feel exactly?

Glen: "Weird! We walked in here earlier on in daylight and we just looked at each other and thought, we actually sold this place out!"

Homecoming: Live at the Aviva Stadium Dublin is out now

See The Script in action
The Road To Aviva DVD Trailer
http://www.youtube.com/watch?v=1Y5orCyD3bY

Homecoming Live DVD Band Introhttp://www.youtube.com/watch?v=4fmycCL4600&feature=relmfu

Nothing live at the Aviva
http://www.youtube.com/watch?v=Esf4L_slJTA

Breakeven Live at the Aviva http://www.youtube.com/watch?v=oGjfLF7Fu2k&feature=relmfu