Chris Martin appeared to have become a little frustrated with a fan during an intimate concert in London at the weekend.
The Coldplay frontman was in the middle of performing The Scientist when he was interrupted by an enthusiastic fan who had joined in with their tambourine.
The 34-year-old interrupted his performance and gently asked the female fan to stop playing.
The Sun reported that he said: "This is not a tambourine song, I don't mean to be rude.
"Let me be honest with you, we tried tambourine on the recording and had to scrap it, so we have been playing it for ten years with no tambourine.

"It probably sounds great, but I'm just used to it without tambourine. Don't take it personally. I can't see what you look like, but you look lovely and sound fantastic.
"Don't take this to be some kind of anti-tambourine rally or rant against the tambourine. It's one of my favourite instruments."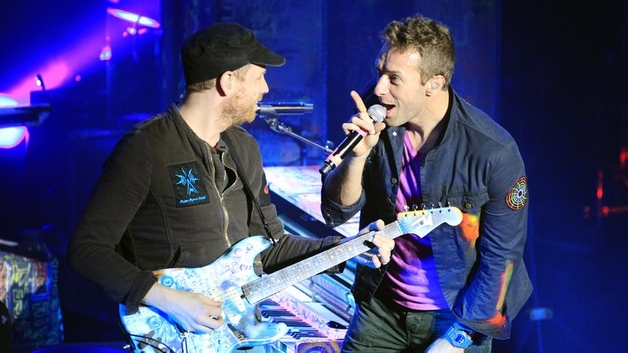 Coldplay guitarist Johnny Bucknell performing with Chris Martin
Then he gave the fan permission to join in on the next track by adding: "I promise the next song is a tambourine frenzy, you can go crazy."

His little interaction drew cheers from the audience at the intimate gig in East London.