Over the past ten years Snow Patrol have survived crushing failure and soaring success. Now as they prepare to release their sixth album it's time to start playing with the big boys. Alan Corr meets the band and hears about writer's block, recording in paradise, and Gary Lightbody's flights of fancy
Outside the Shepherd's Bush Empire in London the queue is stretching around the corner. Snow Patrol are about to break cover to play their first gig in advance of the release of their new album but when the lights finally go down on a packed auditorium it's a solo Gary Lightbody who shambles on stage. "I've killed the support band," he quips and proceeds to do the unplugged thing and croon a few songs unaccompanied by the rest of his band.

The court jester of stadium rock is in good form. He discourses at length about the joys of playing gigs barefoot (for the record, he hasn't worn matching socks since he was 18), his deep love for his band mates, and why Horlicks is actually an Irish word.

The fact that Snow Patrol are aural Horlicks, a soothing dram of comfort in a weary world, is beside the point because tonight the man Rolling Stone magazine once called "an anxious rock god" is in boisterous mood. However, it's only when he retires backstage for twenty minutes (promising to return wearing "something sexy") and bounces back on stage backed by the full band that the reasons for Snow Patrol's 11-million album selling success become apparent.

Blasting through Open Your Eyes and the righteous blaze of Take Back The City, Lightbody is as ever the crowd pleaser. He reaches out, arms aloft, face straining with emotion on new song This Isn't Everything You Are, another touchy-feely anthem in a Chasing Cars and Crack The Shutters lineage. The band also confirm those "dance" direction rumours with the electro pulse of Called Out in The Dark and Fallen Empires, the title track of the new album which proves that Snow Patrol were born slippy.

Later they are joined by old mate Iain Archer and his wife while Emmy The Great wanders on stage to duet on Set Fire to The Third Bar. There may be a head-scratching cover of Katy Perry's Friday Night (Lightbody's "favourite pop song of the past five years") but it's a triumphant return for the band. Fittingly just before they play their ultimate phones-in-the-air ballad Chasing Cars, Lightbody calls out in the dark to a crowd member who appears to be swept away by the occasion. "Are you here with your girlfriend?" he asks. Actually he's here with his mum. Without missing a beat, Lightbody offers to come down and give him a hug. It's a classic Snow Patrol moment.

The next day drummer Jonny Quinn and keyboardist Tom Simpson are kicking back in the basement of a bar/restaurant in the high-end suburb of Chiswick. Upstairs one Jeremy Paxman is having his lunch ("I hope he's not here to interview us," says Tom) but Lightbody is nowhere to be seen. "He's not well," explains Jonny. "He's been working too hard. We're working the poor lad too much."

"I know how he feels. Last night I crawled home at about . . . eh o'clock," begins Tom. "I was just releasing a bit of ballast."

"It was pretty good for the first day back at school though wasn't it?" says Jonny. "It was our first gig in a while. Ok, we had played a wee gig with U2 at the Azteca Stadium in Mexico in front of 100,000 people during the summer."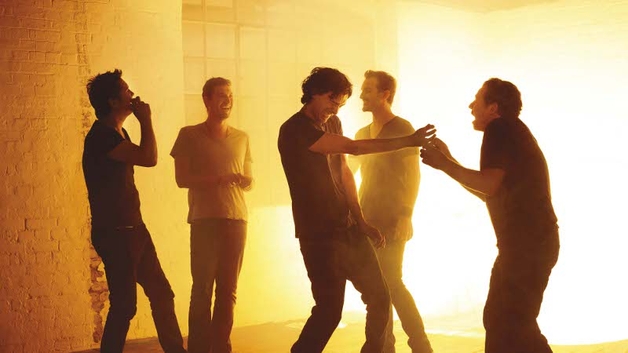 Snowplay: The Scots/Irish rockers bounce back
Fallen Empires is Snow Patrol's sixth album, a rare enough milestone in a world of "firework" bands. 39-year-old Jonny, who has been with the band since Songs for Polar Bears, and Tom, also 39 and a fulltime Patrol man since 2005, have seen both sides of the heroic struggle. When their eventual breakthrough came in 2003 with Final Straw the story of Snow Patrol's bloodied determination and miraculous reversal of fortune was to capture the public imagination as much as the quality of the polished adult rock they actually make. They are very unlikely to get lazy and Fallen Empires makes a tentative step onto the dance floor representing a shift in gear for a band who remain admirably hungry.

"I'm not going to mention any names but I think a lot of bands when they get to album six or seven they're not really pushing themselves and they're just repeating what they've done before and it's actually just gotten worse," says Jonny. "We don't want to fall into that trap and I don't think we have and that is going is going to keep us relevant and current, we're going to keep going forward in that way."

Tom concurs: "We're successful in the UK and Ireland but not really anywhere else. Pockets of Europe but we're not massive there. It would be good to be big in America, any band would like that. We've had our foot in the door for a while now and it would be nice to walk all the way through. We've had a few good tours around America, we played for 4000 to 5000 a night which is nothing to be ashamed of but it's a hard market to crack."

It was America and the fabled rock `n' roll state of California which provided a lot of the inspiration for Fallen Empires. Last year they drove into the desert around Joshua Tree and started writing before shacking up in Eagles Watch studios in Santa Monica where the widescreen windows afforded panoramic views of the Pacific Ocean. From there they joined "Jacknife" Lee at his hacienda in Topanga Canyon, a one-time hippy commune and former home to Neil Young and Woody Guthrie. R.E.M.'s Michael Stipe and Queens of The Stone Age guitarist, Troy Van Leeuwen all popped by to say hello and make suggestions and then there was the terrible chore of recording in a studio overlooking the sea in Malibu.

"Yes, I know, I know. Stop looking at dolphins someone said," says Tom. "We had a terrible few weeks of looking at blue skies and warm, inviting water apart from the sharks." "It was kind of a cheap way of making an album would you believe," says Jonny. "Because it was a house and we just got the recording equipment in so it was cheaper than Grouse Lodge. Maybe that's the way forward. I think the ghosts are in studios. We were at the studios in Maida Vale yesterday and we just knew The Beatles had been there, you can smell the sixties. On the last record we spent a month in Hansa in Berlin and we could sense Iggy Pop and Bowie and U2. There was a sense of that there."
However, Gary Lightbody went into studio for the new album with a small problem. After great waves of creativity with the rapid fire releases to capitalise on Snow Patrol's final and blessed breakthrough, he grappled with writer's block when it came to penning Fallen Empires. "That was tricky," says Jonny. "It's never happened to Gary before and I think that shocked him more than anything else because he's always been so prolific. I remember one night we had a party and he recorded thirty songs, most of them weren't that good, but it is shocking to suddenly go, it's not happening and the more you think about it the worse it gets.

"It's self perpetuating, it just gets worse so that's a self conscious pressure we have as a band that we don't realise is there but it builds up. There are a lot of people who work for us now and they're all waiting in the aisles for us to have a new album out and go on tour. You don't think about it every day but there's a lot of expectations and not just from the media but from my mum and dad! They say we're bored! When are you touring again? We want to come and see the gigs. There are a lot of things to consider now. It's like having to put your creativity into a timetable."

"We had to give Gary the time to get stuck in," says Tom. "We pushed everything back. We said the album will be released when it's ready. It reminds me Coldplay saying that they didn't care about the shareholders in EMI. And then when the shares dipped because they didn't release their album I heard that because they knew they had such a great album that they went and bought loads of shares!"

So does Snow Patrol have good business sense? "Jonny has a good business head," says Tom. "I'm an idiot. I just drink and bet on the horses." You have invested in a pub in New York though. "Apparently we own it," says Jonny. "I think what we've done is paid our bar tab for the next year or two. We haven't put that much in. We've taken a small nibble out of the Big Apple."

Dance element or not, Snow Patrol remain the sound of one big collective hug, a musical comfort blanket and Lightbody's interaction with the audience the night before was a good example of that. "No, that guy in the audience wasn't a plant!" laughs Tom. "That's just the kind of thing Gary will do. It's part of the whole communication thing with the audience and making everybody in the room feel as if they're on stage with us. It's something that Gary has become really, really good at and it think it's something that's very endearing and something that Gary really loves and enjoys."

But are they rock `n' roll in the more classic sense? "I think we do our rock `n' roll behind closed doors," says Tom. "We are and we're not. If success had of happened to us when we were in our twenties we'd all be six foot under by now. I think we got a lot of things out of our systems in our twenties so it wasn't until later on that the temptations came our way and by then we weren't interested. We already knew what it was like to be skint, to have nothing and be scrambling about to pay rent and sleeping on people's sofas."

"You can't really do the rock `n' roll excess that they did in the seventies because there's too much to do," says Jonny. "We get up at 5.30 to do a breakfast show. What's that all about? Gary can't really drink because his vocal chords get ruined but it's not really the drinking; it's the shouting when you're drinking. Everyone just wants to get the next line in!"

Fallen Empires is out now. Snow Patrol play The O2, Dublin on January 20 and 21 and The Odyssey Arena, Belfast on January 23-25