Irish stage and screen great Niall Tóibín was last night honoured with the Irish Film & Television Academy's (IFTA) Lifetime Achievement Award at a ceremony in Dublin.
The 81-year-old took part in an interview with Gay Byrne at the event, which was attended by colleagues, family and friends, among them Ireland's President-elect, Michael D Higgins.

President-elect Higgins said of his friend: "The only reason I am here is to pay tribute to the lifelong contribution Niall Tóibín has given to the world of theatre and film and arts generally and to the necessary subversive humour that keeps us all alive.
"I was honoured to be asked to present him this Lifetime Award. I'm on a temporary silence just at the moment, but I'm very delighted to break it to honour Niall.
"What he has is presence, and to go with that presence is a great sophisticated brain. Behind all of that is a great and wonderful heart that not only has compassion in it but aspires to the best things that all Irish people might aspire. He goes on, and will go on and on and on, and I wish him health and happiness."
On receiving the IFTA Lifetime Achievement Award, Tóibín said: "I can say in all honesty I never expected anybody would elevate me to that sort of level. I'm not saying there is anything wrong with their thinking, but thank you all.
"May I say it is the greatest honour that I could have to have Michael D on the platform here with me. I can call him Michael D because he is only President-elect, once he becomes President I will have to say Your Highness or Your Excellency!
"We have known each other for a long while; I am very flattered and indeed honoured that he came here this evening.
"If you have any problems up there, just give me a ring. I'll do me best for you!"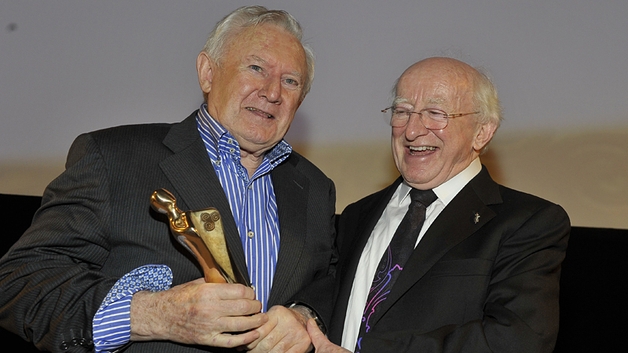 Niall Tóibín with President-elect Michael D Higgins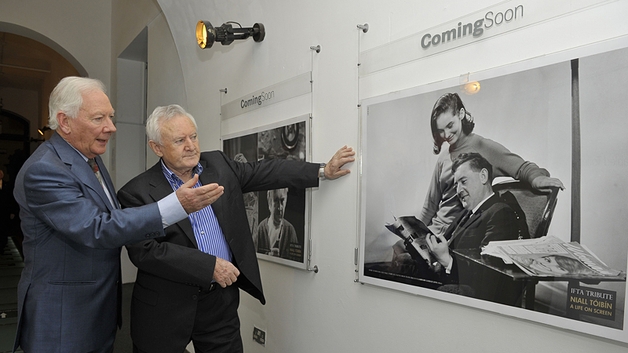 Niall Tóibín with Gay Byrne in the IFI