It has just been announced that Coronation Street legend Betty Driver has sadly passed away, aged 91.
The actress, who played Rovers Return barmaid Betty Williams for 42 years, had been suffering from ill health since May, when she was admitted to hospital suffering from pneumonia.
An ITV spokesman said she "died peacefully in hospital" in the early hours of this morning.
The spokesman added: "She will be sadly missed by everyone who knew her."
Barbara Knox, who plays Rita Sullivan in the hit soap, said: "I have lost a very dear friend and the Street has lost a very great character, a professional to her fingertips - she will be greatly missed."
Julie Goodyear, who played fellow barmaid Bet Lynch in the soap, said: "It was an honour and a privilege to work with Betty Driver for 25 years.
"We laughed together, we cried together and never once had a cross word. She was a totally professional actress. A true icon and legend and a very dear friend."
Betty had originally auditioned for the role of Hilda Ogden in 1964 after a 36-year-career in radio, television and the stage. She was then persuaded to come out of retirement in 1969 to audition for the role of Betty instead.
Her character became known for her famous hotpot - but Betty herself never tasted the dish as she did not eat meat.
Last year when the soap celebrated its 50th anniversary, Betty was adamant she would never retire from the show.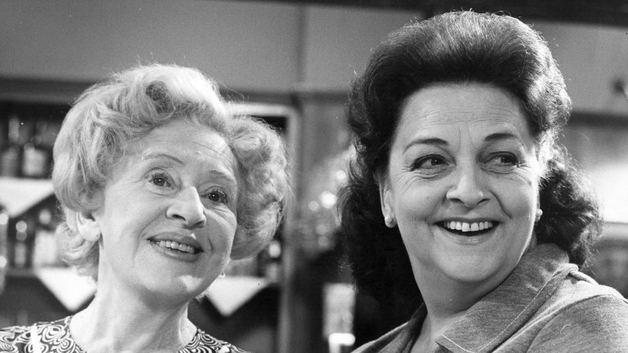 Betty seen here on set with former Rovers landlady Annie Walker (played by Dorris Speed) in 1970
Since the news of Betty's passing some of the show's biggest stars have since released statements and written messages on Twitter remembering the actress:
Bill Roache (Ken Barlow): "I loved Betty dearly, she was not only a colleague, she was a friend and godmother to my son James. She will be missed in the Street but she will be missed moreso as a warm and loving person."
Julie Hesmondhalgh (Hayley Cropper): "Just adding mine to the chorus of voices saying farewell to our Betty. They don't make em like you anymore. Feel so lucky to have known you."
Simon Gregson (Steve McDonald): "I have known Betty since I was 15 years old, we always had a very good relationship. I was fortunate to be one of her friends and I am going to miss her."
Helen Worth (Gail Platt): "Our dearest Betty was loved by all she met, and will be sadly missed by all the cast and everyone working on the 'Street'. The legacy she leaves is of laughter and love. The Rovers will not be the same without our adorable Betty."
Katherine Kelly (Becky McDonald): "Our Betty - the true and constant Queen of The Rovers. The most famous street in the Kingdom will never be the same now you are gone, but those sparkling eyes and cheeky laugh will live with me forever."