David Walliams tonight completed his 140-mile charity swim along the River Thames as he reached Westminster Bridge in London.
Walliams, 40, set off from Lechlade in Gloucestershire on Monday and has had to contend with not only the aches and pains of the swim, but also diarrhoea, vomiting and low energy levels from "Thames tummy".
He has also struggled with a painful rash where his wetsuit has rubbed his neck.
He had initially planned to do the journey in trunks, but the cold meant he needed further protection.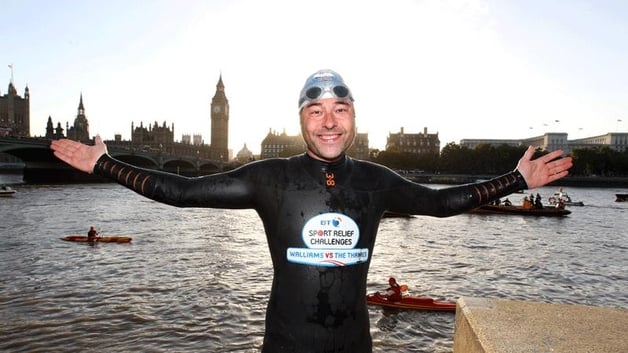 Walliams arrives at London's Westminster
After finishing Walliams was greeted on Westminster Bridge by his wife Lara Stone, Lenny Henry, Barbara Windsor, comedian Miranda Hart, Olympic rower Steve Redgrave and a large crowd of supporters.
When asked by Henry what he would like to say to his fans who have supported him, he said: "Thank you so much, thank you for your waves, your cheers, but most of all thank you for your donations, because each time this would be completely meaningless unless you all put your hands in your pocket, and I know times are hard so I really, really thank you from the heart, you're really going to make peoples' lives better."
He said of Sport Relief: "I believe myself it's great work the charity does so it just makes me want to do more and more."
Organisers of the BT Sport Relief Challenge said Walliams's swim had raised #1,093,325 by the time he finished, with more continuing to come in.
As he clambered out of the water towards a podium at County Hall on the southern bank of the Thames, there was a shower of red, white and blue ticker tape.
He entered the water at Teddington Lock this morning, completing a further 15 miles today to reach his goal.