Bond girl, artist, designer, campaigner, writer and mother of four, is there anything Jane Seymour can't do? Alan Corr meets the actress and her rock `n' roll son, Johnny.
High above the bustle of Henry Street in the boardroom of Arnotts Jane Seymour is flicking through her iPad and showing me pictures of her family. "That's Sean, my oldest, he's 26 and he's a photographer and a director," she says. "That's my daughter Katherine, she's an actress and a screenwriter . . . "
There's also her stepson Kalen, the son of her fourth husband, director James Keach, and then, of course, there are Seymour's 15-year-old twins, Kris and his brother Johnny who is sitting right beside his proud mother up in the boardroom. Dressed in skinny jeans and a striped Breton top, Seymour (an almost supernaturally young looking 60-year old) is in town to do some publicity for one of the clothing lines she's associated with but more importantly she's also here to support Johnny's band, Plead The Fifth.
He sits beside his mum with maybe a slight degree of discomfort at all the attention but Seymour is more than happy to hype up her son's work. "The band is entirely his thing. My job is to feed the guy and keep a roof over his head," she says. "But the thing that gets me when I listen to Johnny's songs is that it speaks to my generation, especially the relationship ones."
Johnny breaks into a smile. "Mom's definitely helped a lot," he says in a California accent at odds with his mother's clipped English one. "She might like to think a lot of the songs are about her . . . " "What?" Seymour interjects. "Like that that one that says, "living with you ain't easy"? Well, who have you been living with apart from me?"
There's a lot of that kind of playful ribbing going on between mother and son. Family is the most important thing in Seymour's life and has been for a long time. "We talk about everything as a family," she says. "With my first marriage I had to talk to my kids about their father not being around. They've seen everything. I'd say Johnny and his twin, Kris, have had the privilege of being able to learn from their step brother and sister about what to do and what not to do."
Seymour, who was born Joyce Penelope Wilhelmina Frankenberg in London, first gained international recognition as a Bond girl in Live and Let Die in 1973 and has spent most of her career working steadily if unspectacularly in small feature films and TV. That hasn't stopped her picking up a Golden Globe and an Emmy but her most memorable role was as the lead in Dr. Quinn Medicine Woman which ran for 149 episodes on American tv from 1993 to 1998.
She is also somewhat of a renaissance woman. She is an artist (and a good one too), a designer, a campaigner, and a trained ballerina who's performed with the Kirov, but what of her own musical endeavours? "Believe it or not I used to sing for a living," she says. "I used to do back up singing to make money for my ballet classes. I played Maria Callas and whilst doing that I broke my vocals chords which is why I don't sing anymore! My husband is very musical – he can play jazz piano and great blues harp. In fact, he plays harmonica on one of Johnny's songs."
Her husband is actor and director (and younger brother of Stacey), James Keach whose best known work is Walk The Line, the Johnny Cash biopic. Cash first became friends with Seymour and Keach when he asked to appear in an episode of Dr. Quinn. "This was at a time when nobody cared about him anymore," says Seymour. "Johnny did an episode and my husband directed it. Johnny, June, James and I became very close friends. I remember Johnny saying to James, one day someone is going to make the story of my life and I don't trust anybody to do it but you."
Jane and husband James Keach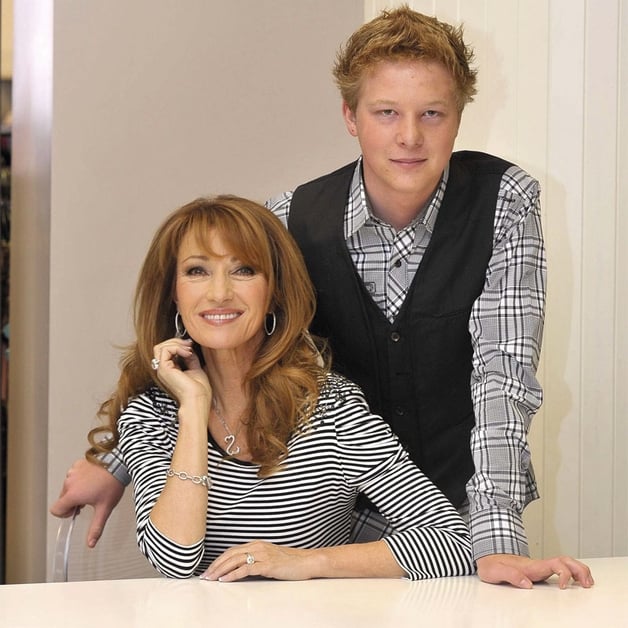 With son Johnny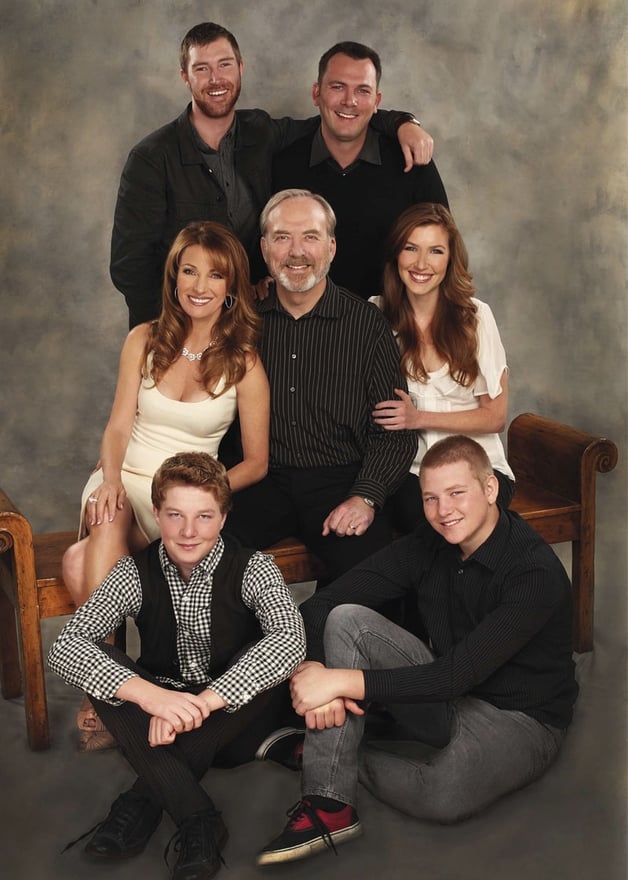 Jane with her family
Cash was to make quite an impression on Seymour's young son too. "We have the most amazing footage of little Johnny sitting on big Johnny's lap for about 45 minutes and he played him his comeback album before it had been finished," she says. "They're hugging and holding each other and Johnny Cash turned to us and said `that boy just ministered to me - I was in a lot of pain psychically and emotionally and that little boy made something just come over me.'"
Clearly, Seymour never heeded Noel Coward's words to Mrs Worthington about putting her daughter (or in this case, son) on stage. "My father kept signing that song to me when I was growing up!" she says. "When I was 13, I was desperate to be a ballerina and much against my parent's best wishes they allowed me to audition and I got a scholarship and I did reasonably well but I injured myself and became an actress instead.
"I think my parents realised that when you follow your passion all the other stuff goes out the window. I wasn't doing that well at school but the minute I went to ballet school I started getting As and Bs. So I'm a great believer in letting your children follow their passion."
Plead The Fifth play emo rock crammed with teenage angst. It's all certainly at odds with Jane's own work as s campaigner and "celebrity ambassador" for numerous issues. She also runs an organisation called Open Hearts in support of people going through difficult times. "The whole Open Heart thing and the way I lead my life is that tough stuff happens and you have to work through it," she says. "Everyone I know is talking about their mate just dying and he or she was only 61, what are we going to do now with the rest of our lives? I think Johnny has that same support in his songs. In a very different way, Johnny says the same thing but he's rock `n' roll and I'm not!"
Seymour's acting career is ticking over nicely. She continues to co-produce and star in features with her husband and she has two movies due out this year. "I've played a lot of cougars recently but now I'm just playing some crazy older women." she says. Is it a case of once a Bond girl, always a Bond girl? "Maybe in England and Ireland. They never quite got over the fact that I was a Bond girl. They never mention it too much in America."
Especially after her scene-stealing turn in The Wedding Crashers as Christopher Walken's sexually aggressive wife, Kitty Cat. "My whole career changed after that movie," Seymour says. "People woke up and said, oh she isn't Dr Quinn! She can do other stuff as well."
In fact, The Wedding Crashers may have reawakened fond memories in some people. Seymour, like Jenny Agutter, certainly occupies a place in the affections of men of a certain age. "You're only as young as you feel," she says. "I don't think of age linearly. It's funny you should mention Jenny because we went to school together and we lived together in Hollywood when I first went out there. I think we even dated a couple of the same guys! Jenny and I go way back."
So what's Jane like at a Plead The Fifth gig? Will she be up the front going crazy like a proud motherly rock chick? "No. I would not do that to my son," she smiles. "I am the really useful photographer. I make sure he has water and they get the gear together. I call myself a modie, a mother roadie."
Alan Corr