Meryl Streep celebrates her 62nd birthday today, 22 June. To mark the occasion in the life of the greatest actress of her generation, Michael Doherty chooses six of her finest screen roles.
As a youngster in New Jersey, she had hoped to carve out a career as an opera singer. Luckily for us movie fans, Mary Louise Streep caught the acting bug while at Vassar, so a planned career on the Metropolitan stage took a back seat to theatre, TV and eventually motion picture glory.
Her movie debut arrived in 1977 with a supporting role in the superb drama, 'Julia'. Later this year, for her 40+ screen feature, she will portray Margaret Thatcher in the eagerly awaited drama, 'Iron Lady'. In between, there has been a raft of excellent roles which has seen Streep receive no fewer than 16 Oscar nominations, resulting in two gongs.
In short, Streep is the yardstick against which all of her peers are measured. (And that's not just my opinion: Bette Davis, no less, wrote to the actress in the early 80s to tell her just that.) And few can measure up to the following six performances: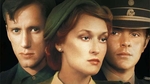 Holocaust (1978)
Talk about making your mark early. The NBC mini-series 'Holocaust' featured a number of leading names of the time, including Fritz Weaver, Michael Moriarty, James Woods, Rosemary Harris, Ian Holm and Robert Stephens, but it was a young Meryl Streep who caught the eye (and garnered an Emmy) for her sensitive portrayal of Inga Weiss.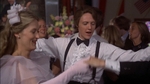 The Deer Hunter (1978)
The first of Meryl's many Oscar nominations comes with her superb portrayal in Michael Cimino's hugely sucessful Vietnam flick. She lost out to Maggie Smith, but her performance lingers, not least in the scenes she shares with Robert De Niro.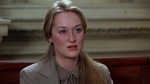 Kramer vs Kramer (1979)
Oscar nod #2 becomes Oscar #1 as Meryl delivers a moving and intense performance as the wife and mother caught up in a custody battle with hubby, Dustin Hoffman. As with De Niro the previous year, Streep proves capabale of more than holding her own against an actor at the top of his game.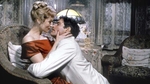 Sophie's Choice (1982)
Oscar nod #4 becomes Oscar #2 as Streep delivers what some consider her finest performance as the holocaust survivor struggling to come to terms with her new life in Brooklyn. 'Sophie's Choice' also highlights Streep's ability to handle an accent.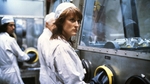 Silkwood (1983)
Shirley MacLaine pipped her to the Oscar this year but personally I would consider this to be Streep's finest hour. The actress is utterly compelling in Mike Nichol's real-life account of Karen Silkwood, the nuclear plant worker and whistleblower who died under extremely suspicious circumstances.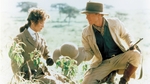 Out of Africa (1985)
Another true story; another Oscar nod; another compelling accent; another leading co-star (Redford) and another performance breath-taking enough to match John Barry's sumptuous score.