Azerbaijan has won the 56th Eurovision Song Contest in Dusseldorf tonight.
Duo Ell and Nikki won with their song, 'Running on Scared' which scored 221 points to win. Their romantic ballad was mentioned as a strong contender but emerged as a surprise winner on the night. The country has competed in the competition since 2008 and this is their first time to win the competition.
In second place was Italy who had a late surge of votes and Sweden came third. Ireland's Jeward came in a very respectable eight with their song 'Lipstick'. This was Ireland's strongest result in the competition in years.
23.20 It's all over and guess what Azerbaijan have won it!
23.17 Just downloaded pics of Azerbaijan and remembered who they are - big hair and all dressed in white looking a bit like Katie Price and Peter Andre back when they were Katie and Peter
23.13 Good man Derek - loving the headgear
23.12 Ah it's Derek Mooney. Good to know I am not the only person in the building! I haven't seen anyone in our little office since 7pm.
23.10 Guess I better go looking for a picture of Azerbaijan hadn't I?
23.09 There is no way this thing is over at 11.20pm. Guess I will be sticking around a bit longer. Am wondering who will be the person delivering the Irish votes?
23.08 Just got six from Portugal which puts us on 93 (perfectly respectable position really)
23.07 I love Malta, actually visited there once on holidays and now will go back!
23.06 Sorry nodded off their briefly, did I miss any votes for Ireland?
23.02 Don't reckon we'll do much better with the Croatians
23.01 Getting annoyed now as are the audience as Marty just pointed out
23.00 Not that kind apparently
23.00 I reckon the French will be kind
22.59 OMG the Georgians are not even pretending
22.57 Ah my French friend finally gets some votes, weren't we told he was one of the favourites?
22.56 Expected Switzerland to like us more
22.56 The guy from Turkey looks like he should be reading the news
22.51 I hate political voting! Grrrrr
22.50 We'll take eight - nothing wrong with that
22.49 The Germany lady looks like Pink!
22.48 San Marino is not a place I will be visiting. Anyway I don't know where it is!
22.48 It just got interesting
22.47 YES!! Go on Sweden
22.46 Polish woman is really annoying - you get two minutes on screen and that's your lot love
22.43 Good woman from Denmark - did I speak too soon?
22.42 I love Alex and the UK
22.42 Alex Jones is taking a break from The One Show - hopefully to give us some votes
22.41 I take that back - it's fabulous because she gave us eight points
22.40 An unfortunate dress on the lady from Slovakia
22.40 We like the lady from Iceland she gave us some votes, but what has she got on her head?
22.38 A spot of political voting there I reckon and it's not going down well with the locals
22.37 Okay so we are not going to win so now it's all about a respectable mid-table performance so come on the Jeds
22.36 I love Finland - it's always been a country I wanted to visit!
22.33 I don't think it's our night lads, I'm calling it
22.32 Italy - great food but lousy taste in music
22.30 My sums tell me we have eight points
22.29 Is it too early to call it? Apparently Blue are big in Bulgaria
22.29 We got three, thanks Bulgaria
22.28 I was totally wrong!
22.28 I reckon the Russians will like us
22.27 So we will know pretty quickly here I reckon, you always get a sense of it with the first few countries
22.26 Must say using a football stadium was inspired the set is incredible
22.25 We get it - you are multi-talented, you sing, you speak, you lift women. You are an all-around top bloke.
22.25 He's just hilarious
22.24 Seriously woman!
22.24 Alright lads it looks like we are getting to the main action of the night. Come on the boys!
22.16 Must admit I much preferred the interval act from Thursday's semi-final
22.15 It's interval time and the act is some lad called Jan Delay, must admit I have never heard of him and it looks like he has borrowed Dino's jacket from earlier
22.12 We are officially in last chance saloon. Goodnight and good luck!
22.11 Hadn't realised first time round just how much Kim Kardashian hair was on display tonight
22.10 We really need the win lads!
22.09 There's Mr France again - comb your hair
22.08 Go on please vote they are lovely lads and yeah they are not the best singers but they can jump really, really high especially John!
22.08 Are they really showing us all the acts again? Come on Europe vote for us to win please!
22.06 One of our commentors has just said the Google predictor is not looking good for us to win! EEK it has Lena way ahead of everyone else with the Jeds in second place miles behind. Say it isn't so!!
22.02 Finest cup of tea I ever had and turns out I'm doing my bit for all things European with my choice of biscuits which it turns out come from Germany - Choco Leibniz and they are damn fine too!
21.57 Teatime! Catch you in five!
21.56 I may have to revise that fashion non-award to your woman
21.56 I think I really need that cup of tea now. I actually brought a flask which is a flashback to 1988 and I hope it lives up to expectations.
21.54 Okay fashion fail of the night goes to Georgia. Can't hear the song just mesmerised by the dress!
21.53 Last song up is Georgia and One more day.
21.50 Actually I must have been distracted by the outfits first time out. It's not great really is it?
21.48 Next up is Serbia and this is a perky tune if memory serves. A little retro but okay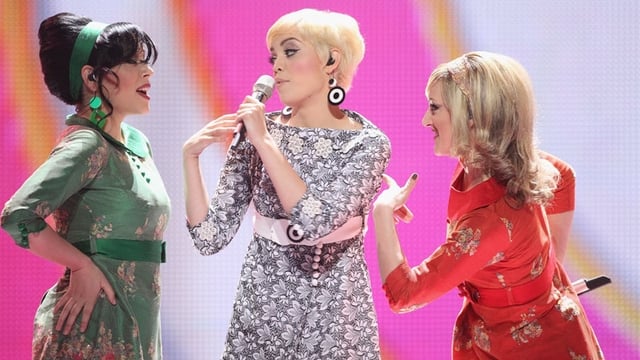 21.47 At least it is a distraction from the song which is like a dirge I'm afraid. I think the hunger is getting to me!
21.46 She is clearly paying homage to Jedward with her extra large shoulders - their's go up, her's go out
21.46 Nearly there now! This is the Ukraine and Mika
21.42 The boys in the back are wrong on so many levels!
21.41 Yup definitely hadn't heard it as I wouldn't forget that and for all the wrong reasons.
21.40 Next up in Spain. Haven't heard this one at all so let's have a listen
21.39 Although I can't resist having a go at their outfits - they all look like Gary Barlow wanntabees!
21.37 Who picked me for this gig? I realise I have absolutely no musical taste, I actually like this one!
21.36 Sad story here as the songwriter had passed away and his friends are singiing the song in memory of him
21.36 Only five left and next up is Iceland
21.34 That is the most unforgiving frock of the night. The song is a bit predictable but not awful.
21.31 It's Slovenia. Okay what is happening with her dress?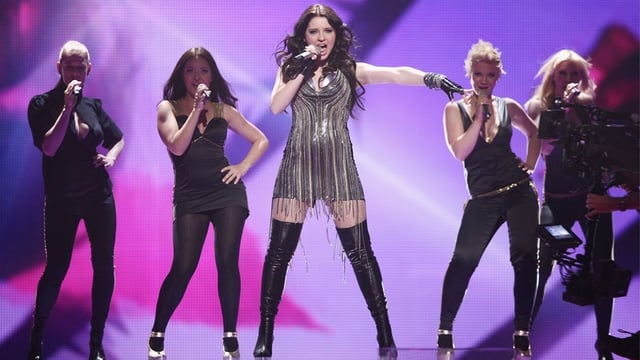 Here's one we took earlier
21.31 It got a fairly good reaction from the crowd so maybe I am missing something.
21.30 That rain will play havoc with their hair
21.29 Yer wan is a dead ringer for JLo
21.28 False alarm it's actually Azerbaijan although you could be mistaken for thinking it is an advert for Daz whiteness!
21.27 Hang on, it's Black Swan
21.26 Thanks to Sue and Leah in Norway. Great to know someone is reading!
21.24 I am getting a little hungry (not hungary) here so roll on song 25!
21.23 We're at song 18 already and it's Austria. She looks like she just stepped off from stage from Chicago. There I go with the musical references again!
21.22 This sounds like a Billy Joel track from twenty years ago. Can't see it doing the business.
21.22 Ah finally some fake trumpet playing
21.21 Do those women intend doing something with the trumpets? At least I think they are trumpets they won't stand still long enough for me to get a proper look
21.20 It's Romania and those trousers are a punchline in search of a joke
21.18 Whatever!
21.15 Here's Lena trying for two in a row for Germany
21.14 I'm speechless!
21.12 It's Moldova and they appear to be wearing cones on their head. Sounds like a group of garden gnomes delcaring their independence and perhaps a bid for world domination. Remind me how this qualified from the semis
21.10 I haven't heard this before so maybe it grows on second hearing but for me it was fairly bland
21.09 Add to that the fact that they seem to shop in the same place as Mr France and I am not lovin' their work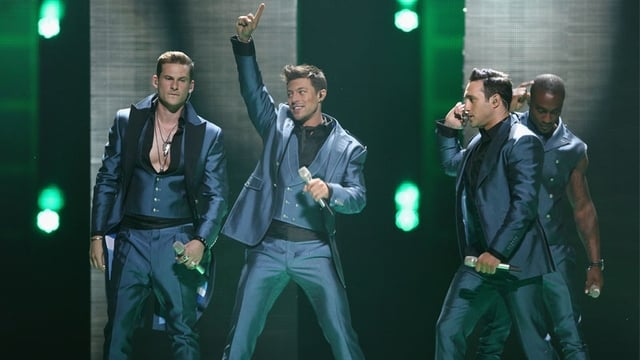 21.08 This time it really is Blue. Have mixed feelings about these lads as they haven't been very nice to those nice boys from Lucan.
21.05 Not a bad tune actually and the graphics is the background are great. She could feature in top five
21.03 Anna from Switzerland is up next
21.03 I'm glad Dino admitted his jacket was a little on the dated side
21.01 That green room, or should I call it pink, is only fabulous!
21.01 Maybe I was a bit harsh, that was a fairly impressive final note!
20.58 Actually not interesting at all, somebody just rang and the local Radisson want their lounge singer back
20.57 The Italians are up next and we haven't seen them in years so this should be interesting
20.56 OMG I feel like standing up and waving a flag but that would be ridiculous as I am alone is a very dark office. My inner-musical fan is awakening!
20.54 Have to say though the outfit makes him look like someone in a crowd scene from Les Miserable! Bring him home....
20.53 Watch out for this guy from France - he's one of the favourites! And he can actually sing which is always an advantage.
20.51 Is that Blue ten years ago?
20.49 The Russians are up next and this guy is a movie star at home. Graham says he is changing his name to Alex Sparrow to launch himself on an unsuspecting world! And if Graham says it, it must be true.
20.47 Now somebody else is singing, do you think they have been introduced?
20.47 I think this lad thinks he's in another competition
20.46 It's Greece. We're up to song nine already
20.45 The cardboard cut-outs look like she did them herself just after she stuck that dress together
20.42 Okay a totally ridiculous outfit and my mother was her curtain tie back please!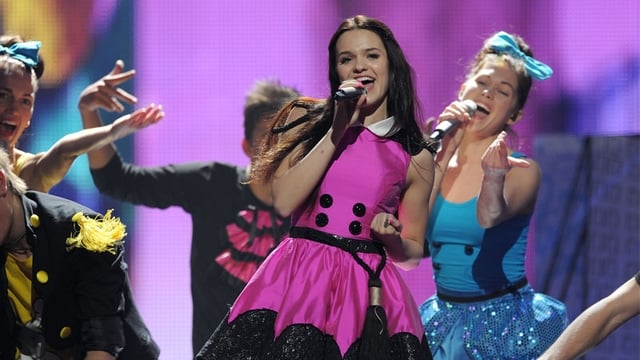 20.41 It's Estonia next up
20.41 He's called Eric and he wants to be popular. Not working with me
20.40 It's Sweden actually.
20.39 Somebody else is singing now. Don't really care that much!
20.37 I do worry for John occasionally as he tends to really lose himself to the music! Sign of a true artist. I have finally learned how to tell the two apart and it turns out John has a slightly wonky front tooth and an ear like an elf. That is according to the pair themselves and I am sure he is even more charming for those two slight blemishes.
20.36 THEY TOTALLY NAILED IT!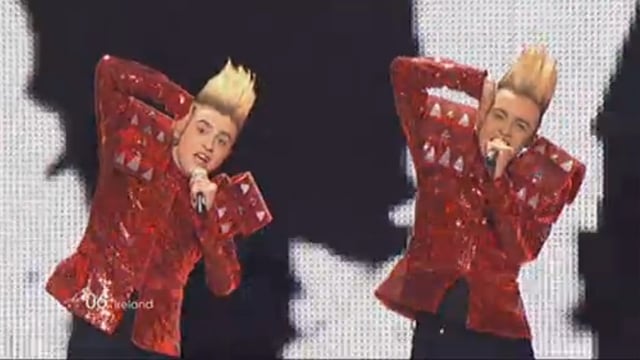 A bit fuzzy but you get the picture!
20.35 Sounding not too bad
20.34 Don't jump too high and fall over lads
20.33 Graham reckons they will make you smile so go on try not to!
20.33 Tis the boys
20.33 Sweaty palm time everybody. We're next.
20.32 They have acrobats - always a good thing.
20.29 Hungary next and this one is apparently poptastic and Graham tells me is Duncan from Blue's favourite. Not sure of his pedigree as an arbiter of taste
20.28 Totally forgettable tune I'm afraid Evelina but the crowd in the room seemed to like it
20.27 The dress is a bit prom queen isn't it?
20.26 It's Lithuania and only two to go until Jedtime! Spent the last two minutes trying to find BBC One on this TV as I thought I'd check in with Graham and see how he is doing!
20.23 No votes for you my friend in London, you hair thief!
20.21 It's Denmark next and this is the guy who stole Jedward's hairstyle if memory serves!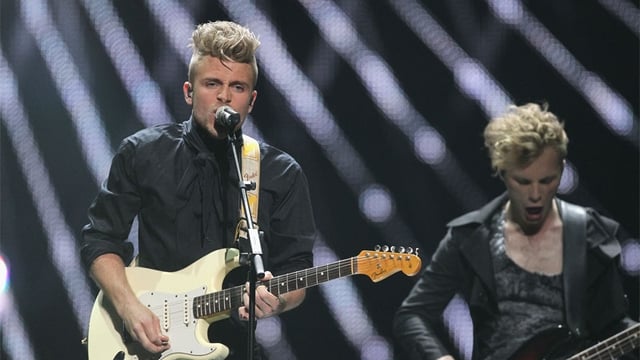 TOLD YA!
20.20 It's a bit blah really! Can't see it making much of an impact.
20.18 Next up is Dino for Bosnia & Herzegovina with Love in rewind. Very folksy and think the jacket was a brave choice. As for her dress well let's not go there.
20.16 A great roar from the crowd. Not a bad opener and Marty seems happy!
20.14 It's sweet and I definitely don't hate it. Sing me Da, da, dum - ah go on so!
20.13 First up is Finland. One man and his guitar. Did he borrow his mammy's blouse?
20.11 So the voting lines are open and we cannot vote for ourselves. Everything crossed everyone!
20.07 We are totally opposed to any activity that might give an advantage to another country so off the stage Lena
20.06 Correct me if I'm wrong but the girls may have been miming!
20.05 Scratch that - we have actually crashed into 1942!
20.03 Have we crashed in on The X Factor auditions here? Somebody should have shouted no don't do it!
20.01 The lad and lasses are all dressed up for the occasion. Not sure about the red frock, she looks like she cannot move.
20.00 And they're off. Oh joy Marty's dulcet tones and tonight he doesn't sound like he is talking to us from a cave.
19.56 Nuala is on now with the lucky numbers. It won't be me I didn't buy a ticket.
19.55 Word has it that the boys, who are the sixth act to perform, will be on at around 8.30pm.
19.52 Now just the other wheels to spin and we are set!
19.50 I do love seeing people spin that wheel but I wish they would get a move on.
19.45 Just 15 minutes to go now to kick-off and we reckon Marty and Graham are doing their vocal warm-ups as we speak. Personally I have been practising my typing all day and am poised for action. Bring it on!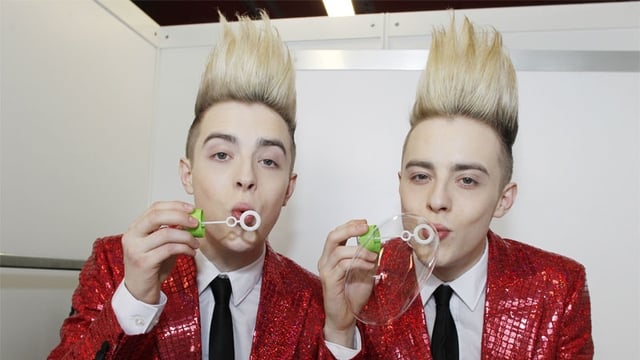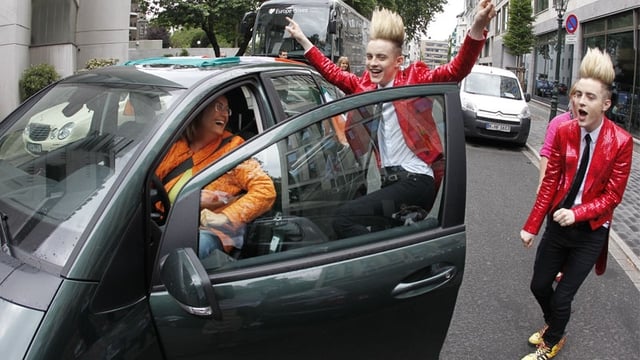 The boys looked in top form earlier today