RTÉ Guide Entertainment Editor Michael Doherty travelled to London in 2005 to meet rising star Brittany Murphy who tragically died over the weekend. Here we reprint the interview in full.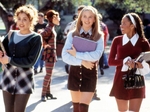 Though she began her career on Daytime TV and made her big screen debut in the frothy rom-com 'Clueless', Brittany Murphy has always been regarded as one of Hollywood's edgiest stars. "Look for her to develop something of a scary reputation," commented Vanity Fair, when profiling the actress some years back. Murphy duly obliged with an eye-catching turn as a suicidal patient in 'Girl, Interrupted' (1999) before successfully playing troubled characters opposite Michael Douglas in 'Don't Believe a Word' (2001), Eminem in '8 Mile' (2002) and Mickey Rourke in 'Spun' (2003).
Her subsequent rise up the A-list has coincided with the 27-year-old actress becoming a firm favourite of the tabloids. This has been fuelled by a once high profile relationship with Ashton Kutcher ("that was a high-profile relationship, but to me it was very comical and mind boggling") a regular voice slot (Luanne) on the hit animated series 'King of the Hill' and her recent purchase of the Hollywood apartment previously shared by Britney Spears and Justin Timberlake, which the actress now shares with her mother, Sharon ("for as long as I can remember, it's been my mom and me against the world").
Sitting in a hotel suite in London, freshly tanned from her Cannes media duties for Robert Rodriguez's superhip noir 'Sin City', you would expect the 9th Hottest Woman on the Planet (© Maxim magazine) to be jaded. In fact she's full of life, full of beans and, frankly, a real charmer
Michael Doherty First off, real name Sharon Murphy. There have to be Irish connections in there . . .
Brittany Murphy Absolutely. It's Sharon Kathleen Murphy! We're very much an Irish family. We all say "fillum", like you just did! We have the Murphy family crest on shirts and we live together and go on outings together and all of that. In fact, we all got T-shirts for Christmas with Murphy's Stout printed on them. We're very proud of our last name. I haven't been over to Ireland yet but my cousins have played football over there. I can't wait to go over myself.
MD You've made edgy dramas and you've made light rom-coms. Which give you the most pleasure?
BM I love both, it all depends on the material. Right now the darker stuff is coming through but as long as the script is good and the director is fantastic, that's fine. In the past I've worked with directors I don't trust and scripts I didn't believe in because I was making so many movies back to back. From now on I'm going to make sure that the material is strong because I know I can adapt to any style.
MD As you've made more movies and your fame has risen, have you had to adapt to life in the spotlight of the paparazzi lens?
BM In Europe, there's no problem. I can walk around anywhere and it's cool. In the US, I'm not as anonymous, but that's alright. It's part of the job. I wanted to do this so I have to accept that side of it. I'm really blessed that I haven't had any problems with the paparazzi. I live with my family, and it's cool.
MD Do your family keep you grounded?
BM They are a constant reality check, believe me! I could never get puffed up about anything while they're around.
MD Even when you are described by Maxim as the 9th Hottest Woman on the Planet?
BM Did Maxim say that? Wow! You're full of interesting information! My family is very funny and they don't treat me any differently than they have my whole life except for the fact that they're very proud of me. No matter what I chose to do with my life, whether I was a stripper or a waitress or a restaurateur, or whatever, my family would support me.
MD What was it like working on a movie such as Sin City that is completely shot on digital against a green screen? For one bar-room scene, although the finished sequence had you talking to four of your co-stars, you shot that on your own in an empty room.
BM I know, it sounds weird but I really loved it. It was like doing a one-woman show in theatre. The important thing for me is that I believe in the character and that comes through whether you're filming in a crowd or on your own against a screen. I also thought it was wonderful not to have to fuss over so much stuff.
MD As if that wasn't unusual enough, you had not one but two directors, Robert Rodriguez and Frank Miller, to contend with . .
BM It was even more unusual than that. My scenes happened to fall upon the days that Quentin Tarantino was there, which was really very fortunate, as he was co-directing as well.
MD So, three directors and no supporting actors; quite an interesting way to shoot a movie!
BM Yes, but I would highly recommend it to any actor in the world!
MD Is there a grand plan for Brittany Murphy's career?
BM I'm pretty much taking things as they come. Yes, I have long-term goals but I don't want to say them in print. I'll show you instead as they happen! I'll keep working as hard as I can to accomplish as much as I can. I never look back. I have a lot of work to do and this is just the beginning!
MD Next up?
BM I go back to LA after this and then I'll pack to come straight back to London to begin shooting a movie, Love and other Disasters. I'll be here for about five months.
MD In that case, there's no excuse for not hopping over to Ireland. It's only 45 minutes away.
BM I definitely will and you can hold me to that!
MD With that, the actress profers her little finger in my direction and we do that pinky pledge thing so beloved of Sororiety gals. It's a tough old life.