Is it really as glamorous as you imagine backstage or is it just another day at the office for the acts on the Oxegen bill? RTÉ.ie asked them to share some of their favourite backstage festival stories and here are the answers we got.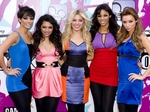 One of the girls from The Saturdays was walking past and I don't know if the guy meant it but he was playing pool and the cue ball came straight off the table and obviously went to hit her and he just went "Hey, how are you?". It didn't work. She looked at him like he had two heads. There's better things to do than throw a cue ball at a girl. Maybe I'm not good at this but I don't claim to chat up girls by throwing cue balls at them... I throw the black at them! Bresy, The Blizzards
I accosted Bootsy Collins once. I grabbed him and put him in a headlock and went "Bootsy, Bootsy, your music will outlast religion" and then he just looks and me and goes "Man, that's amazing" and then he called his friends over and said "Say it again, say it again" and I had to say it again. It was good. I was just really excited. MC Double D (Daimon Downey), Sneaky Sound System.
We had to ask Lily Allen to leave us alone. (Benjamin) Yeah, she kept stalking us. (Deco) Benjamin and Deco from Republic of Loose.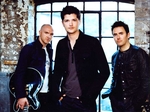 Yeah, well, just there about two hours ago, just before we went on, The Script just barged into our dressing room and said hello to us because we met them about a year ago, just before they had really taken off, in RTÉ actually. We were doing Eye2Eye and The Script were on there and they were really nice to us then and we were like 'Ah no, they won't remember us, they weren't big then and they're massive now'. And in fairness to them they came in and they were such nice guys. We were having a good chat with them so that was sort of a surreal moment because they're so big at the moment and they're doing so great all over the world. It's great that they remember us. They've got a great album and they're a really nice bunch of lads, as you can tell by them coming in tonight and just really caring and saying hello. It meant a lot to us anyway. Danny O'Reilly, The Coronas
Read more festival interviews here.
(In coversation with RTÉ.ie's Linda McGee and Harry Guerin at Oxegen Festival.)
Jason Mraz's album 'We Sing. We Dance. We Steal Things.' is out now.
Carolina Liar's album 'Coming To Terms' is released on 18 September.
Sneaky Sound System's next single I Will Be Here' will be released on 28 August.
Read our Oxegen Festival blogs here.
Check out RTÉ 2fm's festival coverage (including live sets and interviews) here.