We know what's it's like to stand in the muck and stare at the main stage or bop in one of the cosy tents but what's it's like to be looking out at all those wet festival-goers from the stage. RTÉ.ie went backstage to ask some of the acts.
The Irish crowd... always a very appreciative crowd, always a very vocal crowd, a singing bunch. I love 'em. Jason Mraz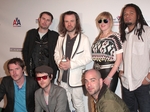 It's deadly. It's great doing the big shows in Ireland. It should be good now because it's a tent... it's nice to do it for a change. I'm sick of those massive outdoor stages! It should be a bit more intense and it's later on at night so it should be good. Benjamin Loose, Republic of Loose
We met them today for the first time when we played here. We got here for the first time in our lives yesterday. They know the songs and they know our names. It's crazy. We hope to be back in August. Max Grahn, Carolina Liar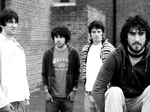 It was so amazing. Just before we went on it started to rain and we were like 'aw will it scare people away?' but I don't know, it seemed to just bring out this atmosphere in the crowd. They were giving it loads. They were all hands in the air. They just didn't care about it and it was just a really great atmosphere. It was the best gig we've done in a long time. Danny O'Reilly, The Coronas
They couldn't care less. They just embrace it. Bresy, The Blizzards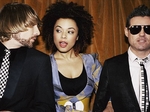 I can't wait. We played here last year and it went pretty crazy and now we're playing in a bigger, better tent so I'm really looking forward to it. You guys go crazy. I'm sure if someone just had a little fiddle and a chair you guys would go crazy to that as well. MC Double D (Daimon Downey), Sneaky Sound System.
(Jason, Benjamin, Max, Danny, Bresy and Daimon were talking to RTÉ.ie's Linda McGee and Harry Guerin at Oxegen Festival.)
Jason Mraz's album 'We Sing. We Dance. We Steal Things' is out now.
Carolina Liar's album 'Coming To Terms' is released on 18 September.
Sneaky Sound System's next single I Will Be Here' will be released on 28 August.
Read our 'Things We Learned at Oxegen' blog here.
Check out RTÉ 2fm's festival coverage (including live sets and interviews) here.