Listen above to a Word in Edgeways where this morning's reflection, marking St George's Day on April 23rd, comes from Roger Childs, Head of Religious Programmes in RTÉ.
Beannachtaí na feile Seoirse!
Happy St George's Day. I know, I know… It's not exactly Ireland's favourite Lá feile. In fact, these days, you won't find many places in England, either, festooned with the red-on-white cross of St George, but I do remember, as a young cub scout in Kent, earnestly processing from the village scout hall to the parish church on St George's Day, because Lord Baden Powell had decreed that George was not only the Patron Saint of England, but of Scouting.
But why?
How did a 3rd century Roman soldier of Greek-Palestinian origin, martyred for refusing to recant his Christian faith, come to be adopted by, and adapted to, so many cultures and countries down the centuries?
His mortal remains lie in a church in Lod, in Israel, not far from the southern perimeter fence of Tel Aviv's Ben Gurion Airport. There, he's associated, by Christians and Muslims alike, with miraculous cures, especially of mental illness and infertility.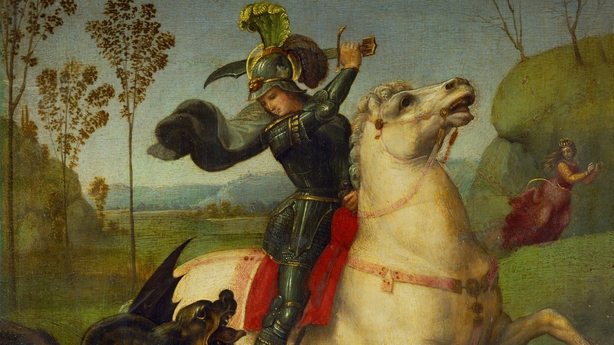 In the days before the current Syrian civil war, I once watched Muslim women leaving fresh bread and jars of olive oil as offerings for the Christian monks, in the monastery of St George, in Saidnaya, north of Damascus, as they tied ribbons to the railings of the church, invoking George to help them conceive.
Of course, George is more famous for helping a different kind of damsel in distress. In the Middle Ages, already remembered, accurately, as a member of the Roman Praetorian Guard, a story was added to his mythology that he'd slain a dragon to save a princess, and this combination of chivalry and self-sacrificial Christian soldiery proved irresistible to the Crusaders, who carried their reverence for him home.
And so, the cult of St George spread like a rumour - East to Russia and India, south to Ethiopia, and West to Portugal and Spain. And once established as the Patron Saint of Portugal and Aragon, George travelled on with the conquistadors to Brazil and Argentina, which is probably how the present Pope came to be christened in his honour: Jorge Bergoglio.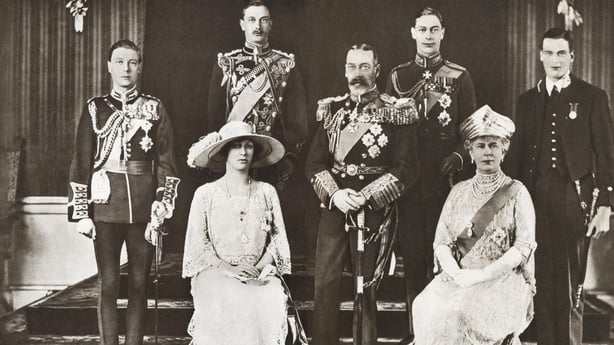 It's also how George reached England, where his muscular Christianity quickly eclipsed the quiet piety of the previous national saint, Edward the Confessor.
Edward III created an Order of Knights of the Garter in his honour, which is why the chapel in which Prince Philip was laid to rest last week is St George's Chapel, Windsor. On the Duke's coffin, near the Garter insignia, was the sword given to him by his father-in-law, King George VI and he was mourned, among others, by the parents of his great-grandson, the future King George VII.
In fact, there were no British monarchs called George until the 18th century, although King Georges are like buses: if you wait ages for one, you can be sure that four will come in a row. Those wig-wearing German Georges, 1 to 4, who left their architectural stamp on so many Irish cities, made the name so fashionable that a plantation owner called Augustine Washington, in the English colony of Virginia, decided to name his eldest son George, which is how the future hero of the American War of Independence and the first President of the United States came to be named after a German-English monarch and a Greek-Palestinian martyr.
In my lifetime, two more American Presidents were also called George. But so, too, was a black nightclub bouncer from North Carolina, George Floyd, whose murderer's trial reached such a tense and poignant conclusion in Minneapolis this week.
Whatever image you may have of St George - martyr or garter; miracle-worker or dragon-slayer; Pope, President, King or Akela - today's the day when you can safely tip your cub scout cap to him without, for a moment, feeling you're selling out to the island next door. Because, unlike St Patrick, one thing we know for sure about St George is that he never set foot there.
Roger Childs, Head of Religious Programmes