Being Paul Brennan and Jane Black's son, Callum Black had an interesting start in life. Now working with his half-brother, Oisín, in Vinos', Callum finds himself dealing with relationships that are far from simple. Apart from Paul's interference in his work life, he has a complicated love life, involving his ex, Tessa, but more worryingly, his half-brother Oisín's girlfriend, Charlotte Bishop.

Do you blame Callum's paranoia and jealousy for the break-up of his relationship with Tessa?
Absolutely. I think Tessa was extremely professional in her dealings with Lee, so if Callum had been a bit more trusting and relaxed, he wouldn't be staring at another lonely pint on Valentine's Day. It was his first proper relationship and I think with the age gap, he felt pretty insecure.
How does Callum feel about Tessa now?
Callum would do anything to be with her. I think if anything was to happen again, he would have to take it very slowly. The ball is firmly in her court, and it looks like Tessa is happy to keep it there for the moment.

Is Callum interested in Charlotte or is he just playing games?
That's a tricky one. With all of their history, Charlotte is a huge part of his life. He cares so much about her, but I think he's still pining after Tessa and he recognises that Oisín is only bearable because of Charlotte's influence! He wouldn't want to jeopardise his newfound friendship with his (half) brother.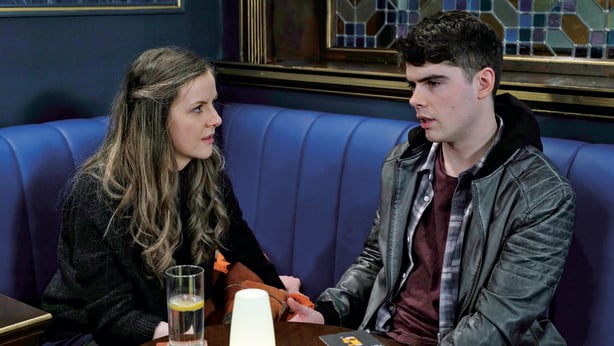 Does Charlotte still carry a torch for Callum and would you like it if your characters got together?
She definitely brings out a different side of Callum whenever they've been together. From car crashes, potential jail time, and a psychotic family member nearly cutting off his toe with a chisel, it would never be dull if they did get back together! Does Callum want to go back to that darker side of himself? Time will tell, but there is undeniable chemistry between them.
Callum is not impressed by Paul's plan to split Oisín and Charlotte, but would he always take Oisín's side against Paul?
No, definitely not. It's only in the past few months that Callum and Oisín's white hot hatred of each other has cooled into a friendship. In the past he would have done anything to get one over on Oisín.
Is Callum seeing a different side to Paul now?
All Callum wants is a family. A home. He's constantly trying to keep the ship from sinking, but as soon as one hole is plugged, another one spouts up. He ignores the worst side of Paul until he has to step in and do more damage control.
The game-playing among Callum, Oisín, Charlotte and Paul is pretty endless – will there ever be trust between them all?
I hope not, haha! Sure we'd have no more stories if we had trust! We're at our best when we're trying to outmanoeuvre each other.
Callum tries to be honest by telling Charlotte that Oisín is not serious about his proposal to her, but does he have an ulterior motive?
Callum is not the sharpest note in the scale, but he has a good heart, and when he's at his best, he is extremely empathetic. He can see how much the proposal means to Charlotte, and he doesn't want her to be a pawn in Oisín and Paul's feud.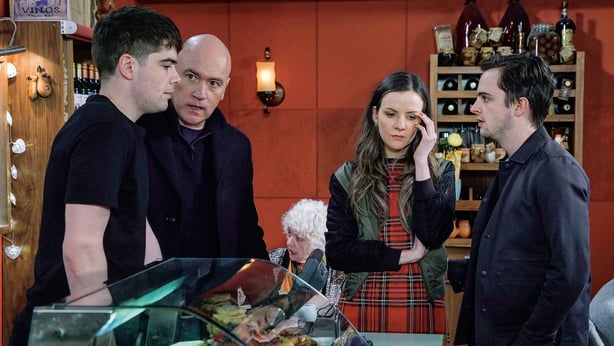 Paul cops on that there is something up between Callum and Charlotte, but is Callum afraid of Paul knowing too much about his personal life?
Knowledge is power and leverage for Paul. The less he knows the better.
Where do you see your character's story going from here?
That's the exciting thing about working on Fair City; we're like the audience, finding out week by week!
Do you get recognised by people when you are out and about? How do you feel about that?
Yeah, it definitely took a while to get used to, but now a few years on it's just a part of daily life. I remember the first time it happened I was walking with my twin sister down Dame Street, my first episode had only aired the night before.
From across the street I heard someone shouting,'CALLUM, YIH BLEEDIN' RIDE!' It was surreal, but it gave my sister Róisín a good laugh. The more I blushed, the harder she laughed. I love meeting new people though, so it's always nice to have a chat. 

You have also done theatre and films. Do you have time to pursue work in these areas at the moment?
I'm a member of The Corps Ensemble and this summer we will be doing the Irish premiere of Liam Williams' play Travesty. There are a few more exciting productions happening with this theatre group. Also, Metal Heart, directed by the phenomenal Hugh O'Conor, will be hitting cinemas over the summer. I have dyed black hair, electric blue contact lenses, with boots up to my knees and a coat down to my ankles. It's a lot of fun!

Then towards the end of the year I will be back in Landmark's production of Asking For It, an adaption of Louise O'Neill's novel. It's the most important piece of theatre I've ever been involved with, it's a real privilege to be a part of these necessary conversations about consent & sexual assault.