Bhailigh na sluaite go Cathair na dTreabh faoin ngrian le cúpla lá anuas le freastal ar MoJoCon, comhdháil a fhéachann go géar ar iriseoireacht ár linne agus a bhfuil romhainn i ré na n-iriseoirí sráide.
Ní haon ionadh é go raibh an seomra lán go doras ag caint 'An bhfuil an iriseoireacht marbh? ('Is journalism dead?') Ní teideal na cainte amháin a bhí conspóideach ach cuid den phainéal chomh maith. Ba í Margaret E. Ward, ball boird de chuid RTÉ a bhí sa chathaoir agus a stiúraigh an chaint go gairmúil. Ar phainéal na gcainteoirí, bhí Ilicco Elia, DigitasLBi, Mark Joyella, Saoririseoir, Samantha Barry, CNN,  Michael Rosenblum, The VJ.com agus Montaser Marai, Aljazeera.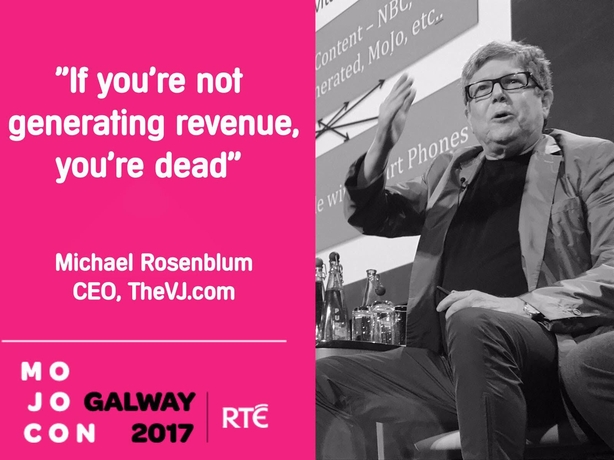 Chuir Michael Rosenblum tús bríomhar leis an gcaint agus é den tuairim láidir go bhfuil an iriseoireacht marbh agus gur na hiriseoirí a chur deireadh léi. Síleann sé nach fiú aon tionscadal mura bhfuil airgead á dhéanamh as agus é ag tabhairt drochíde do leithéidí Facebook agus Twitter a ghlacann lenár gcuid iriseoireachta agus nach bhfostaíonn duine ar bith a bhíonn i mbun scríbhneoireachta. 
'The Internet is an infinite platform. The voices are there; open your doors.' @Rosenblumtv #Mojocon pic.twitter.com/tdYedOdwD9

— RTÉ Mojocon 360 (@MojoConIRL) May 4, 2017
D'easaontaigh Samantha Barry agus luaigh sí toghcháin Mheiriceá mar shampla den iriseoireacht chomhaimseartha a rinne CNN le déanaí.  Dúirt sí freisin gur shíl sí go bhfuil roghanna eile ann le fiosrú ag seomraí nuachta nuair a íocann daoine óga airgead ar aip Kim Kardashian ach ndéanann siad amhlaidh le nuacht chruinn a fháil. 
Think @CNN is just a tv station? Nah! (Courtesy @samanthabarry #mojocon) So, where is *your* media or product brand? pic.twitter.com/8NyX6dS5Lu
— Peter Stewart (@TweeterStewart) May 4, 2017
Labhair Mark Joyella faoina bhfuil ag tarlú agus go bhfuil sé in am ag na meáin glacadh lena bhfuil tarlaithe agus greim a fháil ar na forbairtí teicneolaíochta. Dar leis, tá idir dhearfach agus dhiúltach ann sa ré nua seo agus é ag tagairt don bhréagnuacht, ach go háirithe. 
'Journalism is going through a wildfire now but new growth is coming up' @standupkid #mojocon pic.twitter.com/8bxO6jE4Sk

— RTÉ Mojocon 360 (@MojoConIRL) May 4, 2017
Labhair Montaser Marai atá ag obair le Aljazeera ar fhreagairt na meán agus iad ag obair le iriseoirí sráide i gceantair chogaíochta. Luaigh sé go bhfuil sé de nós ag Aljazeera hotspots a thabhairt amach d'iriseoirí sráide a bhfuil muinín acu astu le clúdach a fháil. 
'We have the responsibility as a journalist not to just get the scoop' @MontaserMarai #MojoCon pic.twitter.com/Dotzk6lfLD

— RTÉ Mojocon 360 (@MojoConIRL) May 4, 2017
Tuairimí éagsúla ar ábhar a bhfuil baint aige í hamháin le saol na hiriseoireachta ach an saol trí chéile. 
Siún Ní Dhuinn