Analysis: Dr. Darragh Gannon looks at the aftermath of the 1918 elections and how Irish politics was changed forever. 
A century is a long time in politics.
The results of the 1918 general election in Ireland - Sinn Féin: 73, Irish Unionist: 22, Irish Parliamentary Party: 6 – were revolutionary in outcome. Within a month, the first parliament of the Irish Republic (Dáil Éireann) had been established; an IRA campaign of violence had begun; and Sinn Féin leaders such as Éamon de Valera, Countess Markievicz, and Michael Collins had emerged a new Irish political élite.
Writing from his constituency office in Liverpool, a seventh elected Irish Parliamentary Party MP, T.P. O'Connor, conceded that the success of these 'Sinn Féin celebrities' might 'arrest the attention of a hurried world better than our old-world rational methods'.
Yet, one hundred years after the polls closed, the significance of 'Sinn Féin', and its victory, remains open to debate.
Did the Sinn Féin policy of abstention from Westminster offer the people a legitimate political alternative? Was a vote for the 'Irish Republic' a vote for republican political violence? Where did Sinn Féin's electoral victory secure recognition for Irish independence? 'The people have voted for Sinn Féin', party vice-president Fr. Michael O'Flanagan decreed following the 1918 election, 'we now have to explain to them what Sinn Féin is.'
Of the 73 Sinn Féin MPs elected in Ireland at the United Kingdom general election in December 1918, 29 took their seats on 21 January 1919 – at the Mansion House, Dublin. Their assembly in the capital, at 3.30pm, was to fulfil the electoral promise of Sinn Féin, and the ideological promise of Irish nationalism: the establishment of an independent parliament. Brian Farrell captured the euphoria of the Round Room: 'they were there to make history and they knew it.' Standing before an audience of one thousand – among them some seventy foreign news reporters – the Sinn Féin MPs now presented themselves as 'Teachtaí Dála' – 'Deputies of the Dáil'.
Significant by their absence were Éamon de Valera, Countess Markievicz, and Arthur Griffith, still interned in British prisons as part of the 'German Plot' arrests of the previous May. Thirty-six TDs, the acting Ceann Comhairle and Príomh Aire, Cathal Brugha declared, remained 'Fé ghlas ag Gallaibh' ['imprisoned by the foreigner']. Proceeding in Irish, Brugha proclaimed the legislative powers of the revolutionary government, comprising ministries of Finance, Foreign Affairs, Home Affairs, and Defence. A 'Declaration of Independence', read as Gaeilge, ratified the Irish Republic proclaimed in arms in 1916; English and French translations followed. A 'Message to the Free Nations of the World', recited by Count Plunkett in French and J.J. O'Kelly in Irish, meanwhile, sought international recognition of the Irish Republic 'at the dawn of the promised era of self-determination'.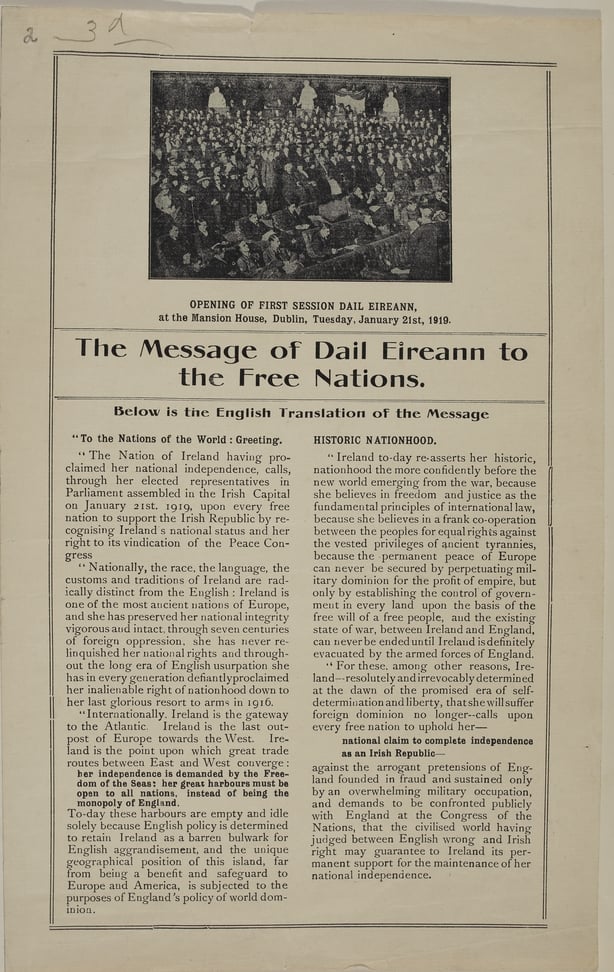 Plunkett, alongside the imprisoned Griffith and de Valera, were delegated to address the Paris Peace Conference. The 'Democratic Programme', Dáil Éireann's policy of social reform, finally, was announced in Irish and English. In conclusion, at 5.20pm, Sinn Féin presented the first democratically elected government of the Irish Republic.
Hours earlier, in the quarried confines of Soloheadbeg, Co. Tipperary, two Royal Irish Constabulary (RIC) officers had been shot dead by a group of IRA Volunteers, including Seán Treacy, Seamus Robinson, and Dan Breen, who seized their arms and explosives. This, in effect, was an IRA declaration of independence. 'Turbulent spirits' such as Treacy, Robinson, and Breen, requested neither Dáil, nor IRA GHQ, authorisation for such action. As Breen would later comment in his memoir My Fight for Irish Freedom: 'the Volunteers were in great danger of becoming merely a political adjunct to the Sinn Féin organisation…it was our duty to fight for the Irish Republic'.
Dáil Éireann would not officially recognize the IRA as the armed forces of the Irish Republic until March 1921. Privately, Michael Collins welcomed the Tipperary triumvirate to Dublin, where they formed part of his assassination 'Squad', assembled to kill detectives from Dublin Metropolitan Police's 'G' Division. Four 'G' men were killed in the capital in 1919.
Collins' arsenal of arms was partly supplied by Irish Republican Brotherhood (IRB) sections in London, Liverpool, and Glasgow. IRB contacts in Manchester, further, helped Collins and Harry Boland orchestrate de Valera's fantastic escape from Lincoln Prison in February 1919.
Presiding over a further Dáil Éireann session, on 1 April, de Valera appointed a new cabinet of ministers, including Brugha (Defence), Markievicz (Labour), and Collins (Finance). With his ministerial hat, Collins was charged with financing the republican administration through a bond drive ('the Dáil Loan'). Approximately £10 million (in today's money) would be raised in Ireland.
While the Dáil's official policy was to boycott the RIC, local IRA Volunteers continued their attacks on RIC barracks in search of arms. By the end of the year, 11 RIC men had been killed. British political leaders would label republican violence, 'Sinn Fein outrages', and the IRA, the 'Sinn Fein murder gang'. In September, Dáil Éireann was declared a 'dangerous association', and banned by the British authorities. It would meet (in secret) a mere three times in 1920.
Sinn Féin's 1918 election manifesto appealed to the premise of a new world order.
In the final months of the First World War, American President Woodrow Wilson had declared the future of peace dependent on the principle of 'self-determination' for all nations. Wilsonianism, effectively, offered a global mandate for international recognition of the Irish Republic after the election. 'No country ever started its international career with better prospects than were ours after the war', Sinn Féin TD George Gavan Duffy noted, 'Ireland had every reason to expect rapidly to become recognised as the First of the Small Nations.'
In February 1919, Seán T. O'Kelly was deputed to present Ireland's case before the Paris Peace Conferences. Neither he nor the Irish Republic, however, would be admitted at Versailles. O'Kelly would remain in Paris, without recognition, as Dáil Éireann envoy to France, as part of an attempt to establish an international diplomatic corps.
Further envoys were posted to London, Rome, and Madrid. By 1921, the Department of Foreign Affairs could claim consuls in Africa, Australia, and the Americas.
The foreign press would gradually come to terms with the Irish republican cause through the publicity work of the Dáil Department of Propaganda: 'Los Sinn Feinners han proclamado la Republica en Dublin' (El Mundo, Cuba). Elsewhere, Dáil Éireann received messages of solidarity from anti-colonial nationalists in Egypt, India, and modern day Myanmar: 'Burma has also gone Sinn Féin'.
Between June 1919 and December 1920, finally, Éamon de Valera toured the United States, in search of recognition for the Irish Republic. Addressing mass audiences from New York to San Francisco, he raised the international profile of, and $65 million (in today's money) for, Dáil Éireann but failed to secure the support of Washington. A War for Independence awaited him in Dublin.
The votes of the 1918 general election have been counted; the winners declared; and the business of national government resumed. Yet, one hundred years after the historical fact, the significance of 'Sinn Féin', and its victory, remains open to interpretation. The people voted for Sinn Féin in December 1918. We now have to explain to them what Sinn Féin was.
Dr. Darragh Gannon is Research Fellow to the AHRC-funded project 'A global history of Irish revolution, 1916-1923'. He is based at Queen's University Belfast.
---
The views expressed here are those of the author and do not represent or reflect the views of RTÉ
---