Analysis: Dr. William Murphy assesses the impact of 1918 and the creation of a new political generation in Ireland.
The historian David Fitzpatrick has suggested that the triumph of Sinn Féin in 1918 involved the pouring of 'old wine into new bottles'.
By this he meant that many of those who had once voted for the Irish Party, indeed some who had been active foot-soldiers or even leaders at a local level, had, recognising a tide in the Ireland, transferred their allegiances to the new party.
If the swelling ranks of Sinn Féin contained a mix of first-time activists and those who had been wooed to the cause, then its slate of victorious candidates at the general election seemed to confirm the impression that there had been a political earthquake.
By December 1918 most Irish voters were aware of the five men who had won seats at the series of by-elections held since February 1917; George Noble Plunkett, Joe McGuinness, Eamon de Valera, W.T. Cosgrave and Arthur Griffith were all on the ticket. Very likely, the informed public would also have recognised the former Irish Party MP, and long-time dissident, Larry Ginnell, who had changed horses, run, and won in Westmeath.
The great majority of Sinn Féin's sixty-eight successful candidates were not, however, well known. Together, they seemed to constitute the arrival of a new nationalist elite, but who were they?
The youngest was Joseph Sweeney.
He was twenty-one. Elected for Donegal West, Sweeney was, like many of his colleagues, a veteran of the Easter Rising. He was also one of an important subset among Sinn Féin's candidates, members of the Irish Republican Brotherhood (IRB). Later, disgruntled moderates who had not made it on to the ticket blamed Michael Collins and Harry Boland, IRB men who sat on the powerful Sinn Féin Standing Committee, for ensuring the selection of fellow hawks.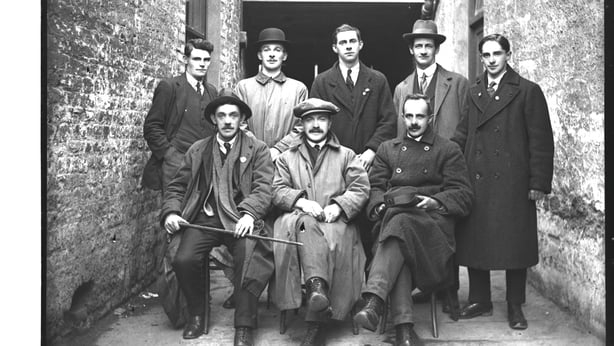 The candidate selection process was more chaotic, and the party more disparate, than is often recognised but Collins and Boland certainly influenced the selection of fellow IRB men. Those elected included Richard Mulcahy (Clontarf), Diarmuid Lynch (Cork South-East), Tom Hunter (Cork North-East), Piaras Béaslaí (Kerry East), Fionán Lynch (Kerry South), Austin Stack (Kerry West) and Liam Mellows (Meath North).
Thirty-four of those elected were in prison at the time. Six of these were in Belfast prison, having been prosecuted under the Defence of the Realm Act. Among them were Kevin O'Higgins (Queen's County), Ernest Blythe (Monaghan) and James Lennon (Carlow). Twenty-eight were interned without trial in various British prisons, having been arrested due to their alleged connection with the so-called 'German Plot'.  
In reality, they had attracted the attention of the authorities through their work in organizing either the Irish Volunteers or Sinn Féin, at national or local levels.
These included Constance Markievicz (Dublin, St Patrick's), Richard Hayes (Limerick East), Frank Lawless (Dublin North) and Art O'Connor (Kildare North). Being in prison was a considerable electoral asset, and Seán Etchingham who was in Lincoln prison, while a candidate for East Wicklow, expressed a commonly held view when he wrote home, 'I have a good chance if kept in prison while [the] election is in progress. The man in jail for Ireland's cause is the man the people will rally round.'
'I have a good chance if kept in prison while [the] election is in progress. The man in jail for Ireland's cause is the man the people will rally round.'
Etchingham was one of several who had contributed to the cause as an author, journalist or propagandist.
Being a journalist had been a prime qualification to become an Irish Party MP during the preceding decades, and Sinn Féin too had its corps of writers. Etchingham had created a strong public profile through his work for the Enniscorthy Echo. Terence MacSwiney (Mid-Cork), Desmond FitzGerald (Dublin Pembroke), Brian O'Higgins (Clare West), Seán Hayes (Cork West) and William Sears (Mayo South) were among those who had deployed for the cause their professional skills with the pen.
Sears was among a small but significant group elected who were survivors of the old, pre-Rising Sinn Féin. These were supporters of Arthur Griffith's separatist ideas but not necessarily ideological republicans and were often cautious about the use of violence.
These included Tom Kelly (Dublin, St Stephen's Green), a long-serving city councillor who had been vice-president of the party as early as 1910. James Dolan (Leitrim) was brother of C.J. Dolan the former Irish Party MP who had famously left the Irish Party for Sinn Féin in 1907, precipitating a by-election in North Leitrim. While, in Wexford, Roger Sweetman was elected. Sweetman's only qualification to stand appears to have been that he was a cousin to John Sweetman, who had been party president from 1908 to 1910, and Fr John F. Sweetman, who was then on north Wexford's Sinn Féin executive. In early 1921 he would resign his seat, having described the 'methods of warfare now being deployed' as 'deplorable'.
We need your consent to load this rte-player contentWe use rte-player to manage extra content that can set cookies on your device and collect data about your activity. Please review their details and accept them to load the content.Manage Preferences
Historians Dr. Ann Dolan and Dr. William Murphy discuss the life and legacy of Michael Collins with Myles Dungan on "The History Show" on RTE Radio One. 

A record of activism in cultural nationalist causes was also an asset to an aspiring Sinn Féin candidate. J.J. Walsh (Cork City) and Harry Boland (Roscommon South) had been chairmen of the Cork and Dublin County Boards of the GAA respectively. More important was Gaelic League activism and a competence in the Irish language. As historian Michael Laffan has pointed out, the Sinn Féin Standing Committee insisted that those seeking to represent constituencies with Irish speaking districts should themselves be fluent. This helped to ensure that Cathal Brugha was fielded in Waterford and Pádraig Ó Máille in Galway West.
The culture of Irish separatism was one which was deeply sceptical of politics and, more precisely, politicians. Peter Paul Galligan, who was elected for Cavan West, had written as recently as October of his reluctance to put his name forward: 'I do not like the idea one bit, you know I am not a politician,' he wrote from Reading gaol.
'I do not like the idea one bit, you know I am not a politician."
There were, however, others who were, despite their protestations, enthusiastic about being the public faces of the new dispensation in Ireland. As Michael Collins wrote to Austin Stack on 28 November, 'I'm having a quiet laugh "within myself" at the political eagerness of some of the "I'm only a fighting man" fraternity. I think I'm entitled to that.'
Dr. William Murphy is a lecturer in the School of History & Geography, DCU. His latest book (with Anne Dolan) Michael Collins: the Man and the Revolution (2018), is published by Collins Press.
 
---
The views expressed here are those of the author and do not represent or reflect the views of RTÉ
---