Adopted son John Banville's 200-page essay on Dublin begins with his first thrilling visits to the capital with his mother each year on December 8, the Feast of the Immaculate Conception, the 70-year-old writer's birthday. The time-honoured custom that day, nigh on 60 years ago, was for mother and son to travel by train from his native Wexford town to his Aunt Nan's flat which was in the area of the city he calls Baggotonia.
Thereafter, stuffed with a brunch (avant la lettre) of rasher, egg and Kylemore cake, the young Banville and mother would travel – most likely by the number 10 bus, he figures - into town where his birthday present would be bought, a toy gun or somesuch.
Such autobiographical musings occupy much of the book, but Time Pieces also includes reflections on the Abbey theatre, the Fay Brothers and their usurpers in theatreland, as Banville sees it, namely Lady Gregory and WB Yeats. Such a diversion has its point of course, as he and his dear pal Cicero (designated alias here for the noted developer, Harry Crosbie) travel to the Southside Dublin dwelling along whose drive the original stones of the original Abbey facade are laid. A quick glimpse at Paul Joyce's photograph of these stones reveals the word `saving' – the original Abbey Theatre was once a savings bank. Joyce's photographs appear at judicious intervals throughout the book and the author himself features in at least two. In each case, however, his back is to the camera.
The McDaids literary pub scene  - of which he was by no means part - and the late John Ryan who chronicled it in the book Remembering How We Stood are recalled. There are personal sightings recorded too of Patrick Kavanagh and an up-close encounter with George Yeats, WB Yeats widow, which is a splendidly-written cameo. That dimly-lit 1950s Dublin of the past would in time provide the setting for some of the crime novels which Banville produced under his alter ego, Benjamin Black.
In the course of what is a mostly an affable memoir, Banville is often tough on himself as adolescent and young man. He claims he was once snobbish when he had nothing to be snobbish about in terms of creative work or otherwise. He palpably cringes as he reveals his eagerness to shake the dust of Wexford off his shoes as he headed for Dublin where he first worked as a clerk at Aer Lingus before his years as sub-editor at The Irish Press and later Books Editor at The Irish Times.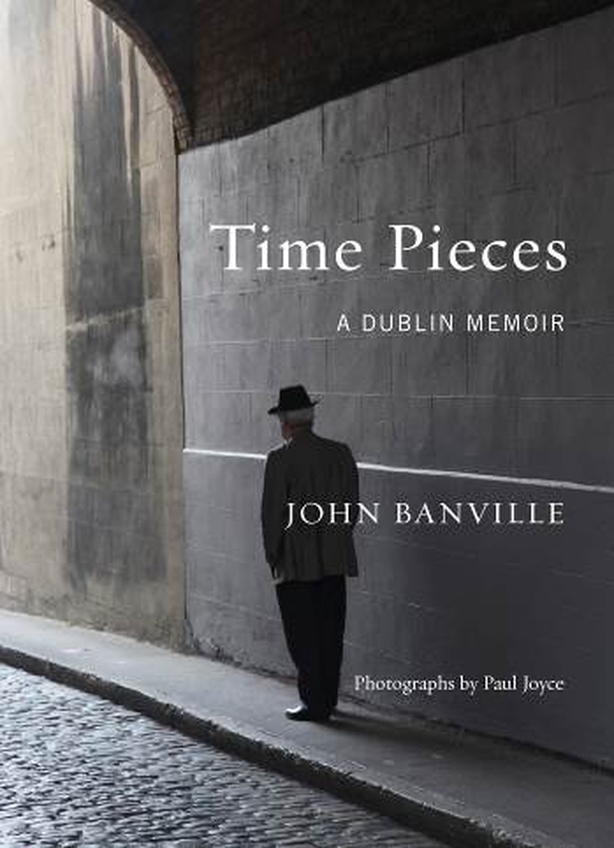 He admits that he once foolishly believed that he was leaving some kind of autocratic, forbidding place behind when he departed Wexford. However, due reflection in recent years brought home to him the gentleness of the people whom he says he should have cherished and valued more.
He writes as follows: That in my immediate surroundings there was a world interesting enough to be worthy of an artist's attention – and from earliest days I had no doubt that I was going to be an artist of some kind or other – is amply attested to in the work of such Wexford writers as Colm TóibÍn, Eoin Colfer and Billy Roche, all three of whom, and Roche in particular, have made a trove of rich coinage out of what I regarded as base metal, when I deigned to regard it all.
Of course Banville knows that we are rarely the best judges of ourselves and he has acknowledged elsewhere that the lineaments and ancient walls of Wexford town - a beautiful place still, despite some recent depredations - have appeared in his fiction, albeit in the guise of other, ostensibly more exotic urban -scapes. Yet, as a boy he could not name some of the streets, so indifferent did he feel about Wexford, but that indifference about one's native heath is not as unusual as he perhaps imagines.
For what it's worth, this writer could not but help thinking of Wexford town throughout as he read - and indeed greatly appreciated - the author's novel, Eclipse, which is not in fact set there at all. Banville did in the end lick it off the (Wexford) streets, in other words. Moreover, the above-named coiners of Wexford gold to whom he pays tribute would readily attest to this fact.
Paddy Kehoe
We need your consent to load this YouTube contentWe use YouTube to manage extra content that can set cookies on your device and collect data about your activity. Please review their details and accept them to load the content.Manage Preferences