John Wilson conducts the RTE National Symphony Orchestra in a concert featuring Britten, Dove and Elgar from the National Concert Hall.

You can download the programme here
'Twinkle, twinkle, little star, how I wonder…' Two giants and a modern master of English music promise an evening of mystery, wonder and riddles aplenty on the occasion of the RTÉ National Symphony Orchestra's return to the National Concert Hall and concerts with audiences. John Wilson, 'a passionate advocate of English classical music second to none' (The Times) makes a repeat visit to conduct.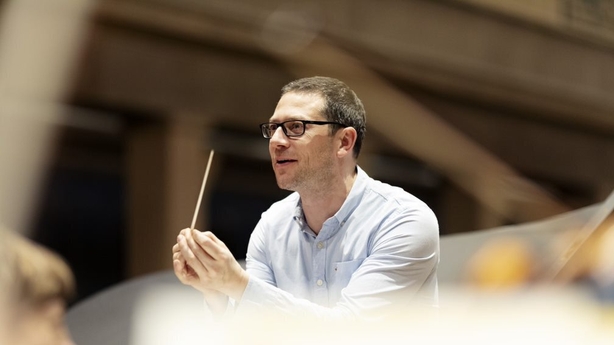 He's joined by the brilliant trombonist and former BBC Young Musician of the Year, Peter Moore, for Jonathan Dove's 'miniature opera for the trombone', Stargazer, a contemporary classic that casts its eyes towards the heavens. Taking its starting point as Mozart's treatment of the lullaby Twinkle, Twinkle, Little Star, it's a spell-binding showcase for the trombone that pays inventive and often playful homage to earlier composers for the instrument, including Holst, Britten, Bernstein and Stravinsky.
The 'Four Sea Interludes' from Britten's breakthrough opera Peter Grimes immediately gained a place in the concert hall. Exquisite exercises in describing place and evoking atmosphere, they move from tranquil 'Dawn' to the carefree bustle of a 'Sunday Morning' and nocturnal mystery of shoreline and seascape lit by 'Moonlight', before invoking the tempest of a maritime 'Storm'.
A stirring testament to love and friendship and the fortunes they bring, Elgar's masterpiece Enigma Variations, a blend of Victorian grandeur and Edwardian grace, is a cornerstone of the English repertoire. An intimate series of portraits of friends, loved ones and the composer himself, at its heart is the sombre but noble 'Nimrod', a heartfelt tribute to Elgar's publisher heightened by its discreet allusion to Beethoven. Music of rare and refined luxuriousness, guaranteed to leave an unforgettable impression.
Programme:
Britten Four Sea Interludes from Peter Grimes
Jonathan Dove Stargazer
ElgarEnigma Variations
John Wilson, conductor
Peter Moore, trombone
Presented by Paul Herriott, RTÉ lyric fm