In July 1912, four Irish suffragettes went on trial for breaking windows of Dublin's public buildings. In the same week, the daughter of Irish immigrants to Australia won the first gold medal in women's Olympic swimming, creating a scandal of her own when she rejected a thick, modest woollen swimsuit with 'as much drag as a sea-anchor' in favour of a close-fitting suit in which she won the 100m freestyle.
Votes for women had been won state-by-state in Australia, thanks to the efforts of women like Monaghan-born Mary Lee (also featured in this exhibition). However, the advances in women's participation in political life did not translate into other areas of Australian life.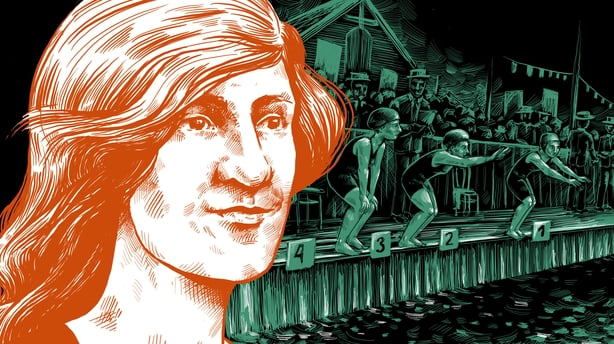 Sarah 'Fanny' Durack won her first State swimming title in 1906, aged 17. At that time, the New South Wales Amateur Swimming Association banned women from competitions where men were present. However, Fanny's many successes inspired the public, who demanded that she be allowed to compete in the 1912 Olympics in Stockholm. The Barrier Miner editorialised, 'if there is any athlete in Australasia who should go to the great contests it is this young Sydney swimmer,' and, listing her constellation of 56 medals and 100 trophies, noted, 'If this formidable array is not a record that Australia should be proud of in one of her daughters, then there is no such thing as national pride.' The ban was lifted, and a public appeal raised the funds necessary for her to make the journey.
In Stockholm, Durack broke the record for the 100 metres free-style with a time of 19.8 seconds. She also won gold for the 100 metres, the only individual event for women, setting a new record time for the event. She made a triumphant return to Sydney.
When she stepped onto the platform at a Ladies' Swimming Carnival in February 1913, draped in an 'Australasian cloak of green', spectators burst into applause; on this occasion she broke the world record for the 100 yard crawl. She now held the world record for all distances in women's swimming. In March 1914, she broke the record for swimming a crawl in a mile of open water, 52 seconds better than the existing New South Wales' men's record.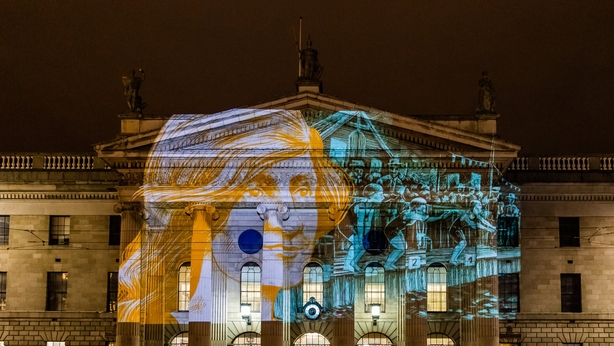 In 1912–18, Durack broke 12 world records. This success took her on tours of Europe and the USA, accompanied by fellow Irish-Australian swimmer Mina Wylie. However, they were dogged by controversy. Arriving in the USA in 1918 without official sanction, they were then banned by the Amateur Swimming Union of Australia. In 1919, the pair refused to swim until their manager's expenses were paid – in response, the USA Amateur Athletic Union threatened to suspend their amateur status. Other athletes protested their treatment.
A week before the Australian team were to travel to the 1920 Antwerp Olympics, Durack underwent an appendectomy. Her recovery was marred by typhoid fever and pneumonia, forcing her to withdraw from the competition.
In January 1921, Durack retired from competitive swimming due to long-term ill-health. Shortly afterwards, she married Bernard Martin Gately, a horse-trainer, and thereafter dedicated herself to coaching children. She died of cancer at her home in March 1956.
A self-taught swimmer, she pursued the sport despite an enduring nervousness about the dangers of deep water. Nevertheless, together, she and Mina Wylie blazed a trail in the early days of women's international competitive swimming.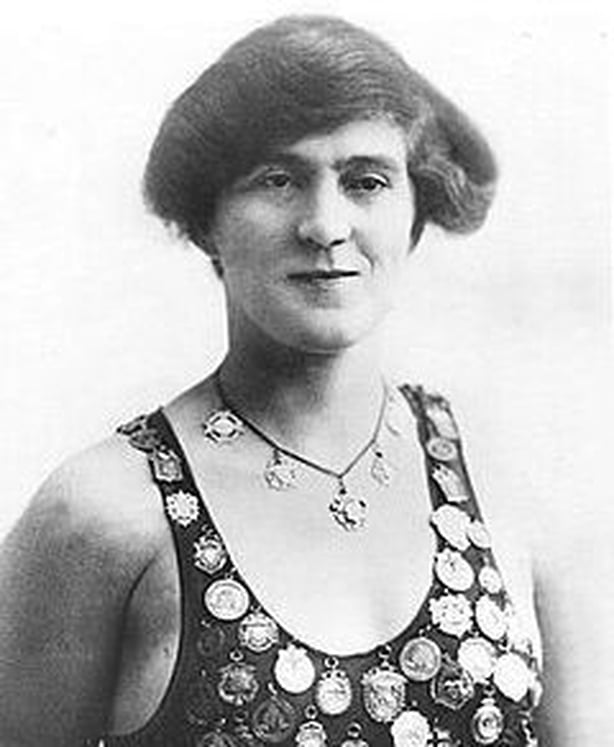 Read more Herstory biographies here.
by Dr Angela Byrne for the Irish Embassy exhibition 'Blazing a Trail: Lives and Legacies of Irish Diaspora Women', a collaboration between Herstory, EPIC The Irish Emigration Museum and the Department of Foreign Affairs and Trade.