"Vincent Woods and Eva Bourke (editors of) this collection have pitched music into the heart of things," writes musician and composer Micheál Ó Suilleabháin in his foreword to the 260 pages of largely contemporary poems collected here. These are all, in some shape or other, poems that nod or tap their heel in time to music in its various forms and serendipities, its traits, its wraiths and its strays from the norm.
Ó Suilleabháin is interested in the so-called `Fermata' moment, which gives the anthology its title. The Fermata is a compositional device by which the note is held and metrical measurement suspended, until the conductor signals resumption of the music.
In the course of his introduction, the musician moves from musical discourse into considerations from the contiguous realm of poetry and finds Fermata in the Seamus Heaney poem, The Pitchfork and in the concluding lines of Philip Larkin's classic poem, The Whistsun Weddings.
The poems anthologised range across devotionals to traditional Irish music, jazz and blues, rock and classical. The work is divided under headings, as follows: Songbirds in the Stairwell, The Given Note, A Sad Air's Best for Night, Girl in a Wheelchair Dancing, Three Men Standing at the Met and Listening to Bach. Each of these are themselves titles of poems included under each category.
James Joyce's tremulous lyric, Lean out of the Window, is translated into Irish by Gabriel Rosenstock as Tar go dtí an Fhuinneog) and the volume salutes musicians as diverse as the composer Dimitri Shoskatovich, Rory Gallagher, Townes van Zandt and Micho Russell. The latter three are now, of course, playing sets at the great Gig in the Sky, perhaps joined occasionally by the first of these, on upright piano, language no barrier, only delighted to sit in and vamp. Rosenstock also supplies a charming Haiku, reproduced in English, Scots, Irish and Japanese.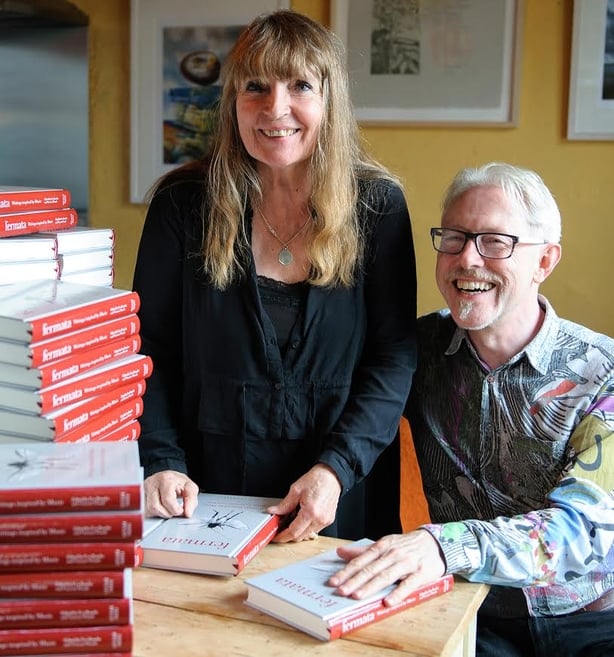 Fermata's editors, poets Eva Bourke and Vincent Woods
It would be good to see in a future edition one of those voluble, and indeed musical poems by the late James Liddy, and if not one of his poems, then that section from his memoirs dealing with his father's involvement in the founding of Wexford Opera Festival. Liddy was a genius writer of prose, as well as on eof our most neglected poets.
There are poems here by more established names such as Thomas Kinsella, Paul Durcan, Eiléan Ní Chuileanáin, Louis de Paor, Gerald Smyth, Macdara Woods, Paula Meehan, Pat Boran, and the late Leland Bardwell and Pearse Hutchinson, along with poems by the editors themselves. The work hinges on listening experiences, epiphanies and personal loss, poems that are dedicated to getting closer to music's elusive, ineffable mystery and power.
So whether he calls it spirit music/ Or not, I don't care./ He took it /Out of wind off mid-Atlantic.
Still he maintains, from nowhere./It comes off the bow gravely,/Rephrases itself into the air.
(The Give Note, Seamus Heaney)
Paddy Kehoe