At a Solidarity event for Ukraine at the Abbey Theatre, performance artist Amanda Coogan led the Dublin Theatre of the Deaf in a stunning performance, introduced by the inimitable Panti Bliss - watch it above.
Amanda Coogan and Irish Deaf Society chair Lianne Quigley introduce the performance below.
As artists and as Sign language users we stand with Ukraine in this dark time. We are extraordinarily concerned for everyone in this beautiful country. From our understanding of the barriers faced daily by Deaf people around the world we are gravely concerned for our Deaf brothers and sisters.
Let me explain - Deaf communities around the world have always connected. We are One Deaf family, deeply bonded as sign language users in a spoken language world. We understand the Burning desire for freedom and self determination.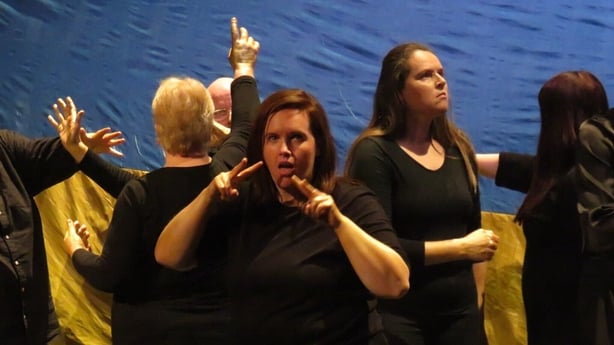 Here in Ireland we use Irish Sign Language.
In Ukraine they use Ukrainian Sign Language.
We communicate however across countries in International Sign.
When the war broke out the Deaf World leadership came together to support and listen to our Ukrainian Deaf family in this humanitarian crisis.
The Irish Deaf Society is our equality and advocacy organisation. Lianne Quigley is the chair. The corresponding organisation in Ukraine is called UTOG and Iryna Chepchina is the president.
We need your consent to load this YouTube contentWe use YouTube to manage extra content that can set cookies on your device and collect data about your activity. Please review their details and accept them to load the content.Manage Preferences
Watch: UTOG President Iryna Chepchina on war, the deaf community and refugees in Ukraine
We have weekly meetings online meetings where Irina updates us and advocates for Deaf Ukrainians fleeing the war, some Deaf Ukrainians have already arrived in Ireland.
In the middle of the war she takes time - as her president Zelensky does - to tell us of the plight of her country - an act of defiance in itself. It is surreal/humbling to see her 'speaking' to us from the midst of war.
As Europeans, as Deaf people, as human beings, we open our hearts to you.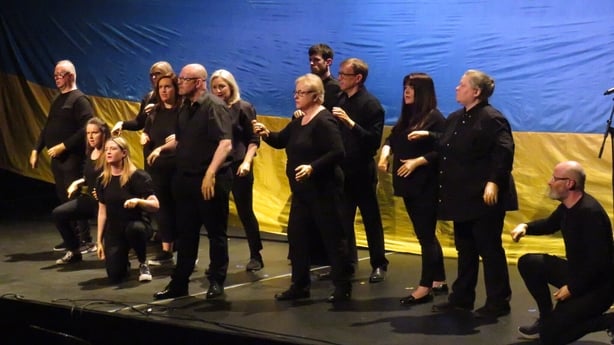 We are performing a poem from Rainbow, the Theatre of Facial Expressions and Gestures in Ukraine.
They sent us this message:
"Hello! Thanks for your support. This is very important for us at this time. Deaf actors of the theater of facial expressions and gestures "Rainbow" in this poem sought to show the world that we all want an end to the war and a peaceful sky overhead. Of course, we will not all be the same as we were before the war. Thank you again for your support and we wish you a successful performance."
We beam you love Rainbow - this is your poem.
Dreams
When the War is over - I will become what I dreamed but feared to be.
When the War is over, - I'll tell him I love him with my whole heart, truly, madly, deeply
When the War is over - I'll climb mount Pip Ivan - look out across my homeland and breathe.
When the War is over - I will visit Kharkiv - I will witness the change. I will celebrate Kharkiv's resistance and survival.
When the war is over - I will visit our Crimea and finally see the ancient city of Khersones
When the war is over - coffee in Lviv will be tastier, a coffee, a liqueur, pastry in a cosy cafe - ah and watching the beautiful people go by - ah
When the war is over - I will meet my dad and say thank you, thank you for what you have given me.
When the war is over - I will understand the price of the words FREEDOM, PEACE, LIFE
When the war is over I will sit at my friends graveside, drink deep from a flask and remember our graduation five years ago.
When this war of aggression is over - I will no longer procrastinate and I will take every opportunity. I will write down a list and cross it all off - because - I will have a second chance to live with freedom.
When the war ends we will rebuild our beautiful country Ukraine, renewed, strong and independent.
SLAV UKRAINE
---
Video by Anthony O'Connor