We present an extract from Thirsty Ghosts, the new novel by Emer Martin.
Two families inhabit this immersive polyvocal work, an intergenerational saga announced with Emer Martin's earlier novel The Cruelty Men (2018) and continued here as punk rockers and Magdalene laundries spiral into a post-colonial Ireland still haunted by its tribal undertow. Scenes surface from Ireland's mythological past, Tudor plantations, workhouses and industrial schools, the Troubles laid bare, the transformative pre-digital decades playing out in this propulsive narrative. Thirsty Ghosts is epic in scope while intimate in focus.
The Lyons, professionals in a newly independent state, are attacked by paramilitaries in their family home in Tyrone. The eccentric O Conaills of Kerry, traumatized by displacement, find themselves in leafy Dublin 4. We encounter a servant who meets Henry VIII, a Lithuanian Jewish family who become part of the fabric of Dublin, and a wild young girl who escapes the laundry only to stumble into a psycho pimp.
---
Dymphna
I Won't Go Down to the River Again (1968)
I was born in Gestapo Ireland in the 1950s – where men weren't allowed to think and women didn't exist. My name is Dymphna. Patron Saint of the Mad. Yeah. I've heard all the jokes. I came to the Laundry at fourteen years old. The others all called me Little Poet, on account of me writing me own poetry when I was little and walking barefoot by the River Dodder.
I used to put me feet in and let the river soak me and I'd suck up the spirit of the water to give me strength.
Ma was told I was always sitting by the River Dodder with me eyes closed. And she found all me poems, scribbled on the backs of bits of paper. Sure, I can't remember even one of them now. They had always been telling me that if I didn't behave, I'd go to the Magdalenes and that's what they done – and they never came looking for me after. All the blame went on them nuns but they didn't have to come looking for us, it was our own famblies who shoved us in for the most part. Of course, the nuns were there to suit them, and the Guards to send us back if we ran. What a racket.
We need your consent to load this rte-player contentWe use rte-player to manage extra content that can set cookies on your device and collect data about your activity. Please review their details and accept them to load the content.Manage Preferences
Listen: Author Emer Martin talks to RTÉ Arena

Me uncle was a small man with a red face. He would disappear on the lash for days and then come back to kip at our house even though he had to squeeze into the other bed with all me brothers. He was a cute hoor and always came back at dinner time, buttering me ma up with his auld plámás and throwing shapes. Me ma adored him, me da was never home. In anyways, me ma sent me to do the messages and, after I'd done them, I went to the Dodder to sink me feet and write some poems in me new notebook. It wasn't new, but me teacher had seen that I wrote poems on pieces of paper and given me one of her notebooks that was a bit used. I tore them pages out and had it all to meself. Me uncle followed me and bellowed like a bull. I told him he was a dosser and did nothing for us anyway.
Back at the house, he told me ma that I was at the river. She grabbed the basket off me and started rummaging around in it; she was livid that the bread was wet at the bottom. She found me notebook. Me sisters were screaming at me and me brothers pushing. 'She's a feckin eejit,' they said. 'The bread is soaking.' They all crowded in on me, pulled out me notebook of poems. 'What's she writing?' 'Who does she tink she is?' I was mortified, and me uncle started to read them, and two of me brothers came at me.
I took up a chair and held it up like I'd seen a picture in a book of a lion tamer do. 'That's it!' me uncle said, 'I'm going to the Cruelty Man.'
'The Artane Man?' me brother said, swinging his arms like an ape, dancing in front of me and me chair held up.
'No, that's for ye. The nuns will take the girls for the Laundry,' me uncle said, as if it was all decided.
I was gobsmacked and shouted, 'What did I do?'
Me uncle said it to me ma, who was already turning away, looking like a tired sack as always, 'She's always acting the maggot. And her going down to the river and with the writing of the poetry. She'll bring disgrace to us one day. Only a matter of time.'
Me ma sighed, 'Yizzer all wrecking me head.' She turned to me and it was as if she couldn't see me, as if I was already gone. That's when I knew I was done for.
Me uncle marched out of the house on a mission. I set the chair down thinking I was safe. I saw where me ma had put me notebook, on the top shelf beside the Virgin Mary, so I made me mind up to get it back as soon as I could.
In anyways, the Cruelty Man was only too delighted to come back with me uncle. He had short grey hair and loomed in the door like a mountain. He and me uncle tore me out of the house – dragged me barefoot down our street, women leaning against their doorways with children teeming all over them, childer at their feet, in their arms, growing in their bellies, stray and starving. The Cruelty Man stopped at the corner – he and me uncle were having a disagreement as to where I could be brought.
'I won't go down to the river again,' I pleaded. Looking around thinking I could leg it. 'I'm only always taking off them shoes because they don't fit any more. Me toes are turning black in them and me nails are sore.'
Me uncle grabbed hold of me arm. It was as if I didn't exist, a piece of shite to be scraped off their shoes. I don't know why me uncle wanted me gone. I shared a bed with me sisters and ate the same as the rest of them. Which wasn't much.
The Cruelty Man said he would take me to Golden Bridge, and I liked the sound of that. I imagined a bridge like those I had seen on a blue-and-white china plate in a shop window on Clanbrassil Street. I liked to wander there where the Jews were because it was just that bit different to the other streets and the people had dark eyes and hair and more of the world in their glances. Some had foreign accents and softer ways, and the men weren't all drunk like me da and me uncle. The Cruelty Man and me uncle decided on the Laundry instead.
I squirmed away from me uncle when I heard that, I wasn't as green as I'm cabbage. The Cruelty Man grabbed me by the wrist and tightened his grip. He looked at me for the first time and said, 'Steady on now, pet. You'll have food where yer going and they'll straighten you out. You have no idea what could happen down by the river.' But there was no concern or kindness in his voice.
'And they'll clear out them notions of yours,' me uncle laughed. So they dragged me to the Laundry; I left me family and the wet bread behind forever. The nuns opened the door and eyed me uncle and the Cruelty Man. We were poor and they could smell that off us. I didn't know much about money, but I knew it changed the way people looked at you. A beardy nun called Sister Paul asked if I could work and they said I could.
'She can read and write,' me uncle said, almost with pride. 'She can write in rhymes.'
'The only rhymes she'll need here are her prayers,' Sister Paul said and pointed to another room. I walked in and I turned around quickly, but the door slammed shut and I never saw me uncle again. They shaved me head and gave me new clothes. They said Dymphna was a good saint's name. The Patron Saint of Mental Illness and all. You can keep your name, they told me, that was the first real shock I got. I had thought I would be punished for a day or so and have to do a job but come home at nights. Why would they want to take me name?
That night I sat at a long table with the Laundry women. Half of them were baldies and the other half had wispy hair under their bonnets. There was one who stood out. She had glowing blue and grey and green eyes and looked as if she had been waiting for me. The nuns and everyone called her Teresa, but she said it wasn't her real name. When I told her I was writing poems and putting me feet in the river she called me the Little Poet, and everyone started calling me that. I liked that. In the night she told one of the old stories of the childer who were turned into swans and banished for hundreds of years on wild seas and cold lakes. She crawled into me bed to hold me when I cried for the world. I didn't cry for me family, cos they sent me there, but I cried for the long wet friend of a Dodder who would suckle me feet and settle all the thoughts in me head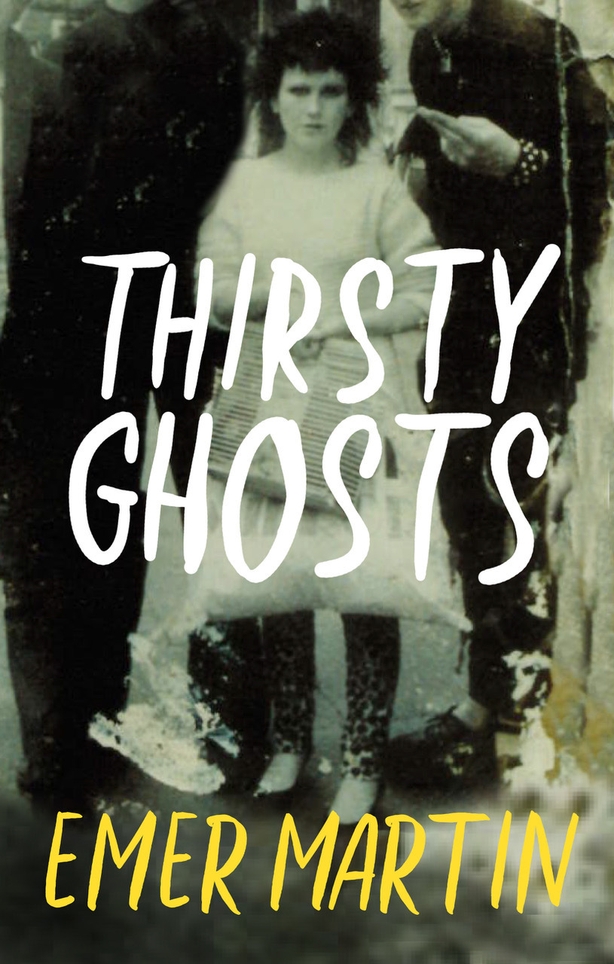 Thirsty Ghosts is published by Lilliput Press.