Crash Ensemble play the premiere of Composer-in-Residence Andrew Hamilton's new work Friendly Piece at this year's New Music Dublin festival.
Friendly Piece asks the question 'can music be kind?'. Below, Andrew gives an insight into his new work.
---
Friendly Piece: Eight Statements with an Interlude
1. Friendly Piece is simply a line that goes down and then up, that is all (that's a hard sell) "trembling, vibrating along the line... verging on invisibility, fragility, mortal in its impermanence" - Fred Sandback
2. Friendly Piece will not make you a kinder person, a wiser person or a more compassionate person, you have to do that work on your own (that's an even harder sell, sorry, but it is best to be honest)
3. Friendly Piece is not about the world we live in but the world/s within our heart/mind (too esoteric?)
4. Friendly Piece is probably in the genre of the dreaded piece about the pandemic but the pandemic did not engender glorious creativity but rather a complete lack of anything to "say". I came to a complete, deadening cul-de-sac. The artists and writers I have felt closest to, and who haunt Friendly Piece, tend to pare things back, keep things quite austere, they don't "say" very much at all. I have tried to work out why this way of making art resonates with me. At times I have even felt a weird sense of shame that, for example, playing the violin in Mahler's 9th Symphony had absolutely no effect on me, in fact it left me feeling nothing! Or how uninterested I was as a teenager in the fact that Berg wrote his violin concerto in memory of a dead girl, I just loved the moment the tonal chorale in the last movement suddenly dropped in from nowhere as if from space. I have never been interested in stories in art. I do not want to write tone poems. What am I interested in then? After a ridiculous amount of time I realise it is small things, small uneventful things, tiny details and imperfections that coalesce to light the fuse (please see following interlude).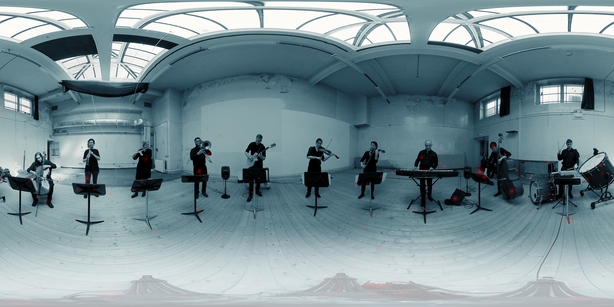 INTERLUDE:
I can't be completely sure but I think it was in 1990 that a 13 year old version of myself, wandered alone into the Hugh Lane Gallery and found myself strangely drawn to a painting on the other side of the big oval hall. I became transfixed by it. It was a painting with stripes, barely any colour. It provoked a weird sense of joy within. I had never seen anything like it. I looked to see what it was and who made it: an austere, factual title Untitled #7 by a Canadian woman, Agnes Martin. The painting caused a row when it was bought.
More than thirty years later, in the first period museums began to open again in the pandemic I travelled from Birmingham to London to see one painting, Morning by Agnes Martin. I stood before it and there was no gap over time between the sensation I had felt back in 90s Dublin and now. I felt such joy and energy. I stood looking at it for around half an hour and in that time maybe just one couple stopped to look at it for a few minutes, most didn't even notice it.
5. Friendly Piece owes thanks to some birds in the forest beside the Tyrone Guthrie Centre in County Monaghan. In December 2022 I was walking there, it was so beautifully quiet and still that I could hear the wings of the birds flapping. Thank you, birds of Monaghan!
6. Friendly Piece owes thanks to a field of wheat in Northumbria beside the monastery I was staying in. The sound of the wind blowing through the wheat was delightful. Thank you Northumbrian field of wheat! (and thank you wind!)
7. Friendly Piece is the freest work I have written but is structured in an unfree grid in an attempt to emulate the joy deep within Martin's Morning. Everything in the piece is there from the very beginning but then it is as though we sometimes focus our ears on one bit of the grid, then off to another, then spend a longer time honing in on one glissando or maybe a tiny fragment, then we forget it again. I broke through the creative cul-de-sac by finally realising there was no need to "say" anything at all, there was no need to feel shame that there was no story to tell. No need to illustrate an idea, just put that all down.
8. Friendly Piece takes fragments of text from the Karaniya Metta Sutta (academics have dated the Buddhist scripture to circa 400 BCE). 'Metta' is translated as 'loving kindness' or sometimes 'friendliness', hence Friendly Piece. The text ultimately becomes another element of material in the grid of the piece, you can take it or leave it of course (but when we are at the end we cannot hide anymore in irony from the essence of it all, as our friend Beethoven said "Arising in the heart, may it return to the heart!").
Can Music Be Kind? is on Sunday 23rd April in the Studio in the National Concert Hall, Dublin, as part of this year's New Music Dublin festival - find out more here.