Made for streaming service Disney Plus, A Sort of Homecoming is the type of film that will send Americans rushing to buy transatlantic plane tickets. Dublin looks great, the pubs are full of rock stars, and the beaches of the capital are portrayed with a reverence usually reserved for the west coast – the one that everyone knows.
At its heart however this film is a portrait, not of a city but of a friendship. Edge and Bono have been mates for almost fifty years and this intimate movie captures the laughs, the slagging and the affection that has held that relationship together for so long. We also get to hear Edge sing as well as play, a reminder that Bono wasn't the only band member with a tenor for a father.
David Letterman plays the part of the bemused Yank on holiday, visiting Cavistons, travelling on the DART, having a 'beard off' with Glen Hansard and looking with deep scepticism at swimmers in the Forty Foot, less snot green here than stony grey. Ironically, unlike the native Dubs he seems to have been able to walk through the city incognito, his huge beard rendering him almost unrecognisable from his chat show days.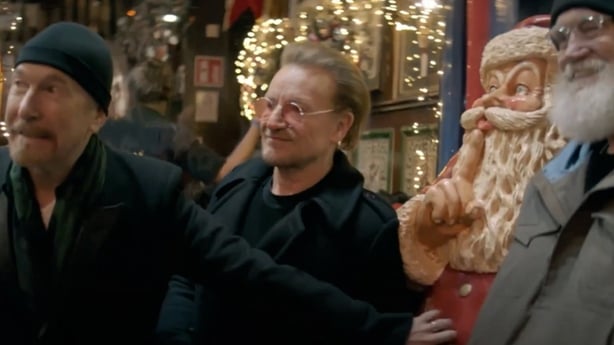 There's a lot of humour in the film – a moment where Bono shows Letterman how to walk like a Dub is a reminder, for those who listened to the audio book of his autobiography Surrender, that the Finglas man could have been an actor if the singing hadn't worked out. A number of interviews with third parties are included, the most interesting being with Panti Bliss who sums up what it was like to grow up in the same country as U2 and really only appreciate them after a spell abroad. There is also some music, including an all-star session at a Dublin pub and an intimate recording of new/old material performed in front of a small audience at the Ambassador theatre but many of the tracks are truncated and I'd have liked to have heard more.
A Sort of Homecoming works perfectly well as a standalone piece but it's impossible not to view it as part of a package that includes Surrender and the new album of re-recorded material. The band is taking stock, looking back with a view to going forward. But where are they headed? This movie only features Bono and Edge. Adam we are told was 'making an art film' – The Outsider, about Francis Bacon, which can be seen here - while Larry Mullen, following years of drumming has been undergoing surgery. All legitimate explanations, and Bono and Edge have consistently said that this period as a duo does not mark the end of the band as a four piece. Fans remain worried however, especially when looking to the Vegas performances which will go on without the injured drummer, and many will not exhale until they see all four on stage together again.
Back in Dublin however, A Sort of Homecoming doesn't reveal a huge amount about U2 that we didn't already know but it's charming, affectionate and beautifully made by Morgan Neville. Letterman plays the part of the on-screen fan to perfection and the movie offers both reflection and immersion, including a gorgeous final sequence which I'll leave as a surprise. Those interested in how music is made will enjoy a peek behind the creative curtain, while for the fans, it's a St Patrick's Day gift to be savoured.
A Sort of Homecoming is on Disney+