"Name one thing that can be gained from technology", said Greg Kinnear in the 1998 romcom classic You've Got Mail. If Joseph Murray's debut novel Fling were to rise to the challenge decades later, it would answer: true love.
'Tara loved Colin at first sight. Colin loved Tara at first fight. That's when they knew they were meant for each other.' But after years of failed IVF attempts, their marriage is falling apart. Just when it seems it's all over… they meet their 100% match on an anonymous dating app for married people.
The reader meets Colin and Tara in the doctor's office at a fertility clinic, where they have just received the devastating news of an unsuccessful third IVF attempt. Tara wants to give up, to accept that "she's not meant to be a mother". Colin wants to try again. They find themselves facing a crossroads and a rift in their marriage.
We need your consent to load this YouTube contentWe use YouTube to manage extra content that can set cookies on your device and collect data about your activity. Please review their details and accept them to load the content.Manage Preferences
All Colin wants is to be a dad, "not just a father but a proper, loving, nurturing, compassionate, cringey, embarrassing dad," one who wears socks and sandals and has a stockpile of dad jokes at the ready. For Tara, "the experience of constant failure had sucked the life out of her," she "still desired desire" and "longed to be swept off her feet."
Fast forward six months and Tara is on her way to work when she tunes into The Line, a morning chat show where people phone in to discuss topical issues, hosted by 'Joe'. An enraged caller is "sick to her stomach" over a new app designed for married people who want to cheat ("I practically had whiplash from pure shock, Joe") and she's found out her husband is on it.
While Meg Ryan asked "is it infidelity if you're involved with someone on email?", Murray has updated the trope for a modern audience. In a You've Got Mail-style plot device, Tara and Colin each secretly download the app and create profiles under aliases — 'Claire' and 'Jack' — neither knows they are talking to the other and this is what allows them to be honest about what they want. While their relationship crumbles IRL, they are unknowingly rediscovering each other online in a fling that comes close to pulling them apart for good.
At the heart of the story is the idea that sometimes what you're looking for is right in front of you the whole time; as oblivious as Tara and Colin are to the twist they find themselves in, as obvious it is to the reader from the get go. There's a staple romcom familiarity and predictability to the way things unfold, which means the outcome is never truly in doubt. But this predictability extends to the characters, which at times feel textbook and unexplored.
Murray, a digital content specialist and TikTok'er based in the Meath Gaeltacht area Baile Ghib, uses his comedic chops and background in screenwriting to build up the tension. Tara's 23-year-old intern Emily ("ask him if he'd still love you if you were a worm") and Colin's laddish childhood friend-turned-boss Rory add levity and act as confidantes to the protagonists.
Ultimately, the novel's big moments — (un)fortunate misunderstandings, quippy one-liners, sweeping romantic gestures and reveals — all feel like they would be better played out on-screen than in writing. But if you're looking for a 21st century romance with poignancy and a sense of humour, this should do the trick.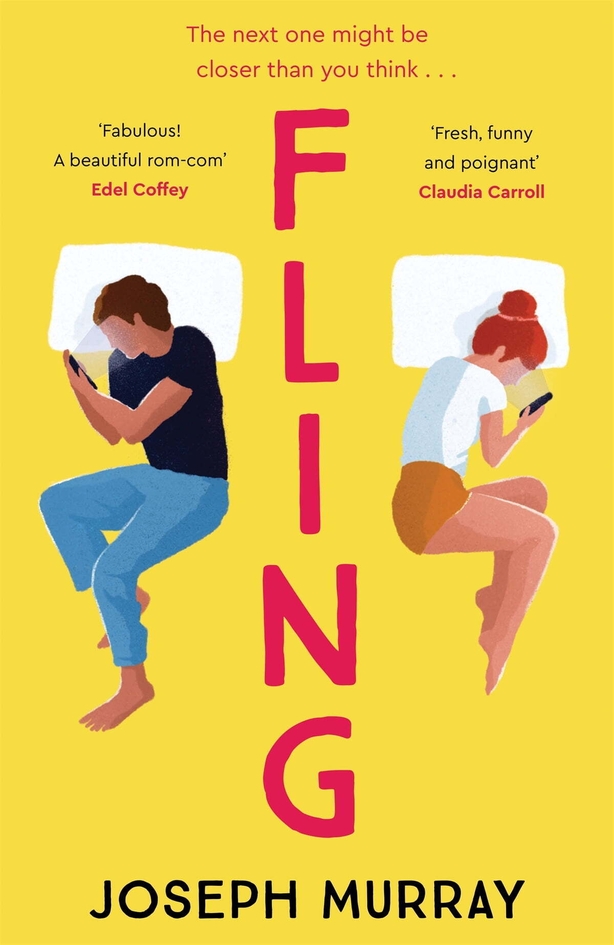 Fling is published by Hamish Hamilton