A member of the first platoon of women recruited into the Defence Forces in 1981, Karina Molloy had a distinguished career which took her to Lebanon, Bosnia, Eritrea and Chad, and saw her become the first female senior non-commissioned officer in the Irish Army.
On the face of it, then, her 31 years in the Army were a success. But, as she writes in this important and timely book, there were only four of those 31 years in which she didn't experience "incidents of sexual abuse, attempted rape, harassment or bullying".
It is a shocking indictment of the culture of the Defence Forces, which viewed women as a threat, which condoned a culture of misogyny, and which did its level best to cover up credible allegations of sexual crime.
Unfortunately, she was not alone in her experiences, and the group Women of Honour has done important work in highlighting the challenges facing female soldiers – notably in the superb radio documentary of the same name by Katie Hanon.
We need your consent to load this rte-player contentWe use rte-player to manage extra content that can set cookies on your device and collect data about your activity. Please review their details and accept them to load the content.Manage Preferences
Listen: Women Of Honour with Katie Hannon
The problems began in 1981, when the first platoon of women recruits joined the army (it would be another decade before more women were recruited). Molloy had no idea they wouldn't be what she described as "proper soldiers". But they were specifically precluded from combat duties, which closed off many opportunities to them.
They didn't do the tough "on the ground" training, marching up mountains and over rough terrain on the traditional 24-hour exercise. "I wanted the opportunity to do what the male recruits were doing, so I resented these omissions". Instead, they had two weeks of training in typing and filing.
Women cadet officers also received different training to their male counterparts – instead of learning to use heavy weapons, the women practised make-up, grooming and deportment: "while the men were busy blowing stuff up, the female cadets were left to try on lipstick and parade up and down the barracks balancing books on their heads".
These first women recruits were expected to run around the Curragh camp in their new physical training kit - "a tiny white tennis skirt... [and] army-issue frilly white knickers" which... The army was sending us training dressed more like saucy schoolgirls than soldiers".
These outfits were eventually replaced by tracksuits, but other kit problems remained – the Army backpack wasn't designed for women, causing bad chafing, and the boots never fit, no matter how many extra pairs of socks were worn, "making marching a far more painful experience than it should have been".
We need your consent to load this rte-player contentWe use rte-player to manage extra content that can set cookies on your device and collect data about your activity. Please review their details and accept them to load the content.Manage Preferences
Listen: Karina Molloy talks to RTÉ Drivetime
And as it started, so it continued. Molloy found every step up the ladder was made harder by entrenched male attitudes, by blatant discrimination, and by frequently being the only woman: "Exclusion was very much part of my experience for many years in the army. We were marginalised and isolated at every turn." Sexist – and sexually graphic – remarks were dismissed as "a bit of banter", while becoming the first female senior NCO required persistence, as she was knocked back time and again at interviews.
In Bosnia, while British women shared tents with their male colleagues, the Irish Army insisted on Molloy living in a separate block for females – where she was the only native English speaker, and had no access to information displayed on notice boards in the male quarters. She raised the issue with the Chief of Staff when he visited – when he asked about her, he was told by another senior officer: "Oh, Molloy. She's just a bit problematic."
This reputation as being problematic seems to genuinely puzzle Molloy. "I still don't know where it came from. I never ordered soldiers about like most senior non-commissioned officers... I never abused my rank. I believe the only reason I had the reputation as a 'bitch' was because I fought my corner when I had to."
Many women in many different walks of life would doubtless recognise that fighting your corner is often enough to get you labelled as difficult.
The most serious allegations, though, relate to sexual assaults.
She was sexually assaulted in a swimming pool by an instructor on an NCO course, and then pressurised into dropping her complaint. The incident became the subject of gossip – but no action was taken against the perpetrator.
An officer drunkenly burst into her quarters at night in Lebanon threatening to rape her – after a month's long campaign of innuendo and sexual harassment. Again, the Army's instinct was to hush the matter up (and to make sure the officer concerned wasn't seen in his drunken state by soldiers from other countries)
Another officer – also drunk – invaded her quarters in Eritrea, trying to get into her bed. Again, she was pressurised by her commanding officer into accepting an apology and signing a non-disclosure agreement.
She finally decided to leave the Army after a relatively minor matter – an anonymous note mocking her aspiration to get a promotion, assuring her she would never get it. It was, she writes, "the straw that broke the camel's back. It was the culmination of a thousand microaggressions and systematic abuse I'd experienced daily. It was the lack of respect, the disdain and the hostility I continued to face..."
Karina Molloy is to be commended for her unflinching honesty; she and her co-author Kathryn Rogers have put together a compelling and very readable book which should raise many questions in the Defence Forces.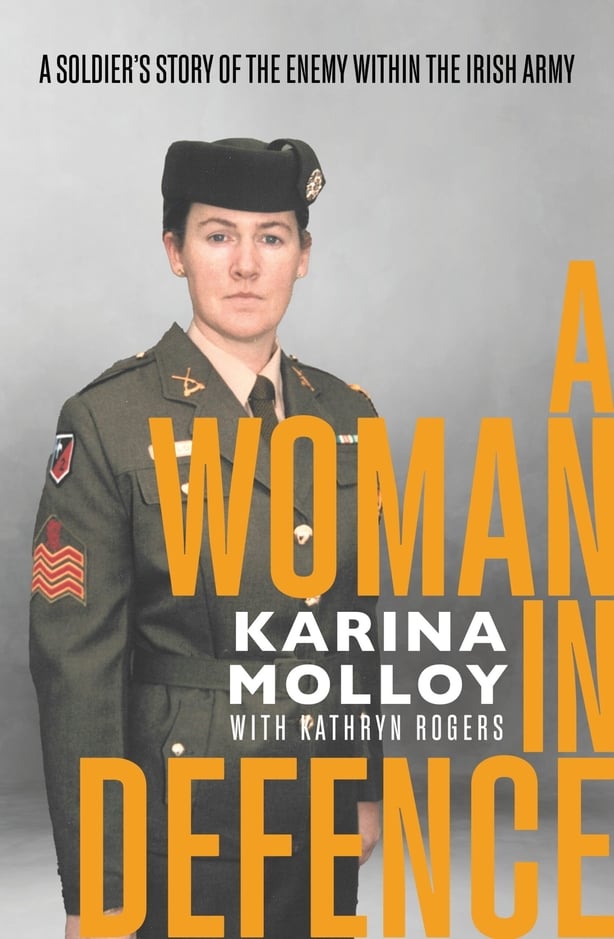 A Woman in Defence is published by Hachette Books Ireland.