Lily Cahill introduces artist Austin Hearne's Requiem For Raymo, a new solo exhibition by acclaimed queer artist Austin Hearne that presents a fictional scenario of obsession transmuting from hate to love/lust, currently on show at the RHA Gallery Dublin.
---
MISERY IS ALIVE, MISERY IS ALIVE!
Oh, this whole house is going to be full of romance!
Annie Wilkes
But in fact people often look radiant suffering. How often have you told someone they look fabulous and they say thanks cause I feel terrible. And you can see it right behind their eyes. Terrible puts a candle in there. Terrible turns on the light.
Afterglow (a dog memoir), Eileen Myles, 2017.
I've written about some of Austin Hearne's older work before, about two years ago in an essay that no one really read to accompany a show that I don't think went ahead for whatever reason - Covid maybe, it doesn't matter, sure we're here now, in the Royal Hibernian Academy.
In that piece, I wrote quite a bit about the Catholic Church - a long preoccupation of Hearne's - and don't feel like doing it again. So, I am putting a pin in the CC, we won't be talking about that here. Ditto trauma - a long preoccupation of mine and, of course, a major CC stratagem. No trauma today though. We'll be looking at the sunnier side of suffering: death instead, this time. Sometimes dead is better.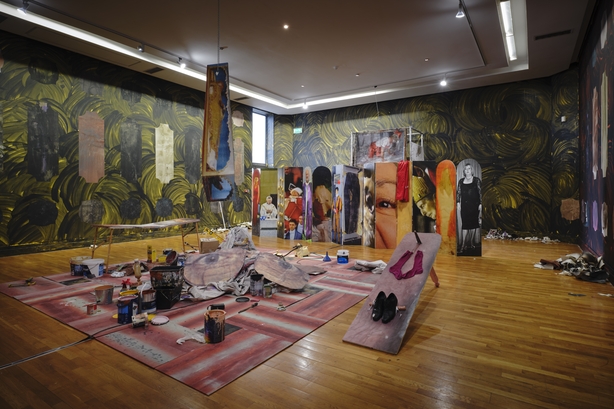 Ten years ago in 2012, I wrote a thesis for my MA as a series of letters to Steven Patrick Morrissey from an unnamed fictional woman (not really. In retrospect, the kunst was me) who was in love with an imaginary zombie (also untrue. I can admit now that Zed was not dead and, in most respects, a real man) that she, to her existential horror, could not physically locate in the reality she was inhabiting. Sample quote: "And yet I fear he is me. I may have ceaselessly searched for so long and to no avail that I desperately willed his whereabouts very close to home: within myself. That I am at such a loss as to have subsumed his being, forever eradicating the hope of finding him elsewhere. I cannot meet him if I am him. This leaves me stripped of my last vestige of hope. I have possessed myself by his ghostly presence, I am his facsimile. By willing him thusly, my will is null." Spoiler alert: she killed herself. I passed, if you can believe it. Anyway. I bring this up because this exhibition, Requiem For Raymo, also features a semi-fictional character engaging with a skewed reality by, and perhaps as a means of, disengaging with this one and who has also penned letters celebrating and/or castigating a dead or otherwise avoidant object of his affection. So, both me and AH know a thing or two about utilising death, postage, imaginary (or so we claim) beings and obsession, to ostensibly make s**t up and hopefully get away with it.
The main character of RFR is, like the artist, also called Austin Hearne. For ease, mine, we will give the character a new name. We will call him 'The Superfan'. The Superfan is in love with The Cardinal - a real and alive man called Raymond Leo Burke, American, b. 1948. The Cardinal has "kind of been there in the background of my work" for some time, says AH, in his exhibitions, films, zines, music, Instagram, and conversations. AH began by writing The Cardinal letters. First f**k-you-type-letters coz The Cardinal is an awful trans/homo-phobe misogynist Islamaphobic psycho, but we don't care who The real or fake Cardinal actually is/was coz this isn't about him. This f**k-you-type-stuff can only go so far though, hate is a bit of an endpoint. Love can go so much further. As can death.
We need your consent to load this Instagram contentWe use Instagram to manage extra content that can set cookies on your device and collect data about your activity. Please review their details and accept them to load the content.Manage Preferences
And here we are with the show's premise: The Superfan, in an "act of self-loathing and extreme confusion" has "had a bad lapse of judgement" and become besotted with The Cardinal, whom AH then proceeds to fictionally kill off. The Superfan is now in bits. We, you and me, are at the wake, kind of. But The Superfan is waiting, not wakeful - finding "that the only way to cope with his situation is to believe that The Cardinal is still alive and on his way to him, to move in with him." We get to watch this 'coping'. Welcome to the pity party! There's nothing better - you can completely check out, call in sick, drop all the drugs, drink all the drinks: all day, all night, it's desperate and it's all permissible. Breakups are great for this. Bereavement is better. It's a complete show stopper.
Knowing this, AH made "this show like it's the last show on earth". As we'll see at weekly performances throughout the exhibition's run, it's the last hoorah and he is wildin' out having a great time embodying his operatically unhappy, unhealthy, unreasonable, alter ego dressing a stage set of misery and delusion encompassing: churchey stuff; painter and decorator stuff (AH was one, The Superfan is one); distorted screenshots; tiles; projections; plinths; plant pots; theatricality; costumes; a screen to transform behind; weeping, everywhere; and maybe, if we're lucky, some penis paint stirrers/stakes (My favourite thing I've seen this decade. Vile. Reminded me of a Paul Thek gross thing. They made an appearance in the artist's Love Letters To Cardinal Raymo last year in Gorey School of Art. Fingers crossed they've turned up here). Quite the mess-en-scène.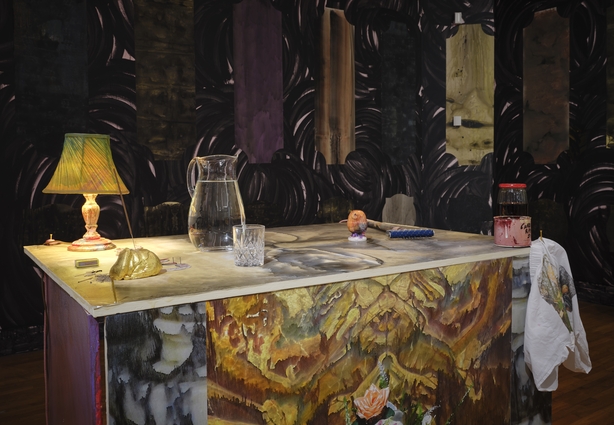 The thing about death, whether it's your own or someone else's - it's really, really consuming. Everything else goes on the back burner. Your world gets very small. Regular life just fades away, and this can have its uses: a way out. Had The Cardinal arrived and The Superfan got what he wanted and subsequently been nailed down and reined in reality by habit, mortgages, and domesticity, he couldn't have built this circuitous circus of suffering: a lack creates the space for more.
Though "... the most terrifying question of all may be just how much horror the human mind can stand and still maintain a wakeful, staring, unrelenting sanity." Who wants that?! My own 'fictional' woman couldn't hack it and had to be axed. Terrifying as it may be, there is another way. AH knows the plot twist. When reality doesn't fit with our self, systems or desires, we can maul it into something different, maybe even maul it to death.
After this public display of devotion, AH plans to "put The Cardinal to bed". Good for him. I'm very excited to see who he f**ks with next. On, lusty gentlemen.
But what about The Superfan? Cheer the desperate dweller's gibes, gambols, songs that are wont to set the table on a roar! Long may he live!
A beloved being who disappoints me. I have written to him. It is impossible that he should not reply by saying what I have said to myself in his name. Men owe us what we imagine they will give us. We must forgive them this debt …..
I also am other than what I imagine myself to be.
To know this is forgiveness.
(Simone Weil, Gravity and Grace, 1947)
Requiem For Raymo is at the RHA Dublin until January 29th 2023 - find out more here.
---
The views expressed here are those of the author and do not represent or reflect the views of RTÉ