First we had to surrender our phones, so that's why you'll have to take my word for it when I tell you this was a show like no other.
There were more well-known faces in the audience than you'd find on many stages, including Charlie Bird, who got the first ovation of the evening, director Jim Sheridan, playwright Conor McPherson, musicians Tom Dunne, Glen Hansard and Liam Ó Maonlaí, as well as many people who played their own part in the U2 story including Dave Fanning, Niall Stokes of Hot Press, artist Guggi and Gavin Friday.
Also present were members of Bono's immediate family including wife Ali and son John Hewson alongside bandmate Adam Clayton, seated in a box directly opposite President Michael D Higgins, Taoiseach Micheál Martin and Tánaiste Leo Varadkar.
No pressure so, Bono. Well, if that pressure was felt – it produced a diamond of an evening.
The core content of the performance would have been familiar to those who have read the book 'Surrender' and encompassed the early days of U2, the twist of fate that led a teenager to join a band and form a relationship with Alison Stewart on the same week, that group's subsequent rise to fame and Bono's own journey towards activism.
Yet rather than being simply a retelling of the book, 'Stories of Surrender' is a fully developed stage show in its own right.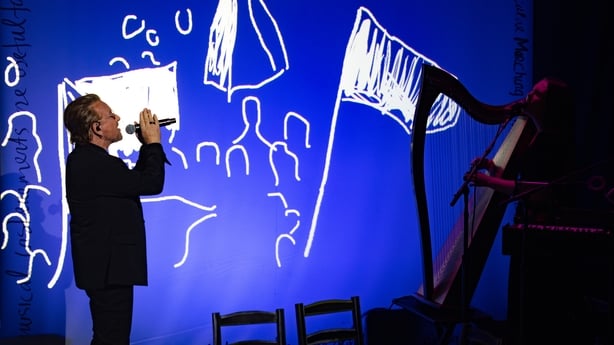 Bono admitted it felt 'transgressive' to be on stage without his U2 companions but was given terrific support by Irish musicians Kate Ellis, Gemma Doherty and Jacknife Lee, the 'Three Terrors' charged with helping him drag the past out into the light.
U2 is known for its inventive staging but in this show the singer only had a table, chairs and an animated backdrop to help him tell a tale that began with open heart surgery and then got even more personal.
There was the white-hot heat of a rock song being born, 'I Will Follow' growing from the hum of a dentist's drill to the roar of a stadium anthem.
There were wickedly funny impersonations of stars who entered the U2 galaxy including Pavarotti, who turned up on their doorstep looking for a song.
There were moments too when the rock star took over - Desire or Vertigo blasting out and Bono playing the part of, well, Bono as only he can do – and the crowd obliging by roaring his words back to him.
But on other occasions he simply led them back to the snug in Finnegan's pub in Dalkey and chats with the Da.
Bob Hewson is a major character in this show, his opening conversational gambit 'anything strange or startling' leading son and audience on a journey that could take in anything from flirtation with Princess Diana, to Pride, and finally to the revelation that his own life was coming to an end.
And above it all a voice soared.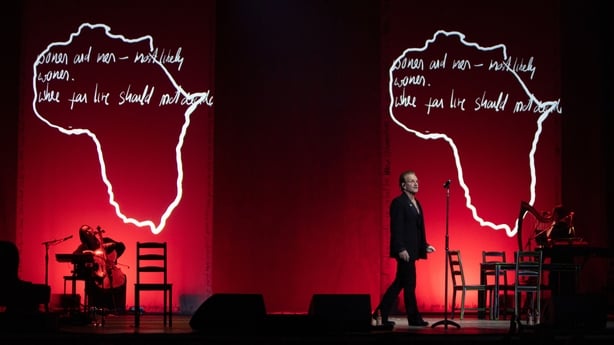 Those who have followed U2 over the decades will know the power of that voice, will have heard it fill stadiums and lead choirs of thousands in song.
Last night it was crystal clear - Bono's own theory is that Bob's death saw him inherit his father's tenor range.
There was a final dedication to his two brothers – that book told many stories – and then came the opera in him – a stunning performance of Torna A Surriento, paying tribute to Pavarotti, to home and most of all to Bob Hewson the tenor.
Sometimes you can't make it on your own.
No phones meant no pictures of the standing ovation either.
The Taoiseach, the Tánaiste and President Michael D Higgins led the applause but we were all on our feet at that stage.
One – and for this night at least – very much the same.