'I wanted to encourage a love for this special form...' Aoibhín Garrihy introduces her new collection, Every Day is a Fresh Beginning: Meaningful Poems for Life.
---
'Poetry is language at its most distilled and most powerful" - Rita Dove
Poetry has always been a constant in my life. During the milestones, the big moments, poetry seemed to mark each and every one. But it was also there in the quieter times, a form of solace and a path to meditation, bringing me comfort and inspiration when I needed it most. It always featured to such a degree that I almost took it for granted and forgot the power it holds for me.
It took a few turbulent years and a global pandemic for me to realise how much I truly valued the healing power of words. I found myself turning to poetry more and more when I felt confused, angry, overwhelmed, sad but also elated, overjoyed and totally in love. I was drawn to the words of others and sometimes even felt compelled to write myself, however simply.
Perhaps poetry requires you to be in a certain headspace. Lockdown gave us that time, that headspace and the spark was reignited for me and so many others, it seems.
In 2020 I took to my wardrobe (it was the closest thing to a sound recording booth!) and began to read, recite, record and share some poems that had a deep meaning for me, and it was possibly my biggest awakening over the past few years. I recently heard Ethan Hawke speak about poetry and art and how in our hour of need, it's no longer a luxury; it's sustenance. We need it. This was certainly true for me.
Ethan Hawke on poetry and creativity: pic.twitter.com/6FOgo2n6Lg

— gettingsome (@gettingsome) June 15, 2022
Now, I keep my poetry books by my bed and at the end of the day, depending on my mood or what's going on that day, I scan those books for that sustenance, a poem, some healing words to help me process a particular emotion or feeling. That for me is therapy.
My love for poetry began with my dad. He left school at sixteen but that didn't stop his poetic flair – a great man to put pen to paper should the mood take him. He wrote four rhyming stanzas titled 'Aoibhín O Aoibhín' on the back of a cigarette box while I was watching from the buggy on a lazy sunny afternoon! The poem detailed the delightful nappy-changing cycle and it still hangs proudly in Mom and Dad's downstairs loo. It didn't make the final cut for my new anthology, needless to say, but I'm delighted one of his more recent works does!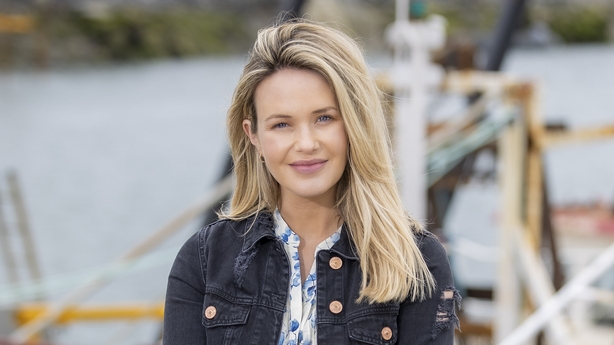 I think for most of us, our relationship with poetry began with our teachers. I was lucky enough to have wonderful teachers who instilled a love and appetite for poems and poetry recitation in me from a very early age. I remember learning and reciting my very first poem at the school feis, Queen Bee by Mary K. Robinson. I still remember every line:
When I was in the garden,
I saw a great Queen Bee:
She was the very largest one
That I did ever see.
She wore a shiny helmet
And a lovely velvet gown,
But I was rather sad, because
She didn't wear a crown!
In second class I had a very special teacher, Miss Susan Ryan. One of those teachers who leaves a lasting impression on you, forever etched in your heart. I was besotted with her. We all were. She was larger than life and loved the arts. So theatrical, full of charisma and when it came to poetry, the words jumped off the page when Miss Ryan would recite. She would animate every line in a way I will never forget.
I had a truly wonderful Speech and Drama teacher, Maeve O'Donoghue, growing up and throughout my teenage years in particular she honed and developed my love, knowledge and appreciation for poetry, the language and the power of the voice. It was the extracurricular activity that took me away from the pressures of study and school life. I loved to play with the delivery, the musicality of the vowels and consonants, the rhyme and rhythm, the inflection, the expression in the voice and in the face to engage and tell the story and capture the emotion through this very unique medium.
That passion was solidified further when I went to Trinity College Dublin and began my Bachelor in Acting Studies course at the Samuel Beckett Theatre. Voice Coach Andrea Ainsworth would spend hours dissecting every verse, line, word, syllable and I felt so privileged to have had that time and space to indulge. That was a special time in my life – I was in a bubble, playing, honing, telling, sharing, trying, failing, trying again without the pressure of the industry and the reality of being a jobbing actor!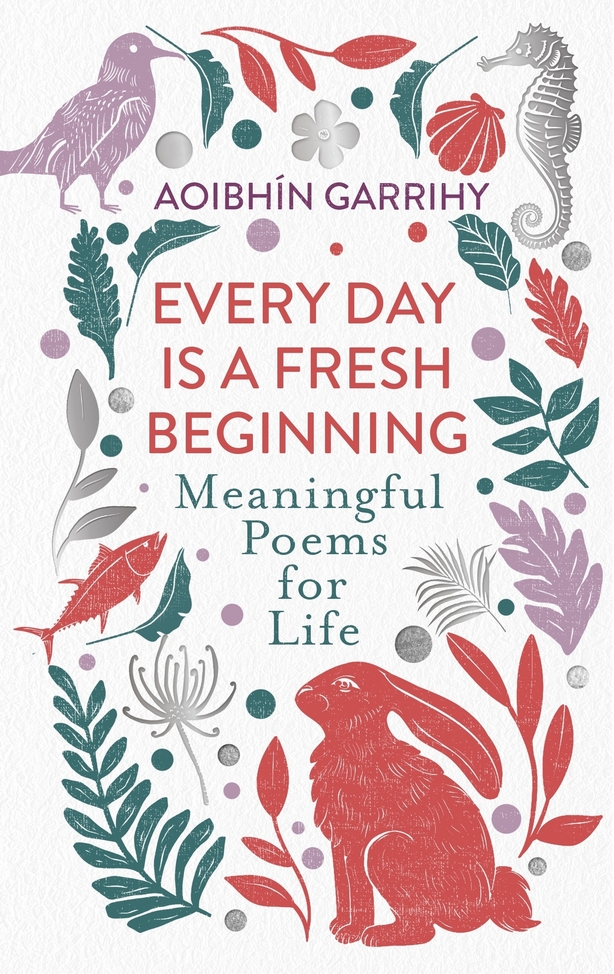 It wasn't until I taught Speech and Drama myself later on and began to share and explore poetry with my own young students, making new discoveries through their eyes, that I developed a deeper appreciation of the form and discovered how, regardless of the century, certain themes are universal and totally timeless.
And so my book, Every Day is a Fresh Beginning, feels like the most natural, joyous project I have ever embarked on. I felt like I was back in the dance studio of the Samuel Beckett Theatre 'indulging'! But I want you to indulge with me. I have shared some thoughts on each of the choices but have also left room for yours. Poetry is subjective and open to each individual interpretation, which has always been the beauty of it. The poems reflect big and small moments in the journeys of our lives, from our dreams and our relationships to love and loss, courage and compassion.
I wanted to break down the barrier some might have to poetry; to create an accessible collection of poems you really don't need a degree in English to enjoy. I wanted to encourage a love for this special form. I really wanted to share some of my favourites; the poems that resonated for me at different points in my life and helped to bring comfort. I wanted to share poems that inspire, poems that empathise, poems that encourage us all to pause, but also to persevere. Poems that bring hope for tomorrow… because every day really is a fresh beginning.
Every Day is a Fresh Beginning: Meaningful Poems for Life is published by Eiru