We present an extract from The Rory's Stories: Lockdown Lookback, the latest book from much-loved social media star and comedian Rory O'Connor.
From dodgy home haircuts and TikTok dance crazes to banana-bread baking and checkpoint cheek, even in lockdown Rory O'Connor found plenty of opportunities to keep everyone laughing. Filled with Rory's trademark banter and observational gems, this lockdown lookback will make you nostalgic for outdoor dining in the rain and loo roll shortages!
---
Dining out
Outdoor dining became the big thing during the pandemic as it was understood that you are less likely to catch Covid outdoors. This was all fun and games while the weather was lovely, bright and sunny, and bar and restaurant owners were finding any space at all to throw out a few tables and chairs and bring in a bit of custom, and sure, weren't they dead right? One big issue with this was there was nowhere to go to the toilet, as you weren't allowed indoors. I'll serve ya 10 pints of stout no bother, but ya may hold it in till ya get home! Not possible, so the 'keep sketch' was back alive and well: one of your friends would go and clear the bladder while the others kept an eye out. Sure, what else were you meant to do? As bad as this was for men, I can only imagine the hassle it was for women, as it's handy enough for a male to find a little spot to drain the spuds, but it's more of an ordeal for women. Especially if you have had a few too many on you and you're trying to squat down, all your Joe Wicks home workout classes were put into practice to ensure you had a strong-enough squat stance to do the business safely and successfully. But if you either fell backwards on your a**e or forward on your head you weren't the only one, I'd imagine! Thank God for pub toilets, says you. They won't be taken for granted again!
We need your consent to load this YouTube contentWe use YouTube to manage extra content that can set cookies on your device and collect data about your activity. Please review their details and accept them to load the content.Manage Preferences
Watch: Everyone's diet during Isolation lockdown...
And then you had dining and drinking outdoors during the winter. Now that was diehard stuff. Sitting out in a smoking area in Ireland, during the winter, under a heater and having an overpriced pint while chatting to your mates – was this appealing? It actually kind of was, considering the really bleak days, but it certainly wasn't what you would like to call 'normal'! If you were lucky enough to get under a heater, it was grand… for a while, until it became hotter than the Sahara under it. The only other option was to enjoy your drink with five layers on you, while your hand was shaking trying to get the gin and tonic up to and into your mouth successfully! Then you had a race against time. In the early days, you only had an hour and a half at your sitting before you were booted out for the next crew to arrive: 'How's things, don't mind the food, we'll have the cheapest thing on the menu – just bring a bottle of champagne. Everyone, six minutes until our time is up or one of us passes out…' You had people necking their drink as they were being escorted out of the building: 'How the hell is that 105 minutes already? Sure, I was only starting to rant to my friends about how much my husband and kids wreck my head!' Not to mention when you were only allowed a maximum of six people at a table, so if your 'lifelong friends' group had eight people in it, two of them had to get the short straw and sit away from everyone else. They could only keep up with the chats and the gossip via the WhatsApp group as they sat over the other side of the restaurant. Bleak indeed. Normality in a restaurant and pub environment was never more welcome!
Stories from the public:
Last summer, when the pubs were only serving outdoors, I arranged to meet a friend in the beer garden of a local pub. In she comes with her own empty pint glass from home and asked the barman to fill her beer into that. By the time she was ordering her fifth, she didn't care if he filled the pint into her shoe. (Mary O.)
---
Having a drink in my local, it was gone past the curfew and the owner spotted the guards in his camera. The few left ran up to the back area like a herd of cattle in fear. All hiding in the toilet afraid to take a breath. Guard knocking on the door. Someone farted and we nearly passed out with the smell. The sweat was pouring off me, thinking, 'What will the neighbours say if I'm caught after eight in the pub?' Texted my 19-year-old son to be ready to do a drive-by the minute the guard moved. Longest 10 minutes of my life; nearly lost a stone weight with the stress. The guard eventually left and the few of us tiptoed out and ran off in different directions. I hopped into my son's car like I was after doing the great robbery, and then hiding in the back seat with fear. (Carmel K.)
---
Going into a pub to get a bit of bar food and not a sinner in it: Barman: 'Eh, sorry, have ya booked a table?' We're standing there looking at him, place completely empty. Me: 'No, sorry, we haven't. Can ya fit us in there?' Barman: 'No, sorry, you have to ring us to book a table.' Me: 'So if I go outside the door and ring you, we can have a table?' Barman: 'Yes.' He was doing his job I know, but we did laugh. (Janet O.)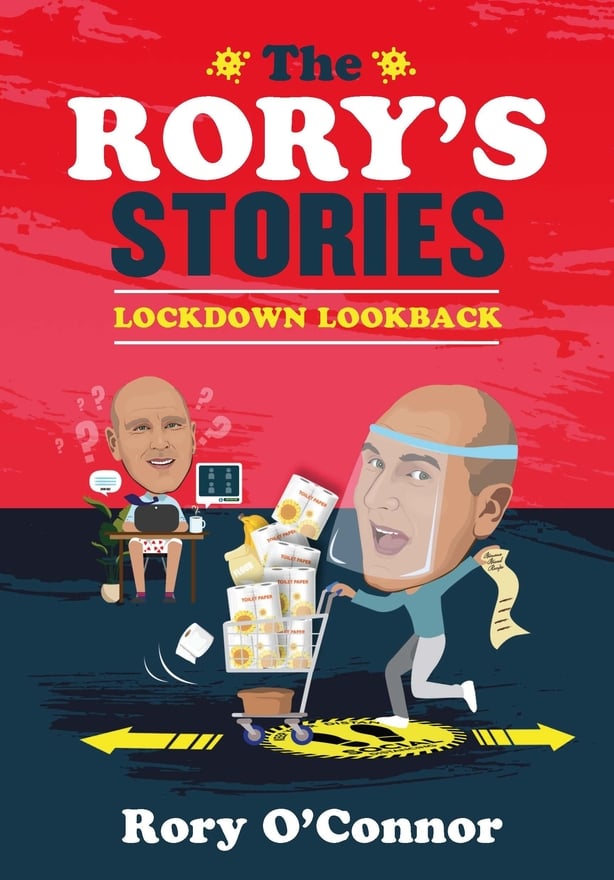 The Rory's Stories: Lockdown Lookback is published by Gill Books