Dublin Fringe: A woman looking for her child is lied to. An artist pitches a memorial that's never built. A landlord raises rents. A parrot disappears. (Or does it?) Thousands of children disappear. (No question this time.) There's family reunions, collective actions, inexplicable Mormons... Playwright Dylan Coburn Gray introduces Absent The Wrong, coming to this year's Dublin Fringe Festival.
---
My new play Absent The Wrong is about adopted people. More specifically, it's about racialised people who were adopted into white families. It's funny in places, because Irish people are funny. (Sometimes.) It's heartbreaking in places because trying to live a full life in Ireland is heartbreaking. (Pretty much all the time.)
I'm having to think a lot about the function of humour, given the subject matter of the play veers into darkness a lot. You can't really talk about adoption in Ireland without talking about how its bound up with Ireland's institutional history. My own family is shadowed by it, figuratively and literally – I'm the child of an adoptee who grew up in Artane.
We need your consent to load this rte-player contentWe use rte-player to manage extra content that can set cookies on your device and collect data about your activity. Please review their details and accept them to load the content.Manage Preferences
Listen: Dylan Coburn Gray and Veronica Coburn talk Absent The Wrong on RTÉ Arena
I don't think humour has to be a denial or cheapening of that darkness. Whether a play is tragic or comic isn't about whether or not there are jokes, it's about what purpose those jokes serve. An example might help. Here's a punchline without a joke, one that keeps coming to mind as I think about the play: "Who's we, white man?"
Maybe you know the joke. If you do, you know why it's deprecated now. If you don't, you can probably guess. It's not particularly subtle. I could even try and salvage it for you: rewrite it in terms that redouble its emphasis on the smug incomprehension of the white man; remove the conspiratorial use of ethnic stereotype that betrays who the joke is really for. This is a joke about the presumption of the privileged, but it's not actually at their expense – it's a joke that flatters the enfranchised person's belief that they have no ego to flatter. Go ahead, tell me what I'm really like! I can take it!
There are better things to do with art than flatter the metropole's belief that it has no ego to flatter.
Here's an attempt at a version that actually stings: a landlord knocks on the door of the property he owns and his son lives in rent-free. He says "Oisín! The revolution has come! They've worked out who owns what where and all our tenants are working together to stop us gouging them! They want their deposits back! They're sending photos that prove the shower was mauldy when they moved in! They're stopping payment until I install fire alarms that actually work! We're ruined unless your mates keep paying. Tell them we promise not to raise their rents – much – if they don't join the action".
Oisín looks over his shoulder into the house. He opens the door a little wider and says "What do you mean, 'we're' ruined? Who's 'we', parasite?"
That's recognisably a joke. It's the right shape, joins the right dots. The known blown up into the absurd, the counterintuitive twist. For my taste, it's still conservative. (Most jokes are.) It's conservative because it's conciliatory. It comforts us by insisting on the given as the necessary – Oisín is a self-serving vampire like his da, any of us would do the same in his position, there's no changing human nature, stop trying, change can only be worse. The world is rubbish but be thankful it's comprehensible, at least. Don't take that away from us too.
It's ok that it's a regressive joke. I'm not invested in rehabilitating it. I just want to hold onto that punchline. At that, I don't want even want all of the punchline. I just want the question: who's we? It's a good question for a playwright to ask.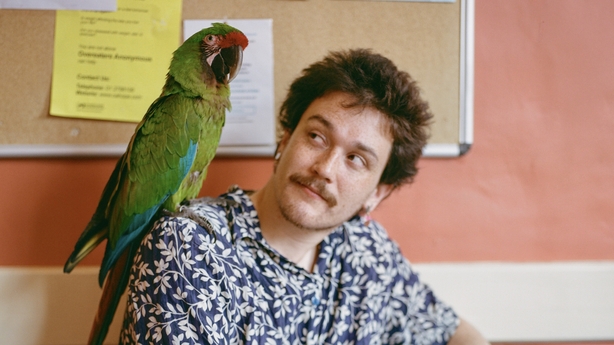 I work a fair bit in the UK. I frequently find myself in conversations about 'State Of The Nation' plays, the work that the playwright's duty to 'tell us who we are'. To which I always want to reply: who's we? Not because I'm Irish, or not just that – because the question betrays an identification with the audience that, to me, goes against everything great about theatre. You are not the audience, they are not you. You can offer your experience in all its particularity and see what facets of it strike sparks off facets of theirs. It's interesting inasmuch as we're strangers; it's interesting precisely because we are not a we.
On the most basic level, underneath it all, I prefer questions to statements. I'm not invested in presuming to tell anyone who they are. Particularly not in England – there are better things to do with art than flatter the metropole's belief that it has no ego to flatter.
So, given all that, what kind of joke should you expect in Absent The Wrong? Not the smug conspiratorial kind that presupposes the we of as we all know. Its humour is the humour of people who are marginalised, sometimes from several directions at once. They sit at no centre; there is no periphery they haven't been pushed to. They are queer, they are Black, they are adopted, they are all three at once. It is not humour that presupposes a we – it is humour that affirms an I, however embattled. It is humour that affirms that someone, at some point, many points, has tried to stamp out that I, and that they failed. It affirms the resilience of the person making the joke. My favourite kind – and if it's yours too, you should come along.
Absent The Wrong runs from 10th - 24th September on the Peacock Stage at The Abbey Theatre, as part of this year's Dublin Fringe Festival - find out more here.