Róise & Frank comes to Irish cinemas on 16th September. Starring Bríd Ní Neachtain, the film tells the story of Róise, who is struggling to deal with the loss of her beloved husband, Frank.
When a stray dog appears and starts to act strangely, she comes to believe that Frank has done what he promised to do, he has returned to her… in the form of a dog.
Below, writing/directing duo Rachael Moriarty and Peter Murphy introduce their shaggy dog tale...
---
We write together, which starts with 'ideas'. A woman believing that her dead husband has returned as a dog was one of those ideas, which became something bigger when the Cine 4 scheme was announced. Cine4 is a brilliant initiative by TG4, SI and BAI to support Irish language feature films and it nurtured the idea that became Róise & Frank.
We need your consent to load this rte-player contentWe use rte-player to manage extra content that can set cookies on your device and collect data about your activity. Please review their details and accept them to load the content.Manage Preferences
Listen: Róise & Frank - Rachael Moriarty & Peter Murphy talk to RTÉ Arena
An Irish wake is a big and usually boisterous gathering. We show empathy with food, hugs and stories. But soon all of the stories have been told and the crowd can't stay forever… the bereaved are expected to start the process of 'moving on'. But you can't move on without leaving something behind. People often say the second year after a loss is the hardest and that is where we find Róise at the start of our story.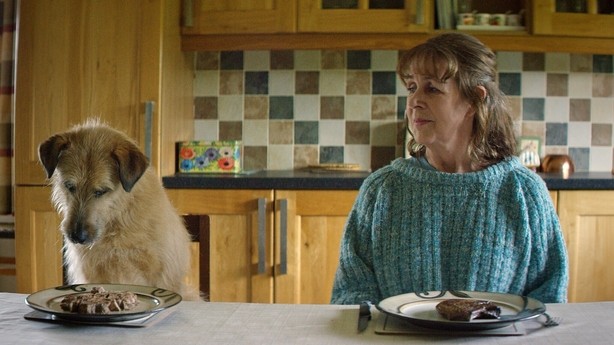 Getting the tone right was a challenge. We were trying to make a feelgood film about grief, moving and powerful but with plenty of laughter to cut through the tears. We had an ace up our sleeve because the brilliant Bríd Ní Neachtain was always going to be our Róise… but casting Frank, in his reincarnated canine form, that was a leap into the unknown.
We ended up flying to England to have a meeting with a dog. Barley is a rescue dog and a family pet but also a unique and brilliant canine actor. Gill, his trainer, insisted he was the only dog she had who could deliver this challenging script. Barley had plenty of shoot experience but this would be his biggest role to date. The only small concern was that a "sliotar" sounded like it might be "some sort of ball". That was going to cause problematic levels of excitement - every dog loves chasing a ball - but if that was the least of our problems, we'd probably be ok.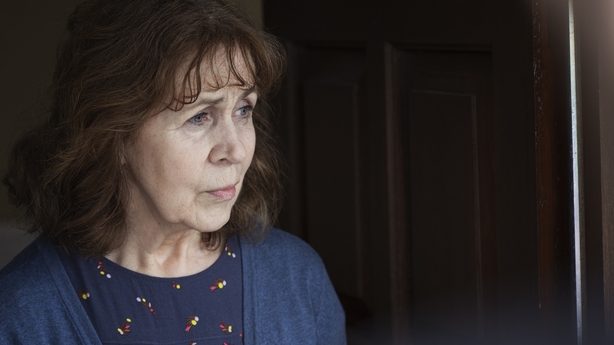 Along with working with animals our script also included lots of children. Children with the ability to act, speak Irish, and play hurling. This Venn diagram nudged us to Waterford, to Gaeltacht na nDéise, a part of the country with a rich musical tradition, a beautiful dialect of Irish and hurling in the blood. We wanted to cast as much local talent as we could, many of the people in the film are new to the screen and give great naturalistic performances. Ruadhán, who plays Mikey, was more than up to the challenge of a big role working with the very experienced Bríd and Barley.
Our cast and crew lived in holiday homes in the area while we shot. With so many local actors and invaluable behind the scenes support the shoot truly had the feeling of a village making a film. We hoped to make an emotionally rich film with a big heart and a shaggy dog, so far festival audiences have been really enjoying Róise & Frank. The reactions, reviews and awards received have been an unexpected joy, and we are very excited to be bringing it home to Irish cinemas.
Róise & Frank is released in cinemas nationwide on 16th September 2022.