We present an extract from Run Time, the new thriller by Catherine Ryan Howard, bestselling author of The Nothing Man and 56 Days.
The project: Final Draft, a psychological horror. Promising Young Thing Steve Dade will direct. The tagline: 'Based on a terrifying true story. That hasn't happened - yet.' The location: A cottage deep in a forest, miles from anywhere in the wintry wilds of West Cork.The lead: Former soap-star Adele Rafferty has stepped in to replace the original actress at the very last minute. She can't help but hope that this will be her big break. The problem: Something isn't quite right on the set of Final Draft. Adele is about to discover that the real horror lies off the page...
---
The road is narrow, the edges of it crumbling, as if losing its battle to hold the treeline back.
Donal is tense behind the wheel. Grip tight, back ramrod- straight, eyes fixed on the road surface illuminated by the beam of the headlights. The rental is a seven-seater Volvo that gave him pause when he saw it first and made him sweat nervously when he found he had to step up into it. He's only ever driven his own succession of second-hand Nissan Micras, and only around and between cities on smooth, well-lit streets. This car is far bigger and more powerful, and this road is basically a boreen with ambition.
Underneath the wheels, he feels the surface start to gently rise. It's cutting through dense, gloomy forest, steadily thickening with darkness on either side of the car. Donal knows this is because it's gone six on an overcast, late-January evening, but it feels like it's because the forest is absorbing the light, sucking it in, swallowing it up whole.
Feeding on it.
'It's so creepy out here,' he says.
Steve, sitting in the passenger seat, snorts and says, 'That's, like, the whole idea?' in a tone that adds a silent you idiot on to the sentence's end.
A heat flares across Donal's face.
He's already downsized his goals from Do such an amazing job that you and Steve Dade cement a years-long professional partnership that will culminate in you both on stage at the Dolby Theatre holding a pair of little gold men to Don't get fired before shooting starts. Donal has never held an assistant director position before. Not even close unless you counted the word assistant. His most recent job was glorified receptionist-slash- dogsbody at a casting agency. Getting a gig as Steve Dade's AD on this was an incredibly lucky break and Donal cannot blow it.
The problem is that he's intensely aware of that and has been a ball of acute anxiety ever since he reported to set. He can only hope that when shooting starts tomorrow, he'll be better at his job than he's been at making conversation.
'This is such a waste of time,' Steve says. 'They're probably not even there.'
'We can leave a note.'
'Can't we just leave a note anyway?'
'Joanne asked that we speak to them,' Donal says, 'as a courtesy. That you do.'
We need your consent to load this rte-player contentWe use rte-player to manage extra content that can set cookies on your device and collect data about your activity. Please review their details and accept them to load the content.Manage Preferences
Listen: Catherine Ryan Howard talks Run Time with Ray D'Arcy
Joanne is the owner of Cedarwood House, their set, and also this other, smaller property, Cedarwood Lodge. Steve had refused to spend the money to book out the lodge as well, so here they are, driving to warn the Airbnb-ers who did book it this weekend about the shoot.
Steve groans like a teenager who's just been ordered to go do his homework.
'What are they even doing out here?'
'Mini-break,' Donal says. 'A last-minute booking.'
'Who books a house in a place like this in January? Wait.' Steve twists in his seat to look back down the road. 'Did you miss the turn? She said the gates were a mile apart. We should have— There!'
This exclamation coincides with him jutting an arm across Donal's face to point at something on the driver's side, obstructing Donal's view and making him slam a foot on the brake in panic.
The car screeches and shudders to a violent stop that jerks both men forward against their seatbelts before shoving them back against them again.
'Dude,' Steve says. 'What the f**k?'
Donal mumbles an apology even though it was clearly Steve's fault, then looks for what Steve was pointing at.
The right headlight has found a wooden sign, hand-painted and peeling, nailed to a tree trunk at the edge of the road: Cedarwood Lodge, above a black arrow. In the gloom beyond, Donal can just about make out that the arrow is pointing to a pair of wrought-iron gates hung between two stone pillars. One stands open, inviting them to turn on to what looks like a dirt track through the trees that immediately disappears into a dense, inky blackness.
'Cedarwood,' Steve scoffs. 'Where did they get the name?
Aren't these – what are Christmas trees?'
'Firs,' Donal answers. 'And maybe they're U2 fans.' He turns to find Steve looking at him blankly. 'That's where Bono grew up. Cedarwood Road. In Glasnevin. They have a song about it. On Songs of Innocence.'
The blankness is morphing into bemusement, so Donal clears his throat and looks back at the gates, hoping the gloom in the car will hide his blushing cheeks. He just should stop talking to Steve entirely. Become mute. Stop the stupidity that is apparently intent on constantly leaking out of his mouth in the presence of this man.
'Go on, then,' Steve says, pointing. 'Let's go.'
Donal eyes the narrow entrance. 'I should hop out and open the second gate, shouldn't I?'
'Don't be daft. You've loads of room.' 'Are you sure? I don't think—'
'It's not a bloody bus you're driving.'
It's not a bus, no, but the gap made by the single open gate does not look as wide as the vehicle Donal actually is driving.
He bites his lip to stop himself from saying this out loud and lowers his window in the futile hope that this will somehow help him see in this dark. He swaps the brake for the accelerator and begins to turn the wheel, his grip slipping a little on a surface made moist by his own sweat. Tentatively he noses the car through the gap inch by inch, barely breathing, braced for the horror sound of a scrape.
Once he sees the rear of the vehicle has cleared the second, closed gate, he lets his muscles relax with warm relief and, accidentally, breathes a sigh of one too.
'All right, Granny,' Steve says.
It is indeed a dirt track beyond the gates, narrower than the road they've just left and dotted with unexpected mounds and water-filled potholes. The chassis bounces over and into every one, while Donal winces in time. Every cent on this shoot counts – because there's so few of them – so of course they opted for the cheapest insurance cover on the car, the policy that probably says if you do any damage at all, you'll have to pay for it out of your own pocket.
'This is so pointless,' Steve says. 'They're not even going to hear anything. Not all the way out here.'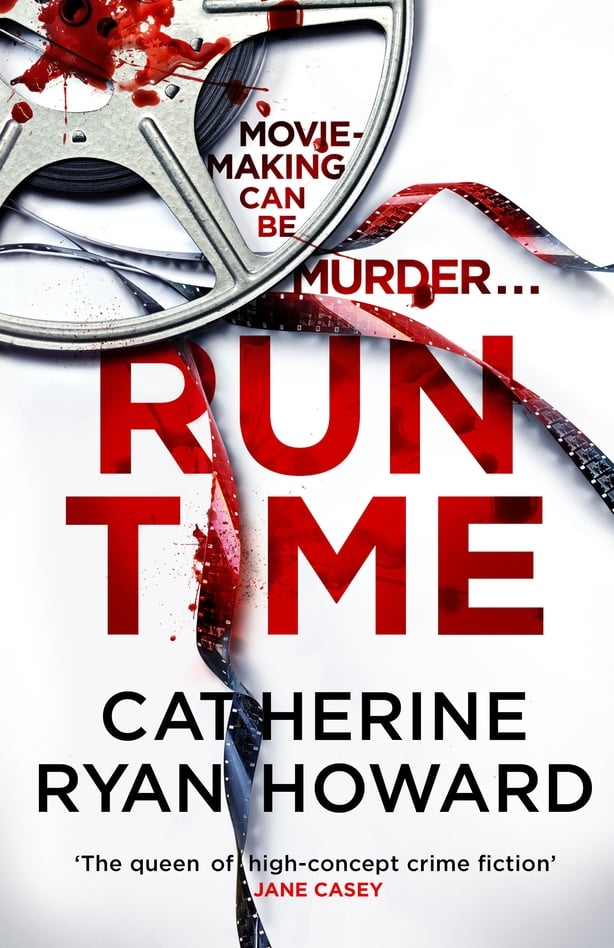 Run Time is published by Atlantic