Poet James Conor Patterson introduces his debut collection, bandit country, described as 'a rollicking, hyper-literate and at times deeply troubling account of a young man's navigation of the semi-lawless borderlands between the north of Ireland and the Republic'.
---
When I first started thinking about bandit country, it was in terms that held to the same lofty ambition as Joyce when he wrote Ulysses as a kind of love letter to Dublin. That is, if Newry "one day disappeared from the earth, it could be reconstructed out of my book." But as time went on and I moved to cities about as far away culturally as you could get from the place I'd called home for most of my life, suddenly Newry wasn't the fixed entity I thought it was. Every time I came back to my parents' house, or took extended breaks following the deaths of family members or friends, I found that the Newry I thought I was writing about was amorphous and alive. Defined as much by the people who came and went as by the physical landmarks I used to ground myself. How, after all, can a person's conceptualisation of 'Home' remain the same if things keep changing?
i went alone—sporred as i had bin in previous years
by the cousin who supplied the sprite-bottle lung, the beer,
the suitea cobbled forniture pilfered outta skips…
(from bambooland)
On visits back to Newry, I noticed that I was changing too. Suddenly, things which excited me seemed dull or uninteresting, while things I took for granted came into sharper focus. I was moved by the history of the town and the beauty of its hinterland, focused with near-obsessive zeal on my family's relationship with the place, and less in hock to the pubs and off-licenses which preoccupied me as a youngster. My Newry now owed more to Ciaran Carson's Belfast than Joyce's Dublin; a place with a tendency to make whole streets disappear, and where language meant different things to different people depending on whom you talked to. This tension lies at the heart of poems like 'the shift', where a play park is paved over to make way for a new swimming pool: thon corrugated / tin-walled bungalows beyond / the carpark are only after / flattenin into a lane leadin / out onto cecil st.
For this Newry to be believable, it had to be rendered in language native to it. Not the received pronunciation of the Coloniser, nor the Gaelic tongue stolen from our ancestors, but a dialect specific to the borderlands of South Down, South Armagh and North Louth. A language that self-consciously aped the history of the area in a dirty mélange of English, Irish, Ulster Scots and Shelta. Newry is a place where people drop their g's, where you're more likely to be bitten by a cleg than a horsefly, and where swear words punctuate even the friendliest of sentences. Writing about it wouldn't be hard—it was the way I'd heard people speak all my life—but what I learned from the likes of Tom Leonard and James Kelman was the dignity in it. A kind of punchy survivalism that even the most 'civilising' aspect of colonialism couldn't squash.
We need your consent to load this Spotify contentWe use Spotify to manage extra content that can set cookies on your device and collect data about your activity. Please review their details and accept them to load the content.Manage Preferences
Listen: James Conor Patterson's Bandit County Mixtape
Which leads us to the title. Originally coined by NI Secretary of State Merlyn Rees in 1974, the term 'bandit country' was used as a pejorative to describe the South Down/ South Armagh/ North Louth border interface as a way of stigmatising the local population. By aligning civilians with an embedded insurgency, the British Establishment attempted to pre-empt justifications for later atrocities carried out against them (as had happened at Ballymurphy, Springhill, and the Bogside on Bloody Sunday). As a result of this, Newry and its hinterland became deprived to the point of near-unlivability. Statistics from 1987 show that at the time unemployment in the area was the highest in Western Europe at 27.5%.
The British Government was therefore engaged in advanced psychological warfare against the local population, which they designed to break any perceived support for the Republican cause and drive people toward renouncing their neighbours. But it backfired. What they hadn't counted on was the deep sense of community, mutual struggle, family and solidarity, compounded by an intimate knowledge of landscape, language, folklore and history. That sense of community is at the heart of this book. A portrait of my homeland reclaimed from decades of propaganda.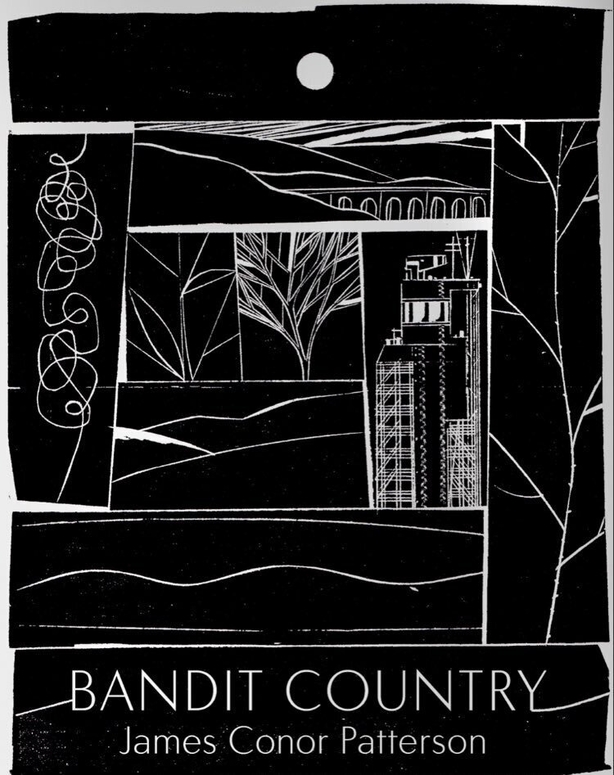 bandit country is published by Picador