The trio of Martin McDonagh, Colin Farrell and Brendan Gleeson reunited for the hit movie The Banshees of Inisherin and it was the first time they starred in a movie together since their 2008 cult classic, In Bruges.
Hilarious, tragic and brimming with pathos, the story of two guilt-stricken hitmen hiding out in the idyllic Belgian city after a job gone wrong continues to be adored by its fanbase. Almost 14 years since its release, In Bruges' unique mix of dark comedy, morality, and delicious one-liners have become part of pop culture and to many, it's one of the finest films of the 21st century.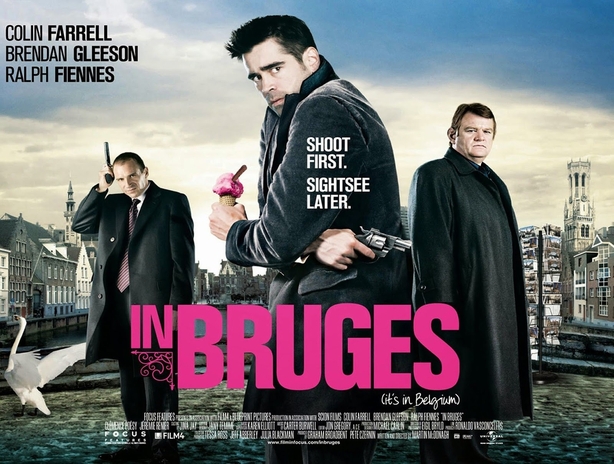 For RTÉ Culture, Paul Moore has dug into what Martin McDonagh (writer/director), Colin Farrell (Ray), and Brendan Gleeson (Ken) had to say about making the film - he also caught up with actors Eric Godon (Yuri) and Elizabeth Berrington (Natalie), plus James Embree (Colin Farrell's stunt double) and two coordinators of the Bruges City Film Office, Loes Maveau and Bieke Janssens, to get the inside track on the making of In Bruges.
"I didn't even know where Bruges f*cking was. It's in Belgium."
A s**thole or a fairytale f**king town? Here's how Martin McDonagh ended up in Bruges...
Martin McDonagh (writer/director): I was living in London and went to Bruges for a two-day weekend trip. I didn't know anything about the town before I arrived. When I got there, I was stunned by how beautiful it was. I went to every museum and church on the first day and by the middle of the second day, I was bored out of my head because I've been to every church four times. I just wanted to get drunk, get laid and get out of there.
I guess those two parts of my brain started talking - the culture lover and the drunken whore - and I thought why would two people like that be in Bruges when they didn't have to be? That's where the idea of the hitmen came from and it kind of wrote itself after that.
"We shall strike a balance between culture and fun."
Renowned as a gifted playwright, McDonagh's ability to balance comedy and laughs were already known in theatrical circles but after winning an Academy Award for his short film Six Shooter in 2006, the transition to feature-length films seemed inevitable. However, nobody could have predicted what his feature-length debut would be like.
Colin Farrell (Ray): I read the script and loved it, it was the best thing I've ever read. On the surface, it seemed to be kind of a folly based comedy but there was a great depth and pain to it, with wonderful philosophy. Martin was also incredibly open and curious for the script that he wrote to keep speaking to him, to keep revealing things to him, even though he knew it inside out.
When I stopped looking at it from the outside in and became a subject of it, the comedy was something that paled into the distance.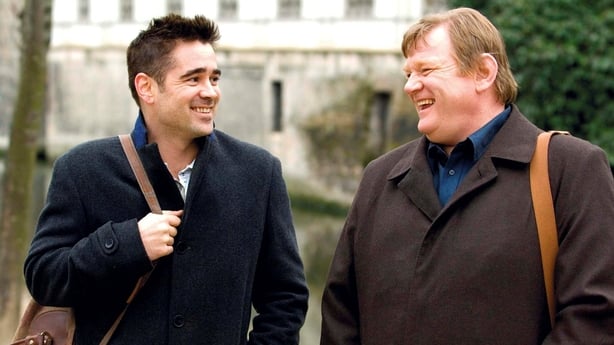 Brendan Gleeson (Ken): I cannot think of anybody, in any of his plays or his screenplays, whom you actively and completely despise. There is a soul to his work. It's robust yet delicate. You have this combination of the worst of humanity, speaking the most conscience-free dialogue, and yet – you leave with a feeling of connection to these people. The fact is, they are all too human.
A cynic can quite easily despise his characters and allow his audience to as well, dismissing them as being inhuman. The value of Martin's storytelling is that, however, apparently inhuman the behaviour, all of it is borne out in the history of human beings.
Bruges Film Office: We once had a visitor at the reception desk who had counted how many times the word 'f**k' was said in the film. But most people want to know where the tower that Brendan jumped from is.
Eric Godon (Yuri): It's a masterpiece. I have a literary background and graduated in Germanic philology from Brussels University. I'm an avid reader - not only novels but also books about literature and scriptwriting - so I can tell what a good script looks like. I also speak six languages, so maybe I have a different insight to most actors about what's good dialogue. I can tell you this is one of the best scripts of the 21st century.
There are so many people who think they can write, but most scriptwriters are more technicians, they're not writers or readers. I read so many scripts and talk to writers that have no culture. They have a synchronic view and knowledge of what's happening but they don't have a diachronic view of things.
The first half of the film has a lot of space and allows you to know the characters. Time is stretched and they stay a long time in Bruges doing nothing and asking themselves these questions before the action starts. You actually have two different rhythms in the film. In the first part, you have lots of time to identify with the characters and you stay with them for almost 2/3 of the film before shit happens. In French, we call that a false rhythm. It's a Greek tragedy, there's no doubt about that. Martin is a genius.
Elizabeth Berrington (Natalie): It's a testament to great writing and direction, which doesn't happen that often. When it all comes together, those roles with those scripts, they sing out. On first reading it, just like any member of the audience, I was captivated by its joy. You think it's a buddy movie with those two guys, the chitchat that's going on and then when you get that flip of realising what it turns into, it's glorious to see played out.
I was struck by its sadness and pathos, thinking that you want the younger man to succeed. You know he's green and you think he's being protected by the older guy, the kinder uncle or bigger brother. You feel he's there to get an education but then that flip is so cruel. You realise that both men come from a very different world and one of them is not going to make it.
It's glorious writing and I think of the moment when they're in the playground, when you think that's the moment the assassination is going to take place. It's so cruel because by that point, right up to the awful, heartbreaking moment, you've fallen in love with the two of them and it just changes. There's comedy pushing up against the tragedy, right up to the end. That's so brave and clever.
"Ray, you're about the worst tourist in the world."
Depressed, hilarious and magnetically raw, Farrell's childlike performance as the petulant and mournful Ray is arguably the best in his career. This was reflected by the fact that Farrell won the Golden Globe Award for Best Actor – Motion Picture Musical or Comedy, with Gleeson nominated in the same category. However, things could have been very different if McDonagh took Farrell's advice to not cast him in the film.
McDonagh: I didn't write the parts for anybody specifically. Originally, they were three London gangsters but when the chance of working with Colin and Brendan came up, I thought it'd be crazy not to change it and make them Irish gangsters that are living in London.
That only necessitated about 20 words that we had to change in the script. There's something about the working-class London idiom that's similar in lots of ways to the Dublin one. Elsewhere, we pretty much stuck to the script but we were open to changing the tone of scenes and taking them to different places.
Farrell: I met Martin in New York and I said he should cast someone else. I said, 'I come with too much baggage. This is too good, don't make this film an easy target. The audience might come in expecting something or think it's something else with me in it.'
I said cast someone else, which he noted and then he cast me anyway. 'm glad he didn't listen to me and he's been not listening to me ever since!
We need your consent to load this YouTube contentWe use YouTube to manage extra content that can set cookies on your device and collect data about your activity. Please review their details and accept them to load the content.Manage Preferences
Watch: Colin Farrell, Brendan Gleeson & Martin McDonagh talk In Bruges, circa 2008
McDonagh: With that, it was just about going for the best actors or those roles. You wouldn't have got that performance with an unknown actor, you wouldn't have got the talent that Colin, Brendan and Ralph (Fiennes) brought to it. It had to be someone who had done and knew a lot already.
Godon: For me, it's probably his (Farrell's) best ever part, alongside The Lobster. Nobody expected him to be so fragile. It's one of his best roles because once again, it's brilliantly written. It's a gift from heaven.
Berrington: It's a love story, that's what I think. Colin is this petulant child who needs the older man and the performances were beautifully crafted by these two very accomplished actors.
They were totally at home in those roles. I don't think you can split between the two performances, they're sort of integral to each other. I'm not going to decide on a favourite!
It's very humane and truthful. Even the psychopath, Harry, has a family with children that he connects with on a loving basis. You get to see the reality of those moments and then the flip side with this violence.
You fall in love with Gleeson and Farrell as fish out of water tourists and accept them on that basis first, then you find out who they really are. They're these dark, callous men who are absolutely seeped in crime and horror. To discover that after first thinking that these are smashing blokes that you adore, that's brilliant writing. It's great pathos and very Shakespearean, that's what makes Martin a great writer and artist.
McDonagh: Ray had to be dangerous and unpredictable, but also sensitive and dark and almost despairing at times. I'd seen Colin do dangerous and unpredictable before, and as soon as we met up and talked over the character, I knew he had all those other things in spades too. But it takes a lot of guts and talent to put all those sadder and more vulnerable aspects up on-screen and not have it be mawkish or sentimental – and I think Colin did that brilliantly.
"You don't even know that we're not here on a job"
Between cases of art imitating life, alternate takes, and locations that weren't allowed to be used, the making of In Bruges was as colourful as what's seen on screen. Here are some details that even hardcore fans might not know.
McDonagh: The boys' hotel was actually the same hotel I stayed in on my first trip, before I had any inkling I'd write something set in Bruges.
Berrington: What's remarkable is that it was a lower budget film but you have the wonderful Farrell, Gleeson and Ralph all staying in the same little, divine hotel on the canal with everyone else in the crew.
We were filming at the end of January/beginning of February, and the Bruges Council agreed to keep all the Christmas decorations up because they knew filming was going on almost every street. The local mayor kept all of that in place for continuity.
We just felt very, very welcomed there. I was there with my son who is now 15, he was seven months old at the time. I had him with me in the little hotel, he was probably crying and keeping everybody awake. There was also a chocolate fountain at breakfast time, I was very impressed with that!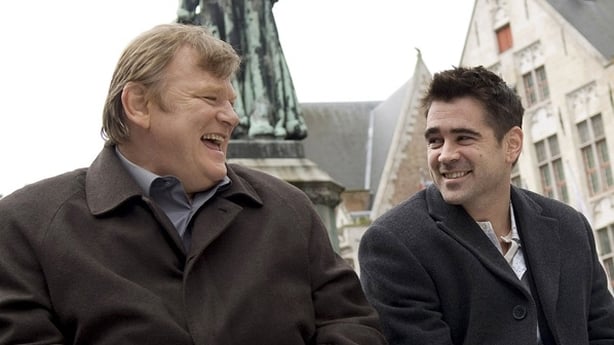 James Embree (Colin Farrell's stuntman): I travelled out there with another stuntman called Jamie, he was driving the boat for the scene where I jumped out of the window of the hotel into the canal. Initially, the idea was for Ray to jump into the river but it was way too shallow for that, so Martin decided to use the tourist boat.
We did speed tests past the window to figure out the timing, we actually drew a big crowd while we were rehearsing too. Colin did the lead-up and climbed onto the window ledge from the inside, he asked me what type of shape to get into to help with how I wanted to be for the jump which was very cool.
Colin and I also did all the running around and shooting during the chase between him and Ralph.
I actually ended up doubling Daniel Craig on the last couple of Bond movies too and funnily enough, I had a chat with Ralph years later on the set of Spectre about that foot chase, he remembered shooting at me and running around after Colin!
Film Office: The crew weren't allowed to film in some venues. Their request to film in the Basilica of the Holy Blood was not met and they had to film this scène in the Jerusalem Chapel. Due to safety reasons, it was not possible to film in the Belfry either. For these scenes, the building was recreated in a studio.
"Let your conscience decide, Ken."
Farrell's performance as the petulant Ray is a tour-de-force, but Gleeson's soulful, sombre and stoic turn as Ken is equally impressive. It's arguable that Gleeson's world-weary hitman gets the best scenes in the film.
Brimming with darkness and despair, the subtleties of the role could be too great for a lesser actor but like the majority of Gleeson's other performances, he imbues Ken with a quiet strength, dignity and integrity.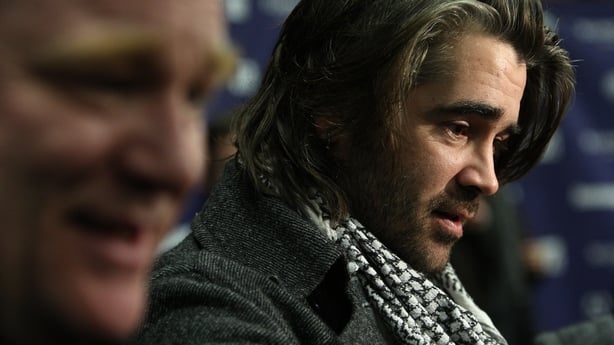 McDonagh: One of Brendan's strengths as an actor is that he makes everything sound and seem so naturalistic, like he's just making it up on the spot. Also, his natural warmth and humanity, and his joy of life, shine through in almost everything he does.
Ken and Ray did not know each other very well prior to the London hit, and now they are forced to live together in this strange place. After initially feeling ill at ease with each other and the city, they become close as they find things out about themselves and about each other.
Gleeson: Standing up for Ray in this city, at this time, liberates Ken to be able to envision hope and faith again for his own existence – one that has been so full of violence, which he's very good at, for so many years. He does what he does for Ray because he's been given the gift, from this young lad, of hope.
Farrell: The film is very much a love story of these two lads that were both adrift at different stages of their life. When I read that it was just...you really know when you read something extraordinary and what dictates what's extraordinary is the depth in which you connect to it.
Ken is somebody who becomes incredibly important to Ray, more so than he ever thought and I think vice versa. I think Ken also finds his redemption within Ray.
Godon: Brendan Gleason's character is very, very interesting. Really powerful and subtle, I would have loved to play that character.
Brendan is an extremely professional actor, I learned a lot in just a few minutes of working with him. In the scene I do with him, he handles a gun. I hand him a gun, he handles it and checks things on it. You could imagine that they just give him the gun minutes before we shoot the scene and that's that.
However, Brendan started practising and handling the gun the night before in his trailer. In the morning, he had just arrived and I was talking briefly with him. He kindly said: 'Sorry, Eric I'm practising, let's talk later' and he practised for half an hour before going on set. I met Brendan's son years before and he's a very decent young man, so I could tell the affiliation between the father and the son because it's very strong and anchored in respect.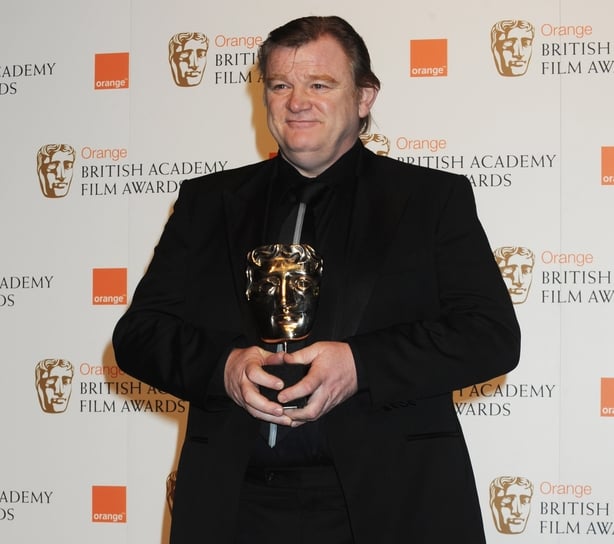 He's a modern hero and if you see all the parts and roles that are given to Brendan, he's always the white knight. He plays dependable characters with real values, that's because he is a loyal person you can count on. He's an honest man and a very impressive person.
"They're filming midgets!"
Before cameras started rolling, McDonagh took a page from the theatre by gathering the two main actors for a three-week rehearsal period. Not only did he have a superb script, but McDonagh also had a very clear vision of how the film would look, going so far as to storyboard every shot in the film.
McDonagh: Colin and Brendan had met before socially, I think, but never worked together, although I understand they'd always wanted to. During the rehearsal process; they got on like a house on fire and their respect for each other was total.
Mostly, our rehearsals were about us analysing all aspects of the characters' histories and relationships to each other. We would find out why they were doing and saying what they were doing and saying at each given moment. This seems pretty simple, but it's surprising how helpful this was, to me as much as anyone.
Farrell: In Bruges was tricky to film. Yes, I had fun. Brendan Gleeson lives very much in my heart and always will. I had a great time working with Brendan and we had some great laughs. The same goes for working with Jordan, Ralph, Clemence and everyone else.
But at the end of the day, it was one of those things about sustained pressure and I was basically playing someone who's suicidal in a story that took place over three days that were stretched out over eight weeks.
Ray was tricky in a good way, he's tortured but hilarious. He's only ever a second - or the wrong word said to him - away from putting a bullet in his brain.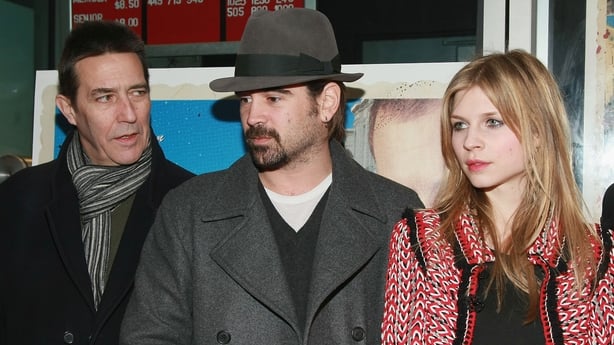 Film Office: At the first meeting, there was a question of bodyguards and barricades to keep the cast from being 'stormed' by the public but that fear proved unjustified. Apart from being asked for an autograph, the actors could walk down the street with peace and quiet.
Perhaps that had something to do with the reserved nature of the Flemish people. Colin Farrell even said, "nobody knows me here". The production had a big impact on the city, but the inhabitants were very cooperative. There were no complaints. On the contrary, people were very proud to host this production. The crew mentioned that filming In Bruges was really easy compared to a city like London. We still hear that remark nowadays.
Finding studios was probably the biggest challenge. It was quite a search to find a place where they could build a wooden palisade 6 metres high to imitate the Belfry.
Godon: When filming, I am usually the first one to criticise and see things that are not right or when people try to pretend like they know what they're doing. Martin is a genius. It was his first feature film but he knew exactly what he wanted. The images he had in his mind were so strong and powerful. Everything didn't have to be explained, this is a lesson because many actors need justifications for what they're doing. If you're working with a great director and writer that has a vision, you have to trust them.
Berrington: I was very excited to be on the first film project of Martin's but I have to say, you would have never thought it was his first feature film because right from the get-go, it was a really smooth, competent, and slick production. You knew you were in very capable hands.
The set was incredibly relaxed and warm, that's the way Martin is. He's low key and very much in control. It doesn't surprise me to see the career he has had. Some people are just about the visuals and there's not a lot of feedback or detail for the actors, but I certainly don't think that was the case for Martin.
I love the moment when Ray's fighting for his life and they're in the back in the hotel about to have a shootout. It's just like 'look, you count to three. Now, who's gonna count to three? You count to three and I'm gonna jump out the window into the canal.' There's also a daft little moment in the beginning when Farrell and Gleeson are seeing all the sites, they've been looking at the guidebook and Gleeson is holding it but Farrell is begging to go to the pub.
Gleeson just chucks the guide book and Farrell lets out a little 'Yes.' Colin's face lights up like a boy that just found out school is closed for the day. And of course, the bit with the tourists who are asking to go walk up the clock tower. You just know he's gonna say something awful! Then we get that very rude line about them being elephants.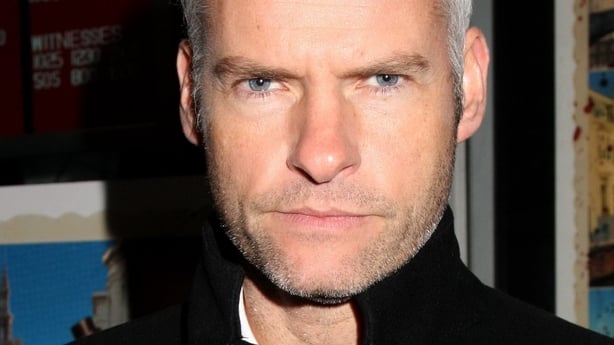 Godon: There are so many great scenes but to me, it's really when Brendan and Ralph meet and talk in the town square underneath the tower, the scene when they're insulting his 'f**king c**t kids.' Someone watching the film must be thinking, how can you write this? Once you utter these words, it's like they're engraved in stone.
I enjoyed every word of that scene and when Brendan jumps, it's heartbreaking. With that scene, there's also a payoff to it because if Ken used all his coins earlier in the film when he tried to pay to go up the tower, he'd have no coins to drop and warn people below.
Even talking about the word dumdums, it's a funny scene but later in the movie, if Harry doesn't use those bullets, he might not have killed himself because the dumdum bullets did make Jimmy's head explode. This meant that Harry couldn't tell that he just killed a dwarf wearing a child's clothing, rather than an actual child. Every word and reference in the script has a purpose and pays off.
Yuri somehow has the power in all his scenes! He's the one delivering guns, he's the one who knows Bruges, and he is the guy who has the keys to In Bruges. He's also the master of language, although you might not understand that from the word alcoves! This film really is a Beckettian situation and absurdity is all about language, not just the situation.
I had a certain idea of the character when I first read the script and I made some suggestions to Martin. I was not the first choice, he wanted Mathieu Almaric and then a Belgian actor named Olivier Gourmet. To me, it was such a gift. I had an idea of Yuri and I was imagining him as a gay man but not flamboyant.
He's a very clever, refined, and educated person. When I played Yuri, I didn't have much physical freedom to move around. Martin wanted me to be a static character that was just standing still and not moving for hours, which is actually quite hard as an actor.
On the 'dumdums' line, when we did the readthrough, the word is pronounced differently in French. I wasn't aware of the British/English pronunciation and when we did the readthrough, my delivery of the line made everyone laugh. I was wondering, why? But when we shot the scene, my line was changed to incorporate the funny pronunciation.
"Bruges is a sh**hole"
With its arched stone bridges and swan-dotted canals, there's no doubt that the picturesque medieval Belgian town is the fourth main character of the film. Ray might jokingly refer to it as a sh**hole, but without Bruges, a large part of the magic is lost.
McDonagh: When writing the script, the characters started this one-off and the town. I couldn't have made it anywhere else, the character is a town. The two main characters were literally created by my reactions to Bruges.
Gleeson: When we arrived here, we met the mayor, and I said, 'Thanks for lighting our set, Mr. Mayor.' Because that's what it's like there; it's as if somebody built a magnificent movie set and said, go shoot. It's so picturesque and stunningly romantic to look at.
Farrell: I think the film helped tourism in Bruges. I think the tourist board created a map that showed all the sites that we shot various things. It had a park bench and a gun with a splatter of blood on this laminated map!
Film Office: Bruges is portrayed in a double way. Yes, it's called a 'sh**hole' but at the same time, the beauty of the city is also portrayed in an instantly recognisable way and that beautiful image of Bruges clearly prevails. The film really encouraged people to discover Bruges for themselves.
The 'sh**hole' line mainly triggered people to come and discover Bruges! It was very nice to be able to prove the opposite to visitors. That many people decided to visit the tourist attractions themselves after seeing the city on the silver screen was also the conclusion of all the studies on film tourism and city marketing that appeared after the release.
Some visitors are worried that we would be offended by this 'sh**hole' expression, but we reassure them because the city is portrayed so beautifully that the opposite is immediately demonstrated.
Godon: It's not possible to identify this film with anything else. In French, we say it's a UFO because it's out of the blue, unexpected, and unique. The writing is special but also, the choice of location makes you think 'why the f**k Bruges?' It's so unexpected.
Many people know Bruges because it's a very lovely and nice medieval city – or a shithole, depending on your perspective! – but nobody expected a film to be set here. It's not just the location but the fact they actually investigate the city, the location, museums, canals etc.
You're an inanimate f**king object!
There's a strong argument to be made that nearly every character that we meet during In Bruges is worthy of a standalone film. Whether that's the violently-unhinged but deeply principled Harry, the alcove-obsessed Yuri, or the racist actor Jimmy. No line goes to waste and every character is memorable, no more so than Ken and Ray's boss, Harry.
McDonagh: Ken and Harry share a past. Harry is a very dangerous individual, yet there is an intimacy to his friendship with Ken, and a trust stemming from a sense of loyalty between them. For Harry, I wanted someone who hadn't done the archetypal working-class London gangster type a hundred times before. I wanted a very good actor who would have a different and more surprising take on it. It wasn't until I got on the set that I realised how bloody scary Ralph can be.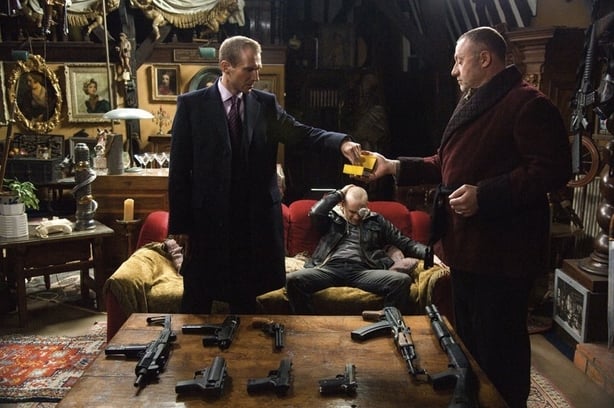 Godon: With Ralph, I wasn't expecting him to be that way. He's like a Cockney gangster or something and he was really fantastic. I met Ray at the readthrough and he said, 'you have an incredible voice' and I was so flattered. He's a very, very nice guy.
Berrington: When we filmed the "you're an inanimate f**king object!" scene, it wasn't difficult to do at all because I worked with Ralph before in a film that his sister directed. He's always such a consummate professional but up until that point, I've always seen him do more sort of classical roles. It was so nice to watch Ralph - who has done a myriad of roles in the theatre and has such a range- play the fool. It was lovely to see him playing against type and being the psychopath at home.
It's quite a nice scene for the character of Natalie too because it's like she's seen it all before. You get the impression that Harry has an episode like that every day but she's clearly not that bothered. There's also that scene with the children too and while Harry is such a dark soul, there's this lighter side to him when he's observing the children playing on the mat. You just know what a loose cannon he really is.
Those women are sort of the gangster's moll and there's that odd sense of honour among thieves. Harry has this perfect family life but she knows exactly what he's going off to do. It's all very dark and sinister, even on her behalf. On one hand, she wishes him well and wants him to take care because she knows how dangerous it's going to be, but there are questions that women like her don't ask because they don't want to know. They're kind of content to feather the nest, which makes her another complex character in that film.
"I really, really hoped I wouldn't die."
Throughout the film, there's a recurring theme that Bruges represents Ray's purgatory for accidentally killing the altar boy. After being shot by Harry, the ending is deliberately vague and we're left wondering, does Ray live, die, or is he destined to stay in Bruges?
Godon: I think Bruges is Ray's purgatory until he faces death. When Harry blows his head off, Ray is the only main character that's not dead and if he's not dead, symbolically when you analyse the film, it means that he is redeemed because otherwise, he'd be dead. I think he's redeemed but he still has to live with the consequences of his actions. I'm sure he's probably going to become more like Brendan's character because with maturity comes learning.
Berrington: Ray's obviously not dead and you don't want him to be. You just don't want it to end! Clearly, it isn't going to end with his death, something else is probably coming up. Maybe it's a Back To The Future version with these characters! After all, we did see an earlier version of some characters in a deleted scene. I'm hoping they're off in some other European city. Of course, he's also met the girl of his dreams and there's probably something to that. He's been given the opportunity of new horizons and the romantic in all of us hopes that he pulls through.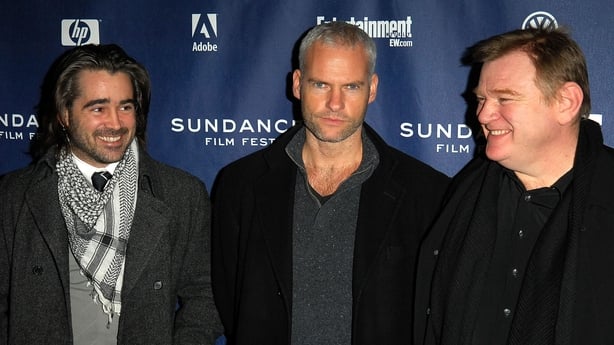 "You weren't really shit, but you weren't all that great either. Like Tottenham."
Since being released, In Bruges has become a cult classic that continues to be embraced by audiences. Made on a budget of $15m, the film was only a modest hit at the box-office making $34,085,749 worldwide. However, the critics were far more kind and aside from Farrell's win at the Golden Globes, McDonagh also won the BAFTA Award for Best Original Screenplay and was nominated for the Academy Award for Best Original Screenplay.
During his acceptance speech at the Golden Globes, the Irish actor summarised his experience making the film….
Farrell: Martin, thank you for not listening to me when I asked you to cast someone else. I've never been so at peace with being ignored in my life! It's seldom that you get a script that's as simultaneously profound, beautifully comic, and wonderfully painful, filled with delightful remorse and more than anything else the sweetest, sweetest redemptive qualities. That was In Bruges for me.
We need your consent to load this YouTube contentWe use YouTube to manage extra content that can set cookies on your device and collect data about your activity. Please review their details and accept them to load the content.Manage Preferences
Watch: Colin Farrell and Brendan Gleeson talk In Bruges for Film 4
This sense of pride is shared among the other members of the cast….
Berrington: I am profoundly proud of it. At times, I do feel a little bit like a fraud because I had a small role within the story, but I'm still so proud of it. It was amazing to be a part of it. I watched it not too long ago with my son and I forgot just how gory it is!
With Irish and British filmmaking, it's so brutally truthful, funny and dark. It's having the absolute truth there that makes it a masterpiece. That's what makes it a great film and what makes Martin an amazing writer and director.
The three men (Martin, Brendan and Colin) have such a great partnership, it's the holy trinity. I'll certainly have a front-row seat for The Banshees of Inisherin. I can't wait.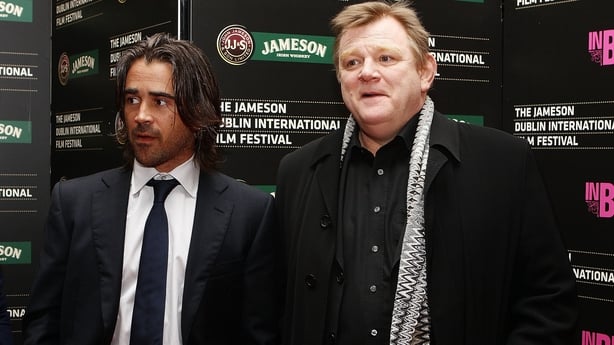 Godon: The film wasn't a blockbuster when it was released and I think only 500 screens in the US released it, which is nothing. I'm so happy it has become famous afterwards and it's now shown in cineclubs.
In Belgium, not many people saw the film. It resonated more in the Flemish regions than Brussels but in terms of my roles, more Belgian people would know my supporting work in a film called Nothing to Declare. However, if I'm in London or anywhere else, people will stop me on the street or in a café and say 'you're from In Bruges'.
In the Belgian film industry, having In Bruges on my CV commands respect. People who know cinema, know. People also tell me that it's their favourite film and they're impressed that I had a role in it, which is lovely.
Film Office: Visit Bruges developed a movie map in Dutch, French, German and English. On this movie map, the various locations where the film was shot can be found and are linked through a walking tour.
For each film location, there is more information about each scene and there is some touristic background about the place. Currently, the movie map is in its eighth edition with a total circulation of 40,000 copies.
With the release of the In Bruges movie map and other promotional efforts of Visit Bruges, the local businesses did get a lot of attention. We were asked a lot if it was possible to sleep in the hotels or eat in the restaurants that were used in the film.
These locations obviously inspired a lot of people, a few hotels and restaurants even developed special arrangements and menus.
In the years after the release, In Bruges was a very popular subject for studies on film tourism and city marketing. Based on the available figures on local employment and local spending, Lavinia Maenhout calculated the direct economic return of In Bruges in her bachelor thesis at €6,907,000.
The reputation of Bruges has grown considerably after the release of the film and In Bruges portrayed a very positive image of the city. The film has put the city on the map as a film location.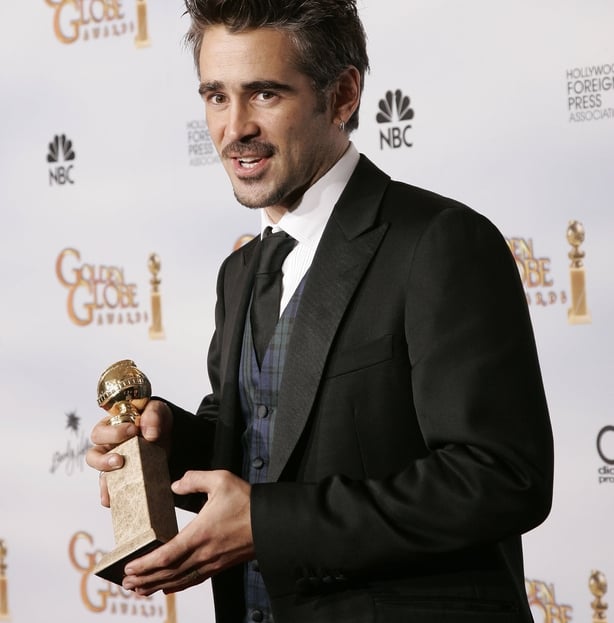 Farrell: Look, with the awards, do they mean you're better or worse than other people? No, of course not and we all know that! But are they better than a kick in the arse? Possibly! Honest to God and trust me, you wake up the next day and things aren't that different. You don't have any 'oh wow, now I've arrived!' moment. There's none of that.
It's a film I really believe in and I think it will stand the test of time, particularly because Martin's brilliance is all over it.
I've really fond memories of making it and we had a great night at the Golden Globes. We milked it for all we could, which was fun. Then I didn't get the placard for the award! For two years, I had that award in my kitchen with a little piece of paper that was torn from a cornflake box. It said 'Me' on the statue, so that award became funny pretty quickly.
Godon: Have you heard there was a rumour about a sequel to In Bruges? There are a lot of fan clubs and talk about the film online. We might investigate that because I've also been asked if Yuri would be back in the sequel?
I still have a few exchanges with Martin and he always answers my email. If there is an In Bruges sequel, my character didn't die so he can come back! A sequel would be great, bring Ray back to Bruges for some other reason!
Berrington: A sequel with the wives! The wives of the baddies, I would be up for that.
In Bruges in currently available to watch via Amazon, Google Play, YouTube, Apple, Sky and other major streaming services. The Banshees Of Inisheerin is due for release later in 2022.