On the morning of August 6th, 1945 a new sun rose over the city of Hiroshima in Japan, when the first atomic bomb had been dropped on a city full of people, changing the world forever... Below, producer, co-writer and co-director Paula Kehoe introduces her new film Cathair na Mílte Grian (City of a Thousand Suns), which receives its Irish TV premiere on TG4 on Wednesday, August 3rd.
---
Cathair na Mílte Grian (City of a Thousand Suns) is a visual poem, a meditation on war in the atomic age on the streets of Dublin and Hiroshima.
In 2016 I read a poem by Eoghan Ó Tuairisc called Aifreann na Marbh or Mass of the Dead written in commemoration of those who died when the first atomic bomb was dropped on Hiroshima, Japan on August 6th 1945. It's an epic piece of work that takes the form of a pilgrimage on the streets of Dublin reflecting on every aspect of human culture and civilisation. The poet imagines himself in the destroyed city of Hiroshima, as life continued in Dublin as if nothing had happened. I was moved by it, and intrigued by it too. It was first published in 1964, nearly twenty years after the bombing, and I was certain that it had been influenced by the French new wave film Hiroshima mon amour, which I later found out was screened in Dublin in 1961 at an Irish language film society.
Documentary footage of the aftermath of the bombing showing the destruction of the city, and the injuries sustained by survivors in graphic detail, had been censored for several decades. Hiroshima mon amour incorporated those images, and it would have been the first time they were seen by the public. No doubt it had a huge impact.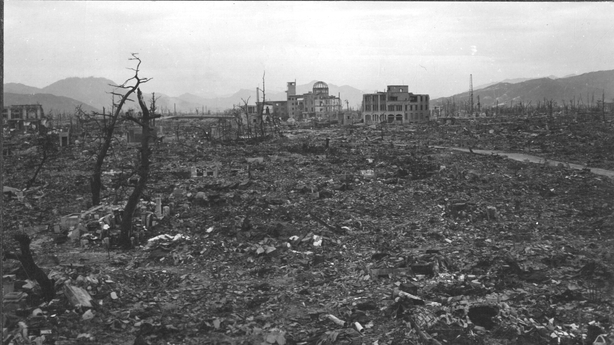 The idea of making a film came from a dream, and the premise was that Eoghan Ó Tuairisc owed a debt to cinema, and that I would take it upon myself as a filmmaker to repay it. There is a long section of the poem set in a cinema that reflects on our ability to bear witness to events such as this through images on a screen.
The filmmaker Feargal Ward is my main collaborator on Cathair na Mílte Grian, which he shot, co-directed and edited. We made the decision not to show the violent imagery, which we have become inured to in the 21st century, but to refer to it as an existential threat, always there just under the surface. Instead we incorporate rare footage of Hiroshima before the bombing. Snapshots of everyday life on the streets of the city in footage shot by a local resident in 1935 that somehow survived the atomic firestorm. It is a beautiful glimpse of a world that no longer exists. The cinema references were expanded to include works by John Huston, Hiroshi Teshigahara and Kaneto Shindo that reflect on the cultural and psychological impacts of war in the nuclear age.
Marcus Mac Conghail is an Irish language poet, musician and broadcaster who was raised in Dublin speaking Irish. He understood this assignment like no-one else could, and his presence is compelling and mysterious. The film also features Kazuyoshi Meiki, Tristan Warner and is narrated by Ailbhe Ní Ghearbhuigh.
Cathair na Mílte Grian is an existential journey that contemplates our ability as humans to destroy ourselves with the technologies that we have created and have come to worship.
Cathair na Mílte Grian (City of a Thousand Suns), TG4, Wednesday August 3rd at 9:30 pm - watch the film afterwards via the TG4 Player.